I get why we become stressed out over Christmas. We want it to be as perfect as a John Lewis advert with an abundance of food, drink, Christmas tunes, nibbles, mistletoe, fairy lights decking the halls and presents wrapped like they come out of a Kirstie Allsop programme. The reality is that it's sometimes the exact opposite. Hands up those who find themselves traipsing through the Christmas market in the rain looking for fresh mistletoe or who have a mild panic attack at the prospect of untangling the bleeding fairy lights (again!) or whose presents look like they've been wrapped by a penguin?
Yet somehow I forget all this drama once the big day passes and it is for this reason that I reckon Christmas is like childbirth. Once its over you forget the pain and drama and you are left with only the good memories (and of course a credit card statement I refuse look at).
There are some things which are inevitably stressful come Christmas. I sadly will never be one of those people who will have everything bought, wrapped and ready to go under the tree as soon as its up. That gene is firmly on my Mother's side and never passed to me. However I can say, hand on my heart, that I am one of those people who absolutely relishes the cooking, preparation and of course the eating at Christmas. I always say my 1 true talent lies in my roast potatoes. Well my 2nd is planning. So I share with you my last minute top tips for ensuring a stress free Christmas feast this year.
If you haven't already then go out and buy a couple jars of Goose or Duck Fat immediately. You will find them in the chiller cabinet in your supermarket. Alternatively ask your butcher or local deli. If you cant get goose or duck fat then quite frankly I would forgo the roast potatoes altogether.
The roast potatoes are the star of the show. The meat could be cold and the vegetables could be rubbish but no one will notice these problems if you have smashing roasties. I don't say this to add more pressure to the affair, only to encourage non believers.
The reason for my authoritative tone is because goose fat gives you both flavour and crunch. Due to the fat's high smoking point you can heat it to a higher temperature than regular oil. Thus giving you that desired crunch. Plus, as always, animal products taste good (sorry veggies). For more tips & a recipe click here.
Trust me on this matter. Theres still time to nip out for a jar. Use nothing else.
A ham is one of the most versatile joints of meat you can buy around Christmas and the bigger, the better. I know leftovers can be a contentious issue but when it comes to a ham I aim for maximum output on my leftovers. I want something that I can make on Christmas Eve but not spend hours on, then slice thinly & eat with poached eggs on toast for Christmas morning, come back for more around 8pm on Christmas Day to pile into a sandwich (stuffing, ham & piccalilli on thick white bread anyone?) and then dish up for dinner on Boxing Day when I cant face cooking.
Yeah a roast ham is good with mash & some leftover gravy but its at its best when eaten cold & just picked at from the fridge. Think of it as the meat that sees you through those 3 days. Minimum input with maximum output. If you want inspiration on how to cook yours then check out my Mustard Glazed Ham here.
I know when you are wandering around the supermarket, probably hungry & in a mild panic, its easy to be tempted by every item on the shelves in a Christmas packaging. Just try to remember that whatever you buy you will feel inclined to cook & serve thus creating more panic on the day itself. I swear there is a positive correlation between the amount of food one tries to cook on Christmas Day and their stress levels. So streamline the variety of food on offer.
One year my Mother was intent on serving Turkey, Ham, Roast Potatoes, Mashed Potatoes, Roast Parsnips, Sprouts, Broccoli, Carrots, Gravy, Cranberry Sauce, Chipolattas AND Stuffing for only 5 people! She got into a blind panic & the pair of us were tied to the kitchen for several hours while everyone else relaxed. The food was great but was it worth it? Possibly not but like all of us I reckon she just wanted it to be perfect.
If you fear you are falling down the same rabbit hole as my dear Mother then there is still time to save your sanity. You can stick to 1 type of potato, 2 types of veg, stuffing OR chippolatas, gravy & meat and not come across as Scrooge. What is more, your dining table will probobly be able to fit all the food onto it and you can enjoy it with everyone else.
So step away from the Nigella Christmas cookbook and ignore her perfect feast table. It's not real.
Make as much as you can ahead of time. Right now is the time to be making a list of what you are cooking and serving on the big day then highlighting those items which can be done tonight or tomorrow.
For example: mince pies, wrapping the chippolatas and mixing together the stuffing can all be done tonight and stashed away. So why not stick on a face mask, run a bath & crack open the Christmas bubbly and get some chillaxing in? Peeling the potatoes, setting the table, preparing the veg and starters can all be done tomorrow afternoon (Christmas Eve).
The more you do ahead of time the more likely you will be able to get other people to help (i.e. your children, partner) and the more time you will have to enjoy yourself on Christmas Day.
I am not suggesting for a moment that Christmas has to run like a military operation so please don't let the idea of having a timetable give you that impression. I use a timetable so I CAN relax on Christmas Day. So a few days before Christmas I write out my menu for the big day. For example:
Then I work backwards from lunch time & work out a timetable of what I should be cooking and when. I pin this timetable to a wall in my kitchen to keep me on track.
This way I know I have over an hour with everyone where I can enjoy myself without having to even THINK about whats going on in the kitchen. You could even use a timer if you wanted to hand over the reigns completely.
If you don't have one already then buy an apron for Christmas Day. Preferably a full one which covers your front. Wear slippers or flat shoes at least until your guests arrive and open a window in the kitchen to let a breeze in.
I've been there, dressed up to the nines in heels & a dress at 11am, prepping the stuffing & whipping cream only to discover fat splashes & stains on my fancy Christmas togs, my feet screaming in pain and my make up sweating off me. Keep your heels, a tube of mascara, the lippy & a can of deodorant by a mirror to spruce yourself up before everyone arrives.
Get someone to unload the dishwasher before you sit down to eat, although preferably not while you are trying to dish everything up. That way when you are finished eating you have an empty dishwasher to fire all of the dishes into. Ok maybe all the oven trays & pots wont fit in as well but they can be stacked next to the sink. You will thank yourself for it the following morning.
Make sure you have plenty of tin foil, cling film and empty (clean) tupperware tubs for all the leftovers. There's nothing worse than having to re-arrange the fridge to try and squeeze in dishes of leftovers when all you want to do is wrap it in cling & sit down. Seems daft but makes a massive difference to your sanity levels.
Everyone says it and more often than not I will scoff & roll my eyes, but its true. Try to relax and enjoy it because chances are if you are feeling the pressure over Christmas its self inflicted.
So what  if the turkey isn't picture perfect, if you overcook the sprouts or the Prosecco isnt completely chilled. So what if lunch is late? That's why Cadbury's invented selection boxes! If people are hungry then they can turn to the snacks you put out. And if they moan, well then pour yourself a drink,  sit down & ignore them. Christmas is your day too.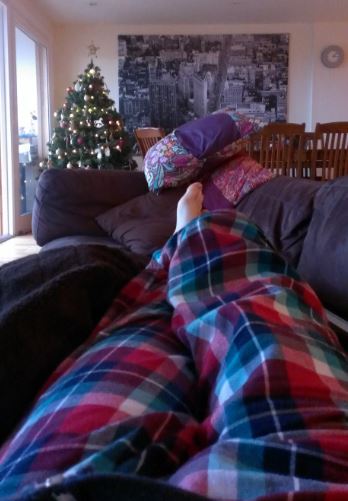 Anyway, in a couple of months you will have forgotten the expense, the drama and stress and be looking forward to next year.
Only 2 more sleeps!!
Merry Christmas folks! xx