Up until recently I was a curd virgin. If you know me then this is not surprising news. I don't even like jam. At a push I'll have a scone with cream & jam but this is really just so I can eat clotted cream because it doesn't seem socially acceptable to eat clotted cream out of the tub. Anyway I don't really even like fruit that much. I digress but you can now see why I've never eaten curd.
It started with 5 leftover egg yolks from a pavlova I had made. I was avoiding making custard because once you make custard you need to make a pudding to go with it and I had just finished off a pavlova. So I was seeking inspiration elsewhere when a quick and easy recipe for Lime curd popped up in How To Be A Domestic Goddess.
I made this with the intention of giving it to my Mum but I loved it so much I've yet to give her the jar and considering its limited shelf life it may never happen. Sorry Mum.
Curd may seem a funny one to add to my winter hoarding series because it needs to be (a) stored in the fridge and (b) can only be kept for 5-6weeks at a push. So its hardly suitable for a long winter hibernation but I was keen to include something which moved away from the traditional Christmassy concoctions. I guess the idea is that even in the dead of winter or Autumn (and lets face it in this country both seasons are interchangeable) you can add a fruity tangy touch of summer to your hibernation.
Lime Curd
I didn't intentionally tinker with Nigella's recipe but did so in order to use up the yolks. As it turns out curd is not actually made with egg yolks but with whole eggs instead. But at least it kept me away from another pudding.
Now I liked how my curd turned out but unless I am making it off the back of another Pavlova I will be using whole eggs in the future. So I have listed Nigella's original recipe here but noted where I deviated. I should note that this is double the quantities of the original recipe.  I am taking a bold step and assuming that 1 jar may not be enough.
Ingredients

Start by making sure you have enough jars to hold 700ml of liquid then cut out circles of greaseproof paper small enough to line the lid. Sterilise the jars by:
Washing the jars & lids in hot soapy water (or running through the dishwasher)
Rinse off the suds
Sit the jars & lids on a roasting tin & warm in a low oven (120C) until ready to use.
Once sterilised do not touch the inside of the jar or the lid otherwise you will need to start again. For more information see my  previous posts on preserving.
While the jars are in the oven zest the 2 limes (its easier to zest a lime before its been juiced) into a bowl. Then juice all of the limes until you have 250ml of liquid. You can use a citrus juicer or, like I do, a reamer for this. If you do use a reamer then juice the limes over a sieve resting on top of a jug. This will catch all the pips & pulps.

Meanwhile, melt the butter in a heavy based pan over a low heat. Once melted add all the remaining ingredients and whisk to combine. At this stage it will be foamy and watery.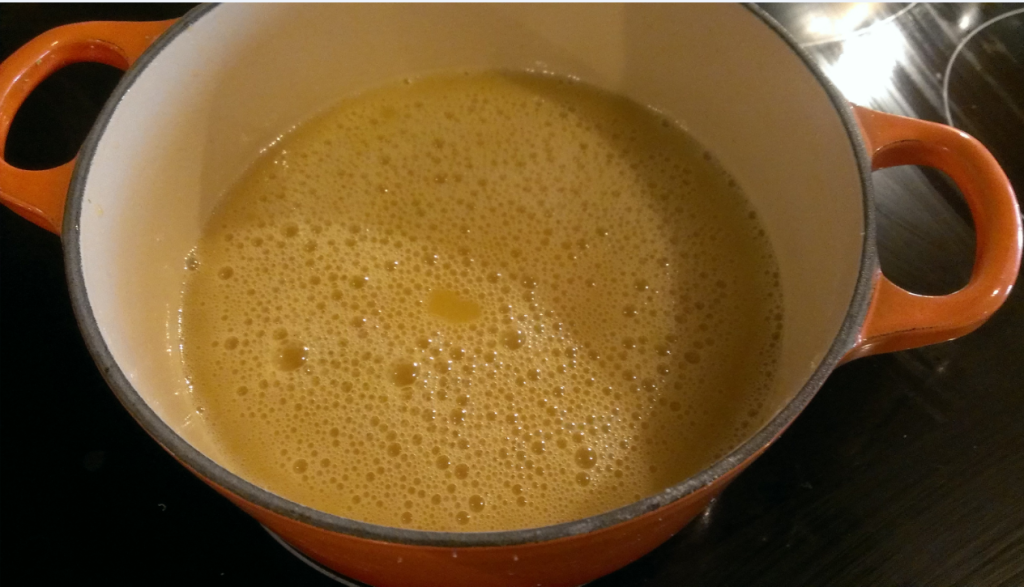 Cook over a low-medium heat, whisking frequently, until it starts to resemble a thick custard and coats the back of a spoon.
Because you are cooking with eggs  there is always a small risk the mixture will curdle. So first off fill the sink with several inches of cold water. If you think the mixture is about to curdle, scramble or split (and believe me, you will notice it if it happens) quickly remove the pan from the heat & plunge it into the cold water in the sink. Then beat it furiously until it comes back together.
This has only happened to me once making custard and that's because I walked away to check my phone. If you keep an eye on it, whisk it regularly and err on the side of caution by keeping it on a low-medium heat, you should be fine.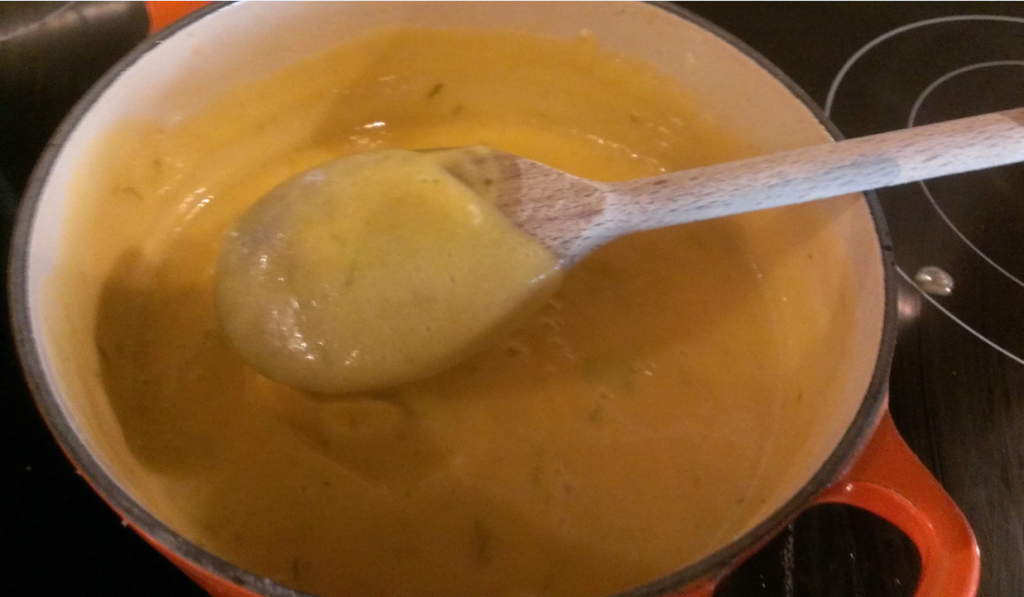 Remove the pan from the heat and leave to stand for a few minutes. If you can't resist the temptation to have a taste (and be warned its very hot!) then spoon a tablespoon of the curd mixture into a small bowl or ramekin. Leave it a for 1 minute then taste. Now resist the temptation to plunge your face into the pan.
Spoon the warm curd into the jars. Place a small round of greaseproof paper over the curd & screw on the lid as tight as possible to form a seal. Leave to cool completely before storing in the fridge.These will keep for 5-6 weeks unopened in the fridge.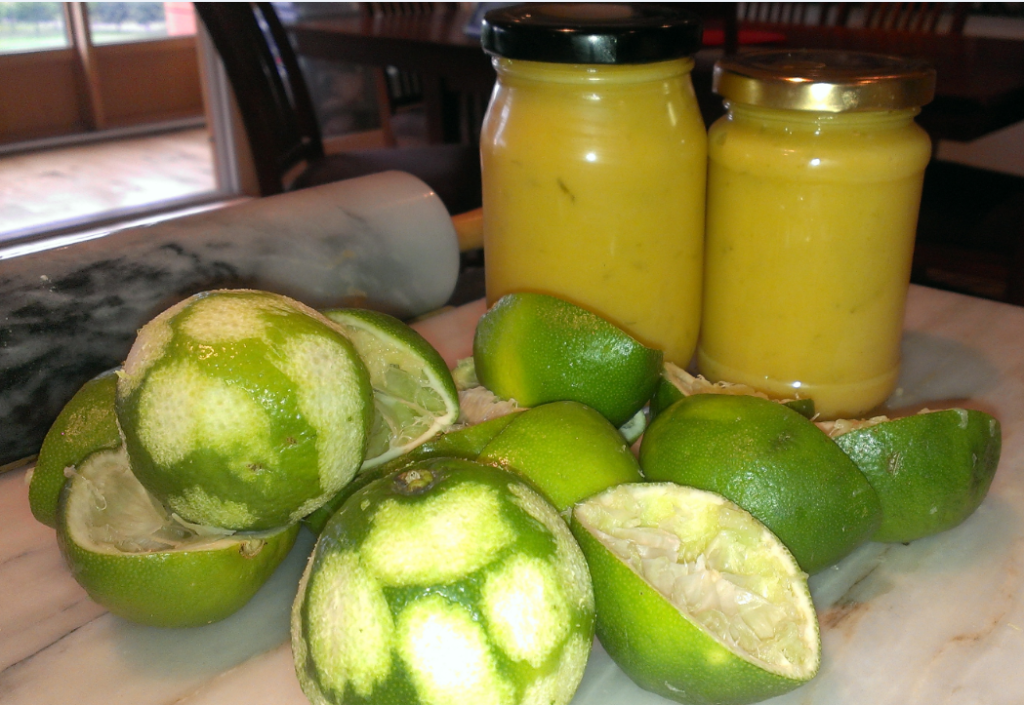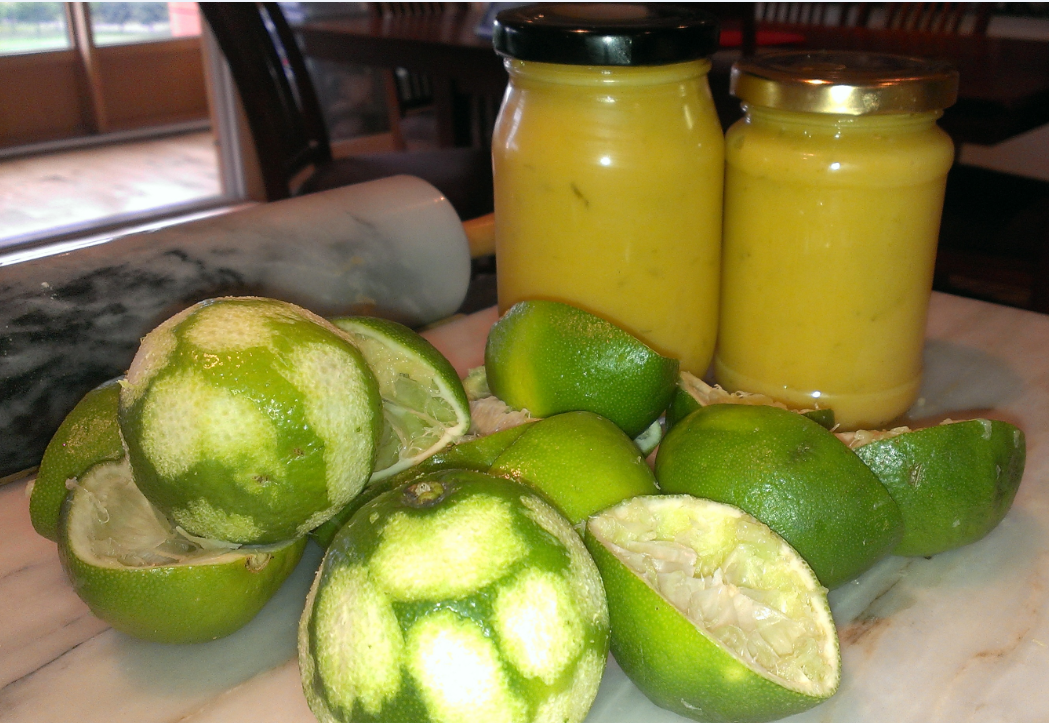 How to use curd
I actually had to google this because I had no idea what to eat curd with. Like most spreads its pretty versatile and the usual suspects include things like scones, toast, crumpets and with a spoon. Although curd comes into its own when you use it in baking.
Some ideas include:
Easy Lime Meringue Pie

– Make a pie base with some shop bought shortcrust pastry. Bake it blind for 25mins. Spoon lime curd into the pie base. Beat 4 egg whites until stiff peaks appear. Add 200g caster sugar & 2tp Cornflour to the egg whites & beat until shiny. Spoon or pipe the egg whites over the pie base. Bake in a heated oven at 180C for 15mins.
Lime Tarts – These are similar to jam tarts and a good way of using up leftover pastry and the remnants of a jar of jam or curd. Even better, rope kids in to make them & sit back while they do the hard work. Roll out the shortcrust pastry until 3-4mm thick. Stamp out rounds using a scone cutter or a glass. Lay these in the cups of a greased muffin tray & gently press down with the  base of a rolling pin (or your fingers) to form a cup. Add 1tbsp of curd or jam to each little round of pastry. Bake for 15mins at 180C. Leave to cool for 10-15mins before eating.
Victoria Sponge Cake – You can replace the jam in this Victoria Sponge cake with lime curd to give it a tangier twist to a classic. Use the curd and a cream cheese icing to sandwich together 3 layers of a lime & almond sponge cake. Whichever you try just make it the day before you intend to eat it because this way the curd sinks into the sponge giving it a better all round flavour.