I have the cold. I knew it was coming because I've managed to successfully evade it for 13 months now. This is no mean feat considering the illnesses flying around my office and the fact my office is based beside Infection & Immunology labs. I should be thankful it is only a cold I guess. I have triedVicks vaporub (which I am certain does nothing), hot bubble baths, I have a box of tissues which never leaves my side and I am feeling more and more sorry for myself each day. The only thing left to do is make a pot of chicken soup.
Chicken soup is THE ultimate 'not well' dinner. For a start its easy to eat because you don't actually eat it. You drink it of course. So regardless of how swollen your glands are or how it painful it feels to even swallow water, chicken soup has these magical properties which means you can. Secondly, and lets all just put our intelligent spectacles on for a moment here, Chicken Soup actually inhibits the neutrophil chemotaxis in vitro! Yep you heard it folks!
Now I have no idea what neutrophil chemotaxis actually is, I had to google it. But essentially a paper published in 2000 presented evidence to show chicken soup can have a mild anti-inflammatory effect to infections of the upper respiratory tract. In short, chicken soup can help you get over the cold. The paper makes it clear you must make your own soup to reap the full benefits however I do personally advocate the Knorr Chicken Noodle soup from a packet because this was what my Mum fed me as a child when I was sick.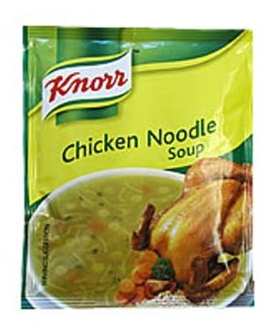 Chicken Soup with Dumplings
Even at my most ill I always want something a little more substantial than a plain clear broth. I was tempted by Rachel Khoo's recommendation from The Little Paris Kitchen of making quenelles out of chicken breast which is blitzed together with egg & white bread. These are then cooked in the hot soup. However I wasn't certain my constitution could handle blending raw chicken. So to Nigella and her Kneidlach (dumplings) I entrust my health. You can however add a little boiled rice or some egg noodles if you prefer.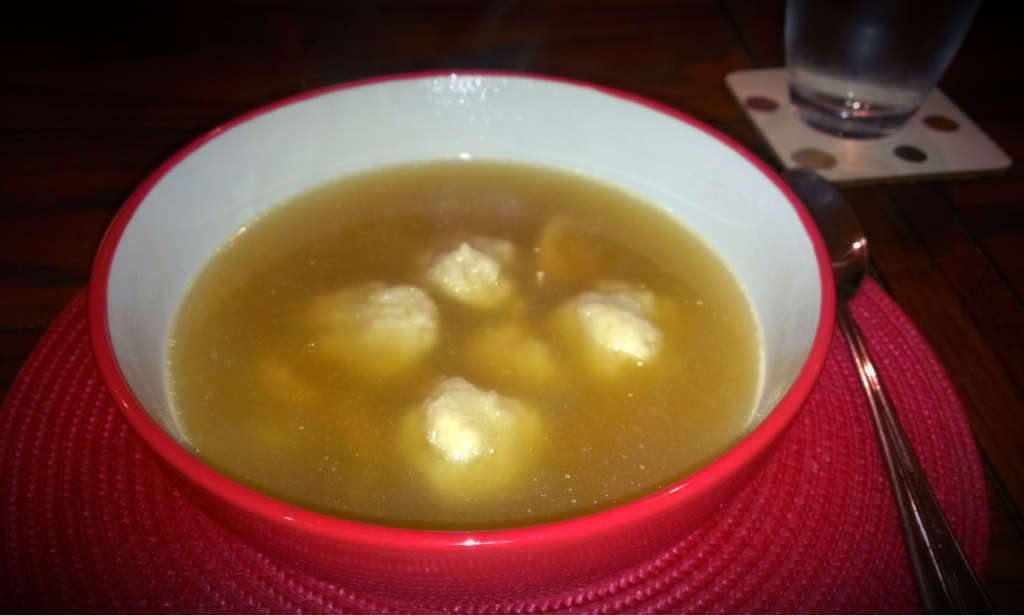 Now there are 2 ways to make this.
Leftover chicken carcasses ( from a roasted chicken). You will need a minimum of 2 carcasses depending on how much soup you plan on making. This wont give you any meat for the soup later so either save some from your roasted chicken or throw in a chicken breast & shred before serving.

Whole chicken

. You essentially boil a whole chicken to get all the flavour then shred the meat off the carcass at the end and add to the soup.
But be warned, this is not a soup which can be whipped up in minutes. It does take at least 1 day. So either get a loved one to do the job for you, make it in advance (just when you feel that tickle in the throat coming on) or if you are at deaths door then you have my blessing to go for the Knorr version.
Ingredients

Add all of the soup ingredients into a large pot except the chicken breast if you are using. Fill the pot with cold water until it covers everything &  place over a medium heat. Slowly bring to a gentle simmer on a medium heat and skim away any foam which rises to the surface. Cook for 3 hours.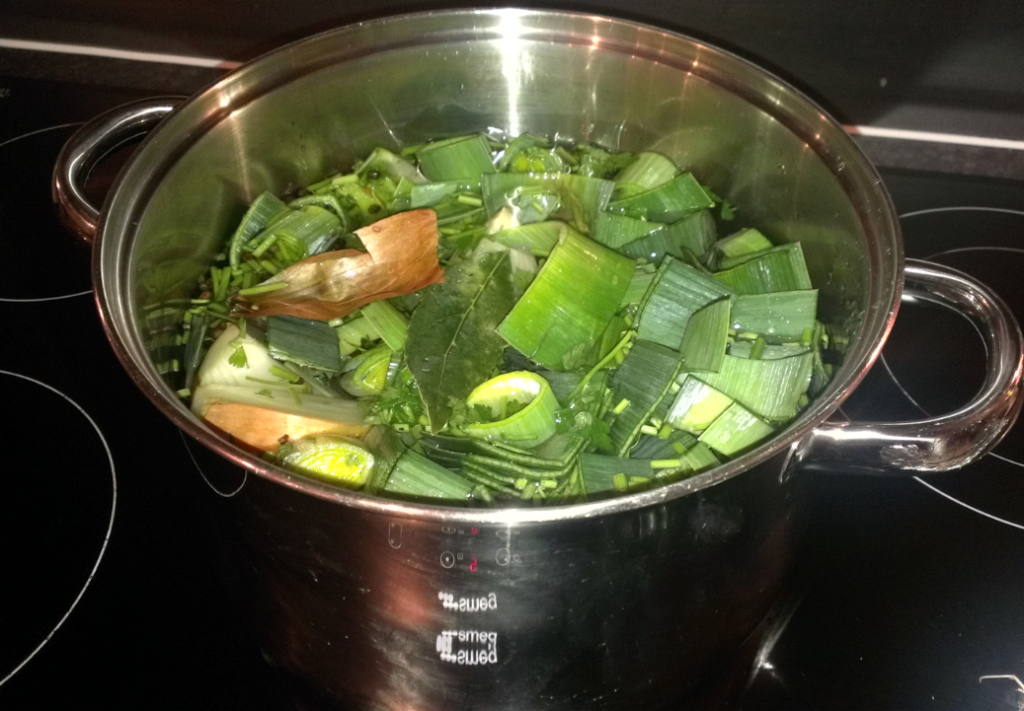 Once cooked strain the soup through a sieve into a large bowl & discard everything. If you are using a whole chicken then set it aside until ready to use.
Rinse the pot & sieve and strain the soup from the bowl into the pot. Rinse the bowl & sieve & strain the soup into the pot. Now repeat this several times until there is no more residue left on the sieve.  I don't but you can if you wish, strain the stock through some muslin if you have some lying around to ensure a clearer broth.
Leave the soup to cool completely before covering with cling film & chill in the fridge. This should be left overnight although you can skip this if your illness requires immediate attention. Shred the chicken off the bone and, if leaving the stock overnight, stash away in a sealed container in the fridge until ready to use.
The following day the stock will resemble something like jelly & there will be a layer of yellow-ish fat sitting on top of a jellied stock. Skim this off using a large metal spoon & discard.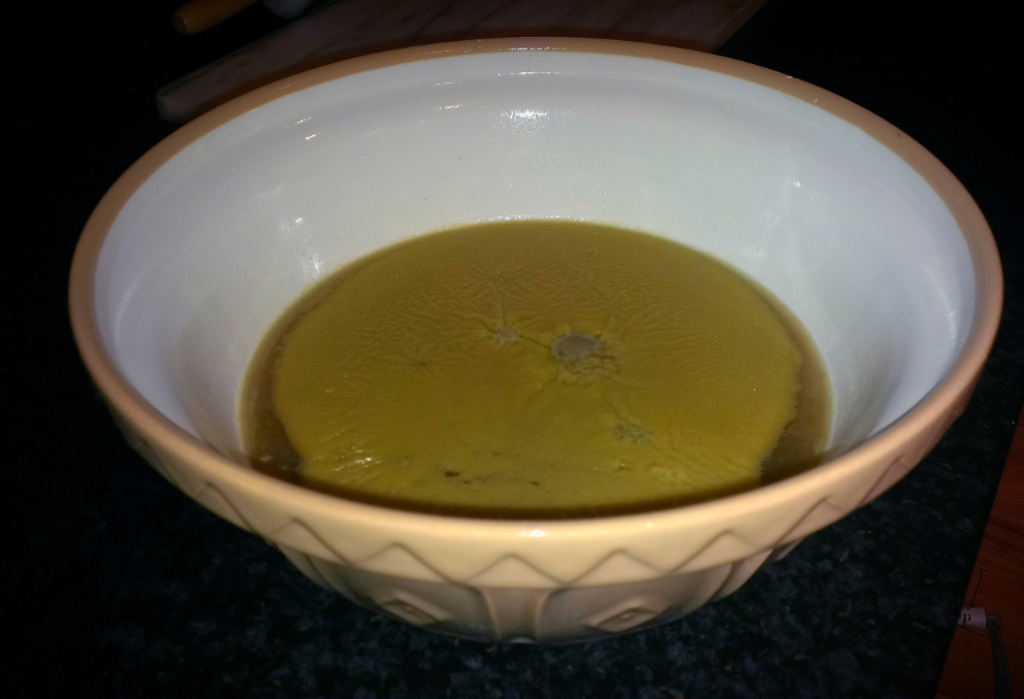 Add the stock to a large pot & heat through. Add the shredded chicken or raw chicken breast and cook on a medium heat for 30-35mins. Meanwhile make the dumplings.
Nigella recommends using both Matzo Meal and Schmaltz (chicken fat). If you cant get either of these then breadcrumbs and Goose Fat will do. I don't eat white bread and had experimented with brown breadcrumbs but the results looked vile. Luckily I had some Panko breadcrumbs which I blitzed in a food processor. Alternatively do the same with Matzo Crackers.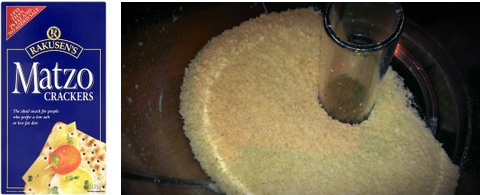 In a large bowl whisk the egg whilst pouring in the melted goose fat and water. Add the breadcrumbs & season lightly with salt & pepper. Mix together until it forms a dough but add a little more water if you think it needs it. Chill in the fridge for 45mins. Roll the dough into balls roughly the size of walnut.

You can either drop the dumplings into the hot soup or cook them in boiling hot water in a separate pot. Whichever way you prefer, cook the dumplings for 15-20 mins over a medium heat until light & fluffy. Nigella recommends 40 mins cooking time but I find they fall apart after this.
Taste the soup for seasoning and add a little chopped parsley if you want a Vitamin C boost and some greenery. Decant the soup into bowls with a generous helping of dumplings  and eat on the sofa a with a blanket wrapped around you.
Now hand this to someone who loves you and get them to do it.  You are sick after all.