Hands up those who wanted to cry at their desks yesterday morning because of the sheer sadness of being back to work? Now keep your hands raised if you are feeling dehydrated, exhausted, perhaps still a little hungover and have been subsisting on a diet of Prosecco, Quality Street and Brie for the last 10 days?
I'm feeling your pain folks and you know the only thing for it (gastronomically speaking of course, sadly I cant get you more time off work) is a little comfort in the shape of cheese and carbs.
I know January is typically the time of the year when we are supposed to crack out the Davina McCall exercise DVD and start contemplating that 5:2 diet but I don't go in for that kinda thing. For dinner after that first day back at work I need something easy to prepare that can be eaten with a spoon on the sofa. Nursery food if you will. And what better to turn to when I'm feeling the post Christmas blues than Mac & Cheese
Mac & Cheese
I don't make any attempts to tart up Mac & Cheese, fancy pasta shapes and a selection of age ripened cheeses have their place but this is not one of them. However I am not adverse to cranking up the flavours, because lets face it, as much as melted cheese is the food of gods, the gods do have somewhat bland tastes.
I typically add garlic and smoked sausage to my Mac, it doesn't overpower the pasta but is just enough to make it more interesting. Yet, as always, feel free to omit these additions or add your own. The base recipe is good enough on its own.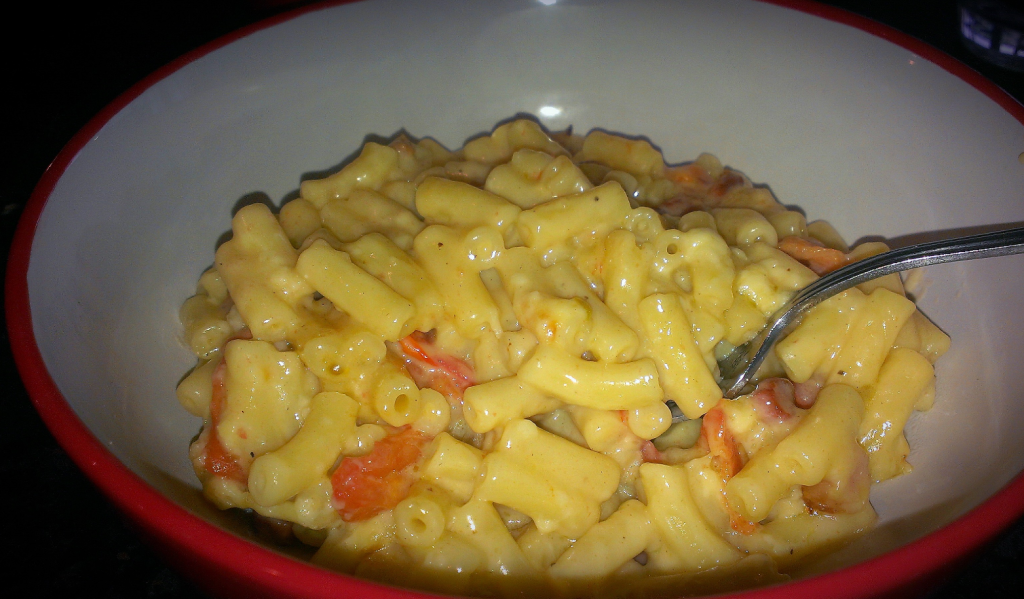 Ingredients

Melt the butter in a saucepan over a low heat. When it starts to sizzle add the flour and mix well until it forms a paste. This is your roux and is what helps thicken the cheese sauce. 
Add the bay leaf and grate the garlic clove into the paste if you are using them. Mix until combined and cook for 1 minute.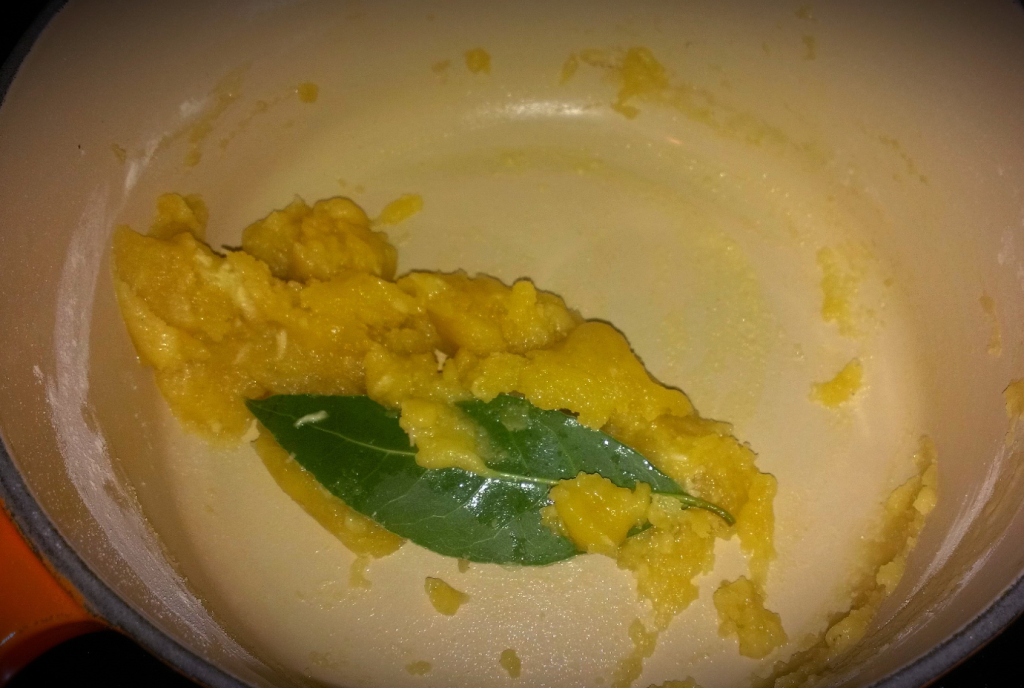 Slowly add the milk a little at a time and beat the roux well between additions. If you add all the milk at once you can end up with a lumpy sauce. I always err on the side of caution when making a cheese sauce and add less milk to start with. If the sauce is too thick later on I can always thin it with a little milk.
If you have never made a white sauce before then it may feel like the milk isn't absorbing or that the sauce is too thick. Just persevere. These pictures below will give an indication of how it looks as you continue to add the milk until you end up with a smooth sauce.
Once all the milk has been added you should end up with a smooth lump free sauce. If you are concerned about lumps (and hey it happens to all of us!) then switch to a whisk and beat until they disappear.
Season lightly with salt and a little pepper. Increase the heat to a medium and cook just until the sauce reaches a bubbling point. Continue to stir to stop it burning. Meanwhile boil the kettle for the pasta.
Once the sauce has started to bubble it should be thick enough to coat the back of a spoon. Similar to a custard consistency.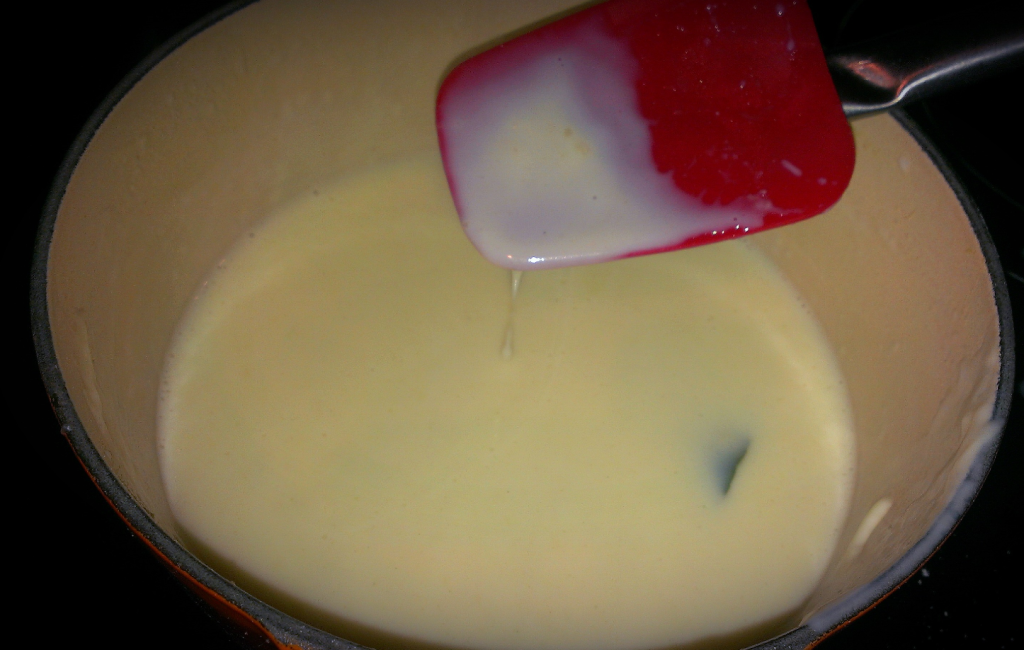 Turn the heat on the sauce down low. Cook the pasta until al dente in a pan of boiling water from the kettle, just remember to add a generous scoop of salt to the water.
Meanwhile grate the cheese and add 3/4 of it to the sauce. Stir until it has melted. If you are using the sausage and tomatoes then slice them into thick chunks and set aside until ready to use.
Drain the pasta and tip it into the pot of cheese sauce. Chuck in the sausage, cherry tomatoes and add a generous dash of Worcestershire sauce (it sounds strange but it does works well with cheese on toast). Mix to ensure the pasta is coated then top with a little more grated cheese.
Bake under a grill for 10mins until the cheese is bubbling & golden.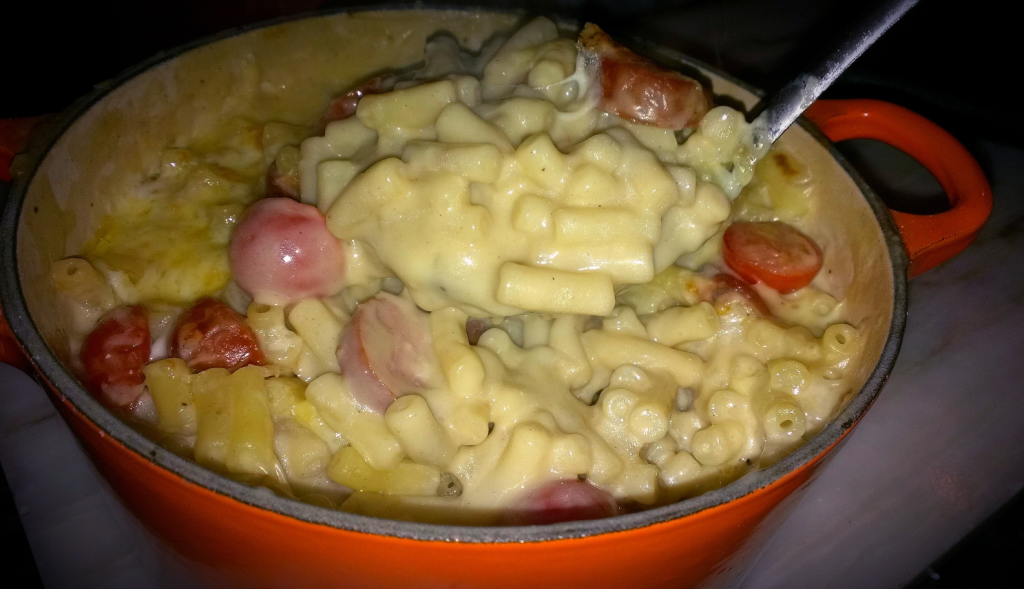 Mac & Cheese is surely a culinary staple in most peoples homes. Who can argue with something that takes less than 20 mins from cupboard to plate? What makes Mac & Cheese special is not tarting it up, its keeping it simple. We're not aiming for a Macaroni Quattro Formaggio here. I want a nice cheap and easy pasta that I can throw together when I have nothing in the fridge to eat.
That doesn't mean to say you can't play around with flavours. The joy of a plain white sauce like this one (which is what it is before you add the cheese) is that you can add some accessories to beef it out or clear out your fridge. Some like the simplicity and smoky flavour Mattesons sausage brings whereas I prefer the salty crispy hit of fried Pancetta cubes and the tang of baby tomatoes. Whichever accessory you prefer I think we can all appreciate the comfort which the classic Mac & Cheese brings. So grab a spoon & let it feed your Post Christmas blues. Lets worry about the waistlines next month.