Over the last couple of years there's been a subtle buzz surrounding a trio of sisters and their quaint cafe, Three Sisters Bake in Quarriers Village. Until recently this attention (or at least the buzzing that reached my ears) has been primarily within the Scottish Wedding Scene where it is renowned for its shabby chic vintage vibe, lush bakes and being a unique yet affordable  option.
I've of course been aware of the Three Sisters Bake but had no idea a book was on the horizon until I was invited to the launch by the lovely Lisa Palompo Dixon at Palompo PR.
The Book Launch
'Three Sisters Bake: Delectable Recipes for Every Day' by Gillian, Nichola & Linsey Reith, published by Hardie Grant, was launched on Wednesday 25th March 2014. Waterstones on Glasgow's Sauchiehall Street played host to the sisters & was chock full of their friends and family, bloggers, photographers, writers and everyone in between. Each of us was eager to hear the Leith sisters story & get our hands on the book. Of course, the tables laden with baked goods were not swaying us in any way.
The event kicked of with an introduction from Waterstones (including an invite to meet in the pub if a fire alarm occurred. Custhy, i'll grab the brownies!) and the publisher. This was followed by Gillian, Nichola and Linsey each introducing themselves and sharing their story. Let me tell you right now, their childhood is truly something out of an Enid Blyton novel.
After having skimmed through the book (full review next week) you can really tell the sisters have a relaxed and laid back attitude to cooking and eating. Their book offers an array of simple recipes for breakfast, lunch, snacking, feasting and those with a sweet tooth, presented in an unfussy and relaxed fashion.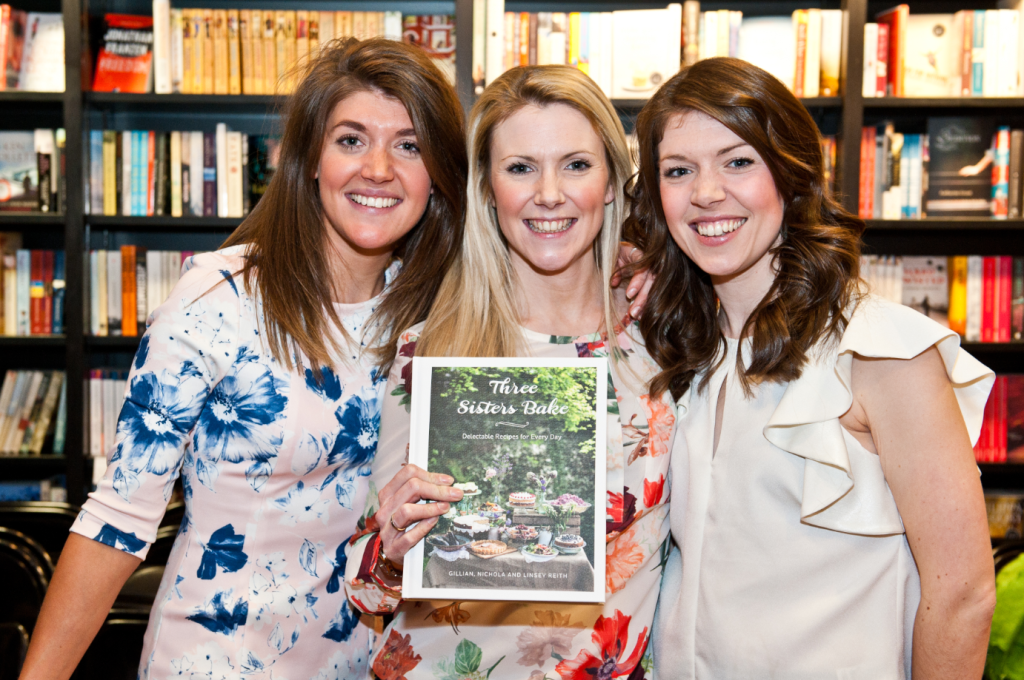 About the Sisters
With a Home Economics teacher for a Mother and a Granny who owned a sweetie shop there is no doubt food is baked right into these girls genes, but what I found most inspiring is that it took several years before their dreams took shape let alone became reality. Asides from Linsey (the wee sister) who started out as a chef for a Glasgow coffee shop, two of the sisters started out in wholly different careers to where they are now: Gillian (the eldest) started out in PR whereas Nichola (the middle sister) worked for a pharmaceutical company.
It takes a huge leap of faith for anyone to set aside their career & embark on something new. What the sisters seemed to really put across is that the support and encouragement from one another, their family, friends and subsequent staff are really what has ensured their success.
I reckon these girls are a trio to watch and I cant wait to see what they get up to next.  They cook, they bake, they run a business, a cafe, are soon to be opening a SECOND cafe, have now written a book, they have kids, husbands and somehow pull it off while looking incredibly chic with a down to earth attitude. If the Scottish blogger scene is anything to go by, they will be welcomed with open arms into the British food scene.
Wedding Catering
Seeing as most of the attention for the Three Sisters Bake, until recently, has been on their exceptional wedding business, I caught up with a pal – Maryclare Cowan (nee McNaughton) – who married Ross on 27th September 2013 at the Three Sisters Bake to get her view on the sisters baking, catering & venue.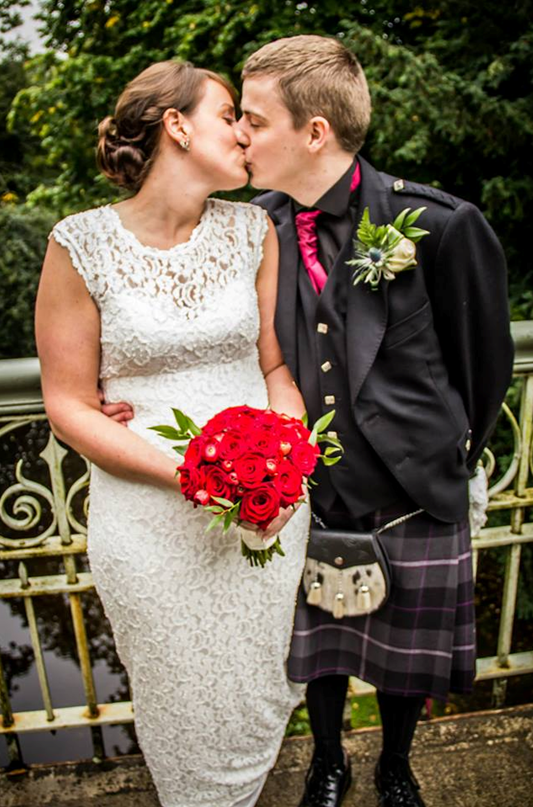 Maryclare came across Three Sisters Bake and their wedding cakes at the Glasgow SECC Wedding Fair. Although she & Ross already had a venue organised their curiosity got the better of them. They visited the venue soon after & were hooked:
"I instantly fell in love with the whole area around the cafe and Quarriers Village, the hall itself was bright and airy and just had a very vintage feel to it. It was pretty much a blank canvas in terms of decorations so I knew I could add my own touches to the room to make it personal."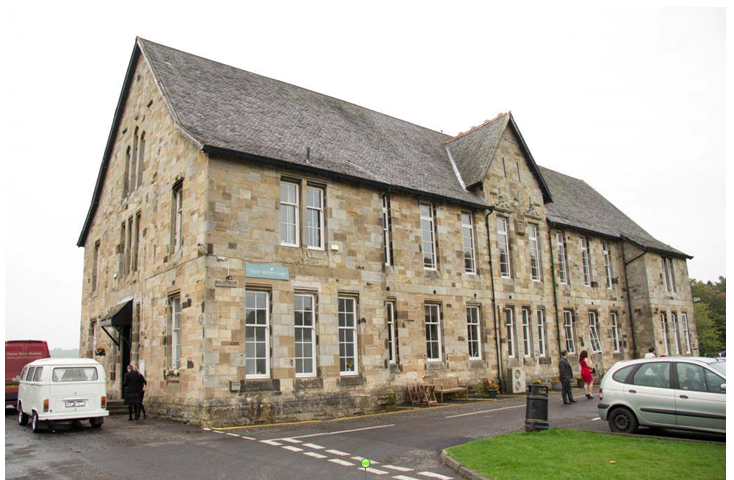 Their wedding was fully catered by Three Sisters Bake which means the food was in-keeping with the vibe of the venue yet offered them something a little different and exciting. Maryclare & Ross opted for:
Starter: Sweet Potato Soup with Coconut & Chilli served with artisan bread
Main: Haggis with Rumbledethumps or Pulled Pork with Minted Greens, Creamy Mash & Artisan Bread
Pudding: Sticky Toffee Pudding
Canapes: Oatcakes with chicken liver parfait & Parmesan Shortbread with Caramelised Red Onion
Evening Buffet: Roll & Potato Scone, Roll and Sausage and Black Pudding & Roll and Apple Sausage.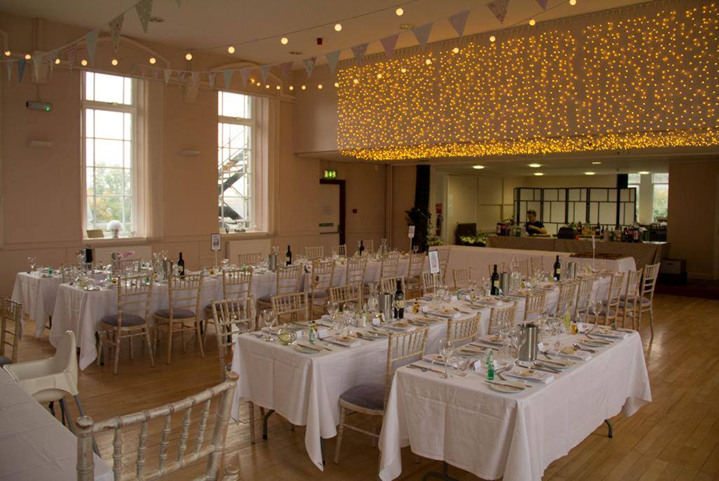 And rather than a dessert table the couple opted for a classic wedding cake with a twist:
"Eventually I just opted for the wedding cake instead of the full table. I think with us having so much food our guests would have been rolling out the door! I chose a simple Victoria Sponge covered in Buttercream with a lace outlay. It fitted perfectly with my hall decorations and funnily enough, my lace wedding dress!"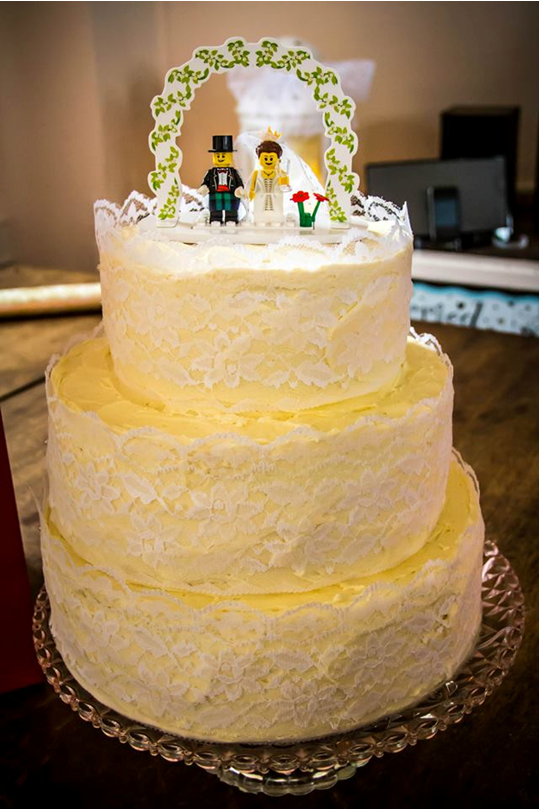 I think what impressed me the most when speaking with Maryclare about her wedding was the variety for the catering and that the venue offered them something a little more unique:
"Whenever my wedding is mentioned amongst my friends and family the first thing they talk about is the food and how fantastic it was. It wasnt traditional wedding fayre which is where I think these ladies really stand out. It was honest, flavoursome home cooked food."
And perhaps most importantly, they received an incredibly personalised service:
"The overwhelming sense I got in dealing with the ladies was that my wedding mattered to them, we were more than just a booking. The girls were very easy going and worked with me to create a really chilled, fun celebration that was everything we wanted."
It appears the sisters truly seem to understand the role food plays within a wedding. Regardless of what is being served, a wedding meal should have a feasting and celebratory element to it. What the sisters prove is that these characteristics don't necessarily have to involve pomp or fuss. Equally, simple, home-cooked food, as Maryclare described, needn't compromise on elegance or fail to impress.
Sadly Three Sisters Bake is now no longer able to offer weddings in the same venue space where Maryclare & Ross got married. However, rest assured, they are still offering their catering and wedding coordinator services at various other locations. For more information please visit their website.
When you meet the sisters and hear about their business you truly get a sense of their genuine enjoyment of food. This ethos is reflected not only in their book and their shared stories of how food featured in their childhood but also through their cafe. As a wedding supplier they demonstrate a sound understanding of the importance of food in people lives and the role it plays within celebrations.
Next Week – Detailed book review & an attempt at one of their more curious recipes.