On a day to day basis (in my academic life) I think about, write about and research a dental health intervention which is aimed at improving children's oral health (that's the short story, check out my LinkedIn profile here if you want more info). However, in my blogging life, I write about food, eating and generally document my greed. This creates a dichotomy of sorts because if I were to try and combine the two I would lose readers. Let's face it, no one wants to read a food blog which focuses on sugar free snacks and to be honest, that is hardly an accurate depiction of my life.  So there are very few moments where my blogging life and my academic life merge into 1 happy (and tooth friendly) post.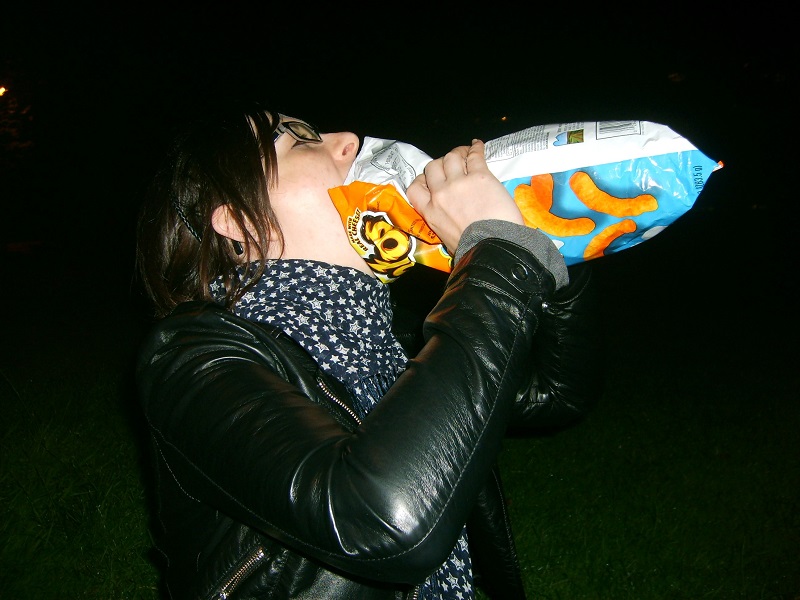 I am a self confessed junk food addict. I worked in McDonalds as a teenager, I grew up on a diet of Irn Bru and Ice Poles and I thought nothing of having 3 teaspoons of sugar in my tea.  However, since I started my PhD 2 years ago my sugar consumption has dramatically decreased. There is something to be said about working in an environment which has posters on the walls of rotting teeth to really make you reconsider the sugar in your cuppa. While I may have cut out fruit juice, fizzy juice, sweets and sugared tea or coffee and got into the habit of mouth-washing after every meal, like any other lass, I still enjoy cakes and cocktails and I'm not about to give those up nor am I willing to stop creating recipes and writing about them.
However there is a balance to be struck and this is the message which is repeated in the media, the academic world and in the child health intervention my research revolves around.
Despite being a relatively easy health problem to avoid, tooth decay still affects between 60-90% of schoolchildren around the world (WHO 2012) and it is a particular health concern in Scotland. In 2008 The National Dental Inspection Programme highlighted that 42% of Scottish P1 children had signs of decayed teeth. While this has improved in recent years, there is still a considerable number of children who are:
Not registered with a dentist
Have signs of tooth decay
Have to receive general anaesthetics to remove all of their teeth because of the amount of decay they have.
While preventative measures such as brushing or visiting the dentist regularly will help, it is really only through our eating habits that we can maintain a happy healthy smile, and this involves decreasing the amount of sugar in our diet.
So when Joe Blogs Network invited me to submit a winning recipe for the Simplyhealth 'Healthy Smile' recipe competition, you may now understand why I punched the air. Raising awareness of what is in our food and encouraging people to stop and think is what I've been building my academic career on so far.
My remit involved selecting 1 food group from their 'Eat it, Watch It' infographic (which you can view here) and create a recipe in order to win a Kenwood Juicer + £100 of Waitrose Vouchers or a Kenwood Smooth Maker + a £50 Waitrose Vouchers. So here goes.
Salmon Ramen
I've been making variations of Salmon Ramen ever since I had my first bowl of this wondrous concoction from Ichiban several years ago. It's not only an incredible hangover food (trust me, antioxidants & spices are what you need the morning after the night before) but a tooth friendly food too.
Salmon (being the main ingredient) is rich in Vitamin D which allows our bodies to absorb calcium which as we know, it's a fundamental building block of our bones & teeth, and Ginger (another key ingredient) is a natural anti-inflammatory which supports healthy mouth tissue. All in all, Salmon Ramen is an all round good egg for healthy smiles.
This will serve 2 although feel free to half the quantities if cooking for 1.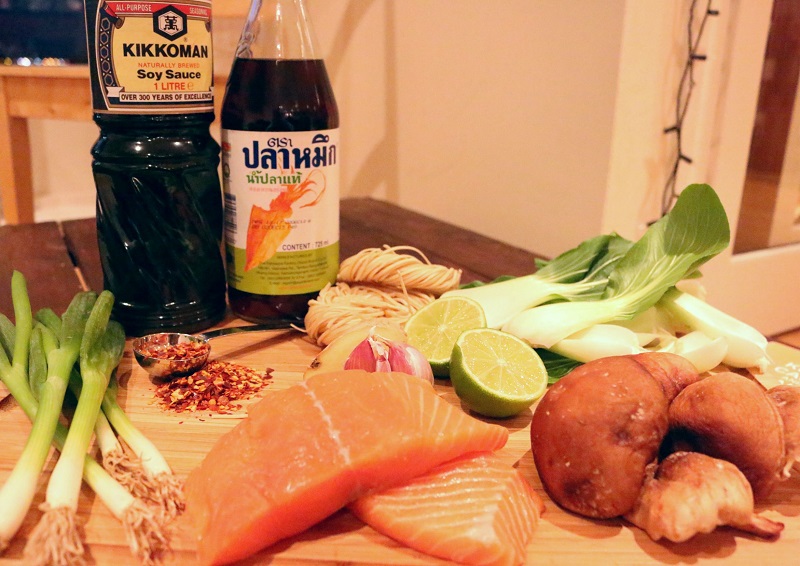 Ingredients
Finely slice the ginger and garlic into small thin shards. Then tear the leave off the Pak Choi so the stems and leaves are separated. Tear up the Pak Choi leaves into bite sized pieces and slice the stems in half.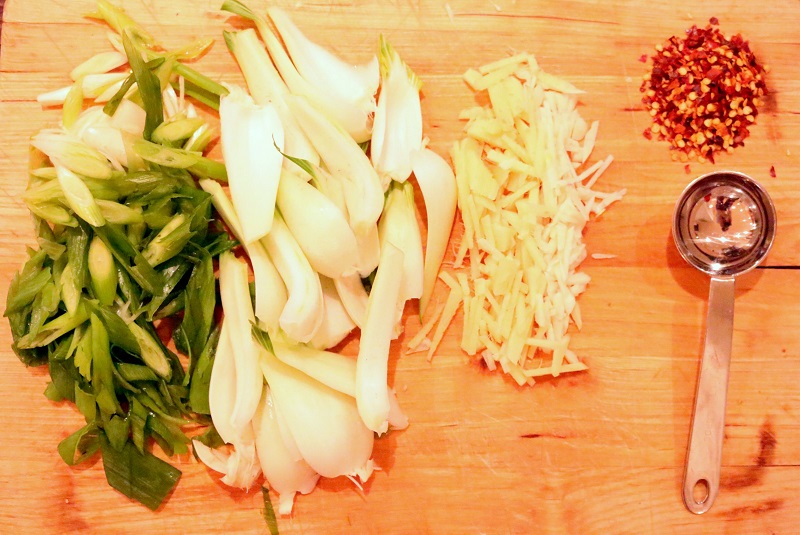 Make up the stock using the Vegetable Boullion and hot water from the kettle. Add this to a pot with the ginger, garlic, dried chillies, lime juice, a few drops of Nam Pla & approx 1-2tsp of Soy Sauce. Let this simmer over a gentle heat while you get on with making the salmon. This is now the base stock for your soup. I would go easy on the Soy Sauce & Nam Pla to start with. You can always taste it at the end and add more if you think it needs it.
Place a frying pan over a medium-high heat. Rub the salmon lightly with oil and season with ground black pepper.
Fry the salmon for 3-4mins each side until crisp. When cooked, set the fish aside on some kitchen paper to drain off the excess oil.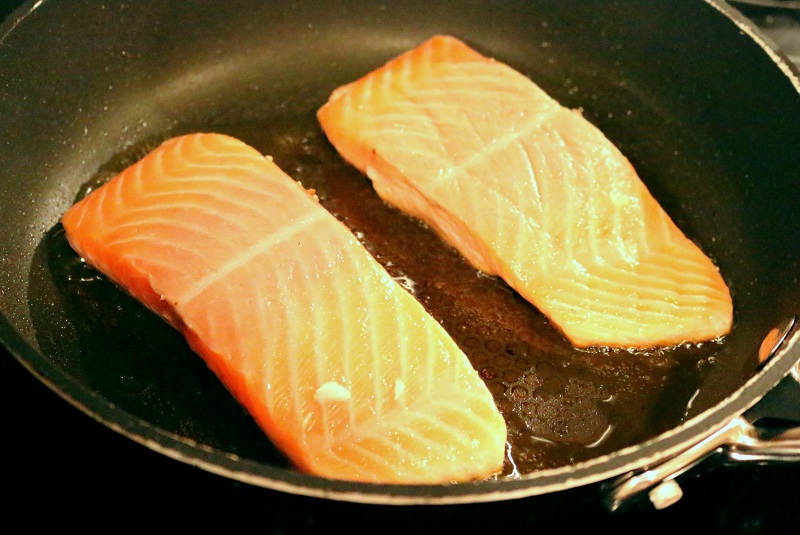 While the salmon is cooking, cook the noodles according to the packet instructions in a separate pan of water from the kettle. These should take approx 3-5mins depending on the brand.
Add the shitake mushrooms, spring onions and Pak Choi stems to the stock and cook for 2-3mins.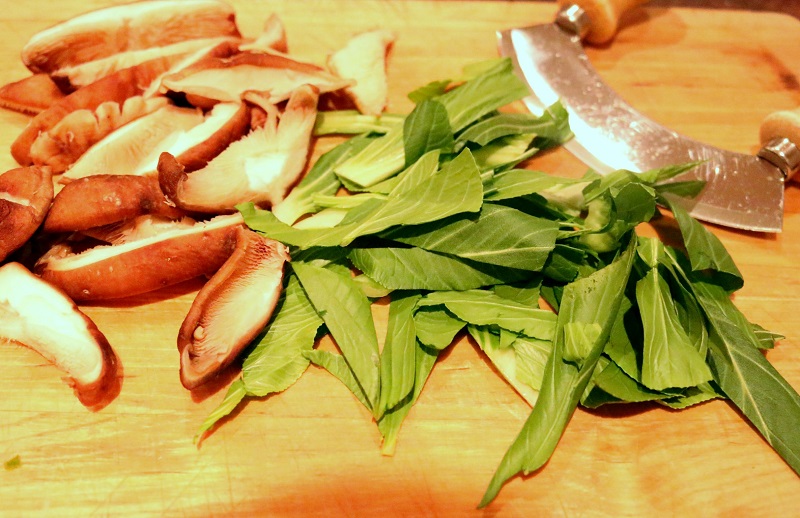 Drain the noodles & divide between 2 deep bowls. Take the stock off the heat and add the Pak Choi leaves and chopped Coriander or Parsley. Taste for seasoning and add more Soy Sauce, Nam Pla or Lime juice if it needs it.
Ladle the soup into the bowls then top with the salmon fillet. Serve with chopsticks (or a fork) and a spoon and slurp away with your happy teeth.