Thaikhun, the sister company to Chaophraya, has not long opened its doors in Glasgow's Silverburn Shopping Centre. In stark contrast to the chic Chaophraya, of which I'm a big fan, Thaikun offers a more laid-back dining experience but with an equally authentic menu.
A great deal of effort has gone into making Thaikhun reminiscent of a Thai street-food kitchen with it's stripped wooden decor and eclectic array of hanging baskets, umbrellas and vintage coca cola signs. Although I couldn't help but feel it was perhaps a little too contrived, you know in the same way TGI Fridays tries to make you feel you're in Rockabilly America? Decor aside, the menu was inspired and varied, and not at all like Chaophraya which I liked.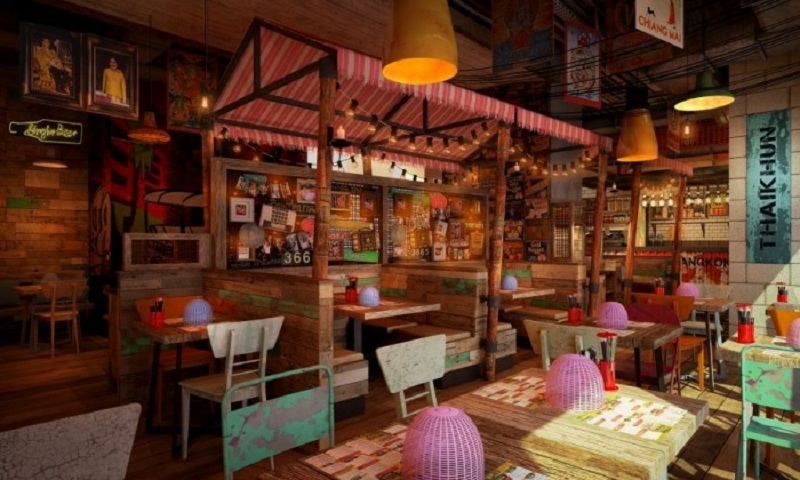 Thaikhun's emphasis was clearly on street-food style dining. They have a good selection of meat, fish and veggie-based dishes, and many of the dishes can be catered to the veggie palate if you ask. To start, Irish Pal #2 and I ordered:
Too Man Kaho Poo (deep fried sweetcorn fritters flavoured with red curry paste & kaffir lime leaves,  served with chilli dip)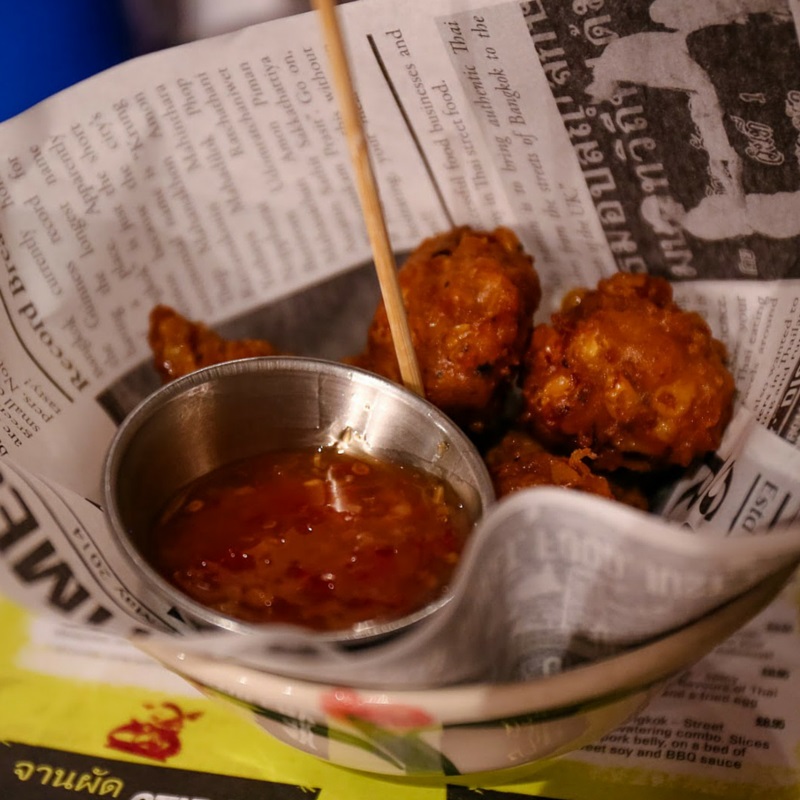 Moo Dad Deow (mini deep fried pork strips marinated with palm sugar, coriander, pepper & soy sauce, sprinkled with sesame seeds)
Both were delicious and the flavours were very fresh and punchy. To be honest, I'd have quite happily ordered several starters to share rather than separate mains. Something to keep in mind if there's a crowd of you.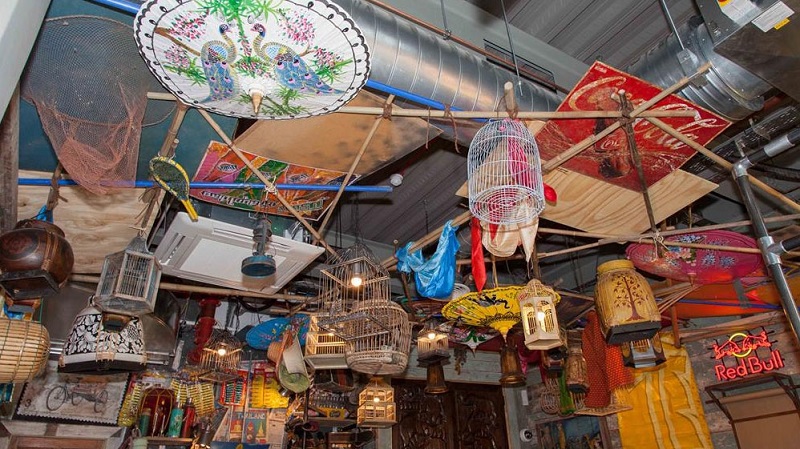 The mains menu offers Thai salads, rice & noodle dishes, Thai curries, stir-fry, Pinto-sharing platters (where you can sample several dishes) and grilled fish & meat. While Irish Pal #2 opted for
Geang Phed (a mild-spiced vegetarian Thai red curry with cherry tomatoes, pineapple, grapes, green beans & sweet basil) with boiled rice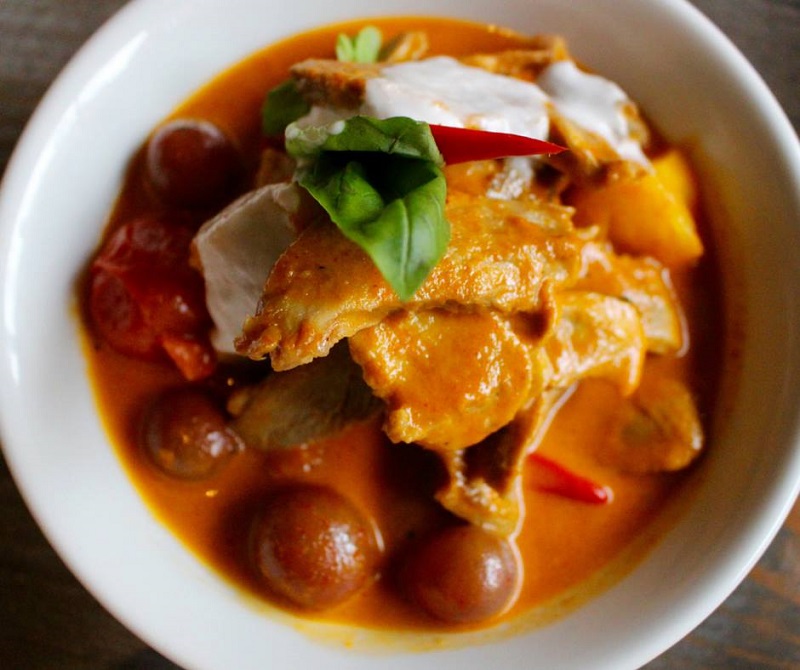 I was tempted by
Pla Samun Prai (a deep-fried whole sea bream with a tangy red onion salad with ginger, lime, coriander, lemongrass, fish sauce, peanuts, chilli & palm sugar) served with sticky jasmine rice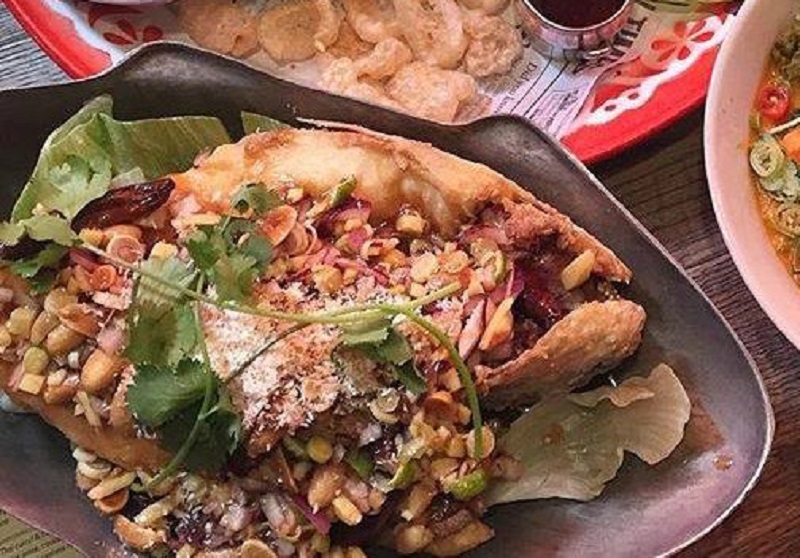 The Geang Phed was delicious, and although a strange concoction of ingredients (grapes in a curry?) it really worked and was by far the best dish of the evening. The flavours of my Pla Samun Prai were a mix of sweet, sour, spicy and salty. The fish was crispy on the outside, tender inside and I loved the crunchy peanut salad. Although the large chunks of ginger & lime were a little strong for my tastes. While the portion looked very large it produced very little meat so you definitely needed a side to feel satisfied.
The sticky jasmine rice was a big disappointment. It arrived in a plastic bag tucked inside a mini wicker basket (why?) so I couldn't help but assume it was boil-in-the-bag rice. If so, then for a Thai restaurant this is disappointing given rice is a staple dish. The rice was an inedible gelatinous lump and I could pick the entire thing up with my chopsticks and it still didn't come apart. Needless to say, it remained untouched.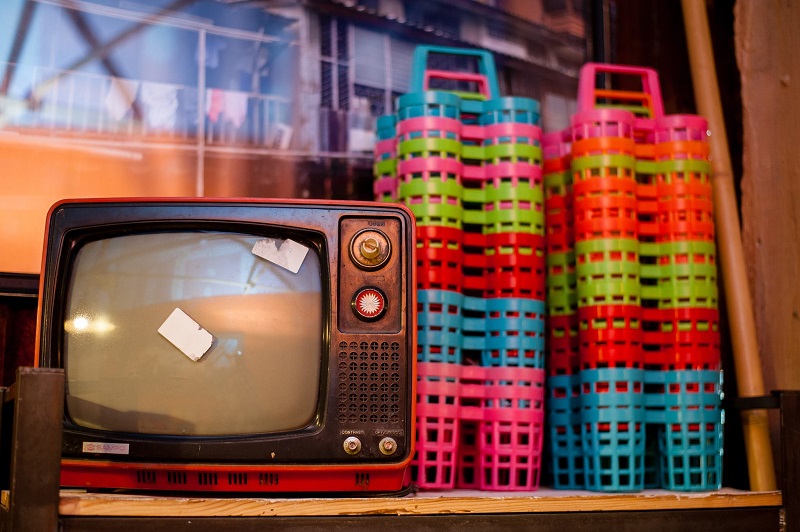 The drinks menu was varied but not only in their wine and cocktail options, but surprisingly in their non-alcoholic too including:
Thai iced tea
Orange, pineapple and peach juice
Melon refresher smoothie
Coconut water
Pennywort juice
Guava juice (can't recommend this enough)
I liked that the drinks selection was more than your standard fizzy soft drinks. So for those of us who are tee-total or are driving, we have something a little more interesting to drink. A factor I think more restaurants need to take into account, particularly those out of town restaurants which most people will be driving to.
My bugbear was the size of the tables. Considering most of dishes come with at least 2 plates, the tables were crammed with large condiment baskets, water glasses, cutlery buckets, drinks & menus, so there was barely any space left by the time food arrived.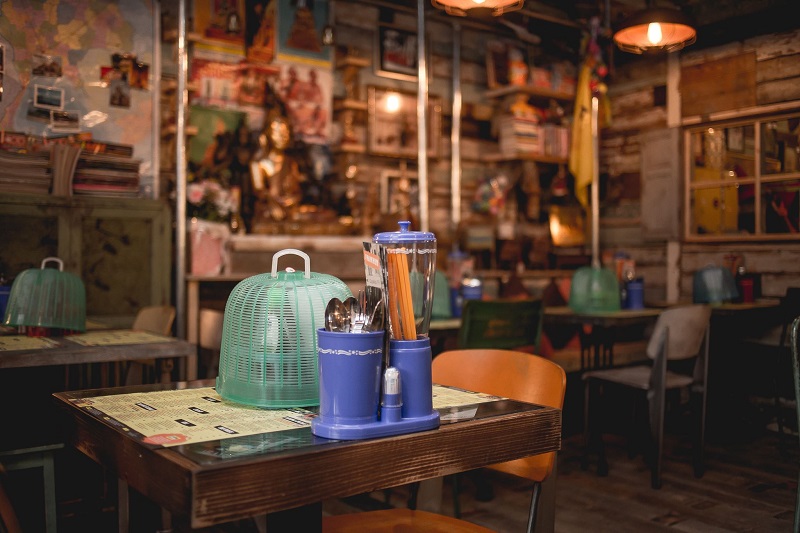 The staff were on hand to explain the menu & offer advice when needed, and the food was served surprisingly quickly. Considering we ordered 2 starters, 2 mains & 2 drinks, we were out of there in under an hour (and neither of us were particularly fast eaters). To be fair the restaurant was quiet when we arrived, but I left with the impression it was a fast-food orientated restaurant in a Nando's kinda way. I just couldn't help but get the feeling you weren't expected to linger. Which is a shame because their cocktail menu and sharing dishes, not to mention the decor, are all very appealing.
Overall, Thaikhun's menu was inspired, the food was delicious and for someone who hasn't been to Southeast Asia it at least felt authentic.