Tuesday 27th September 2016 will forever be a pivotal day for me. This was the date where after 4 years I submitted my PhD thesis; and where after NINE back to back years of University life, I finally left my student years behind me.
It was a momentous occasion and one which required a suitably epic celebration. So as soon as I completed a mad dash to get the thesis printed, bound, and submitted in time; then consumed the best part of bottle of Bolly, and fell into a glorious 10 hour comatose sleep: I jetted off to Budapest to kick start the celebrations in style.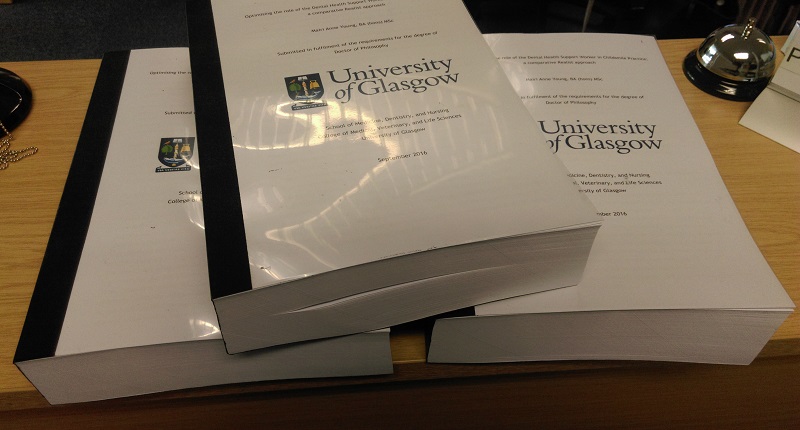 If I'm honest, Budapest wasnt my first choice of celebration location but Irish Pal #2 and I were conveniently scheduled to present our research at the EADPH conference in Budapest just TWO days after we submitted our theses; and since both of our fellas and our wee Austrian buddy fancied joining us, the trip comfortably moonlighted as a celebration. This is my long overdue Weegie tour of Budapest.
Cottage Cheese Rules
First thing you need to know about Budapest is that the Hungarians are seemingly obsessed with cottage cheese. Not paprika as one might expect, but that bland, lumpy, white cheese that British people eat at no other time than when dieting. Yet in Hungary, pastries, pancakes, chocolate bars (yep, they have cottage cheese in their CHOCOLATE bars), puddings: All feature a cottage cheese version.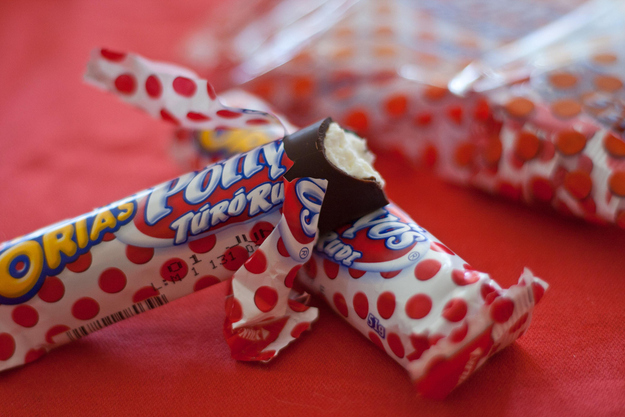 On our first night in Budapest, post conference, we ate what has come to be known as THE worst meal of our lives at Kantin. The clue should've been in price: I mean, 2500 HUFS (i.e. £6.80) for a 3-course meal was never going to live up to high expectations was it? While the main courses were bad, it was the grainy, bland, cottage cheese filled, deep fried pancake that Irish Pal #2 ordered which took the title of Worst Dessert Ever. This was so unbelievably awful that each of us had to take a turn to sample it.
Take my advice and save your money on pudding when eating out in Budapest and just head to an ice cream parlour instead.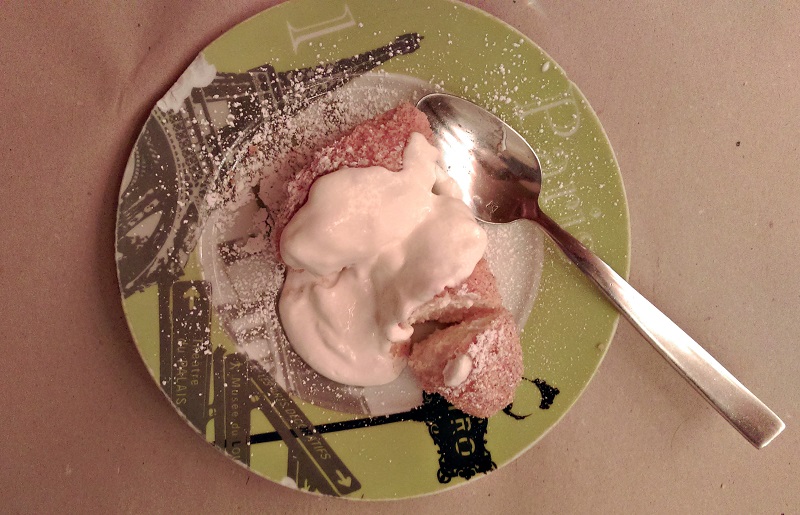 Ice Cream to Rival the Italians
The ice cream in Budapest was as good (if not in some instances, dare I say it, better) as the Gelato I've had in Venice.
We're talking between £2-£4 for 2 generous scoops of ice cream from most vendors, depending on the location, and some of the best flavour combos around were from Hiszteria Cremeria: Lychee & mascapone; sour cherry & poppy seeds.
Travel Tip: I'm assured by my crew that the poppyseed ice cream was incredible, so if you do want to try this, remember to bring the dental floss with you. Their teeth were a bloody riot for the rest of the day.
Hungarian Wine
Hungarian wine, while relatively young, is bloomin marvellous and I hope will appear more in the UK market. Budapest has a plethora of wine bars to choose from, most of which feature hundreds of varieties of wines and which are available to buy by the glass.
Following our dire dining out experience at Kantin, we rounded out the night at the Apropo Wine Bar, which is listed as 1 of Budapest's top wine bars. The rustic and romantic interior, subtle vintage style, and a menu packed with tapas and wine, was an ideal way to round out an evening. Open till 2am at the weekend, it's a good alternative to clubs and pubs.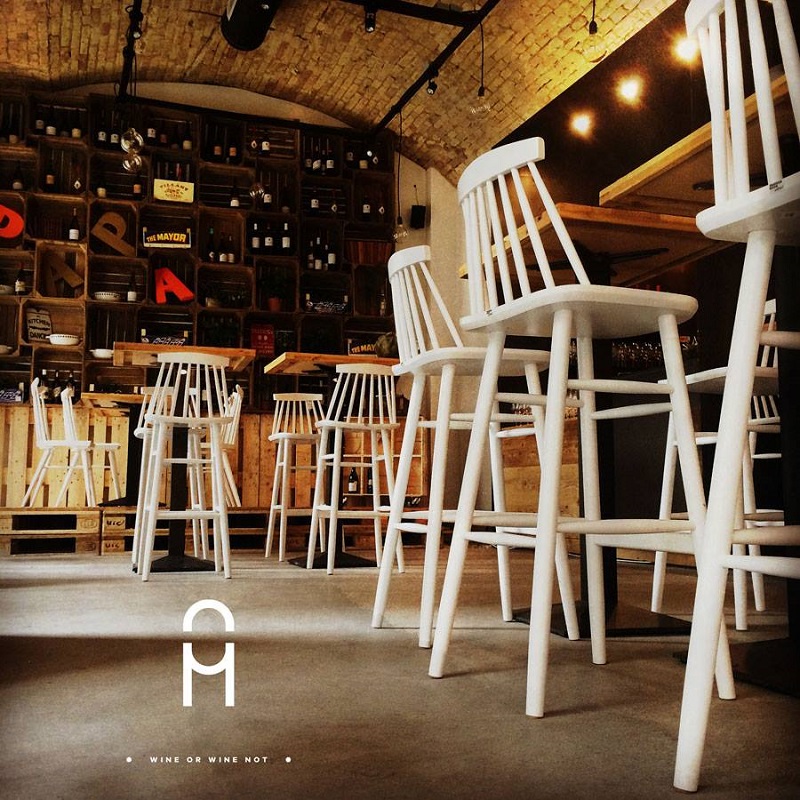 Danube Booze Cruise
No trip to Budapest is complete without a cruise down the Danube river. Now the booze of course is entirely up to you, but who can resist an excursion which rhymes so nicely?
For £13 each, and thankfully on a sunny and relatively warm day, we cruised down the Danube river on an open-topped boat. The ticket price also included a glass of champagne and a glass of fresh lemonade on the outgoing & returning journey. The cruise lasts approximately 45 minutes and comes with an audio tour, and will drop you at Margitsziget (Margaret) Island and collect you from the island at various times throughout the day.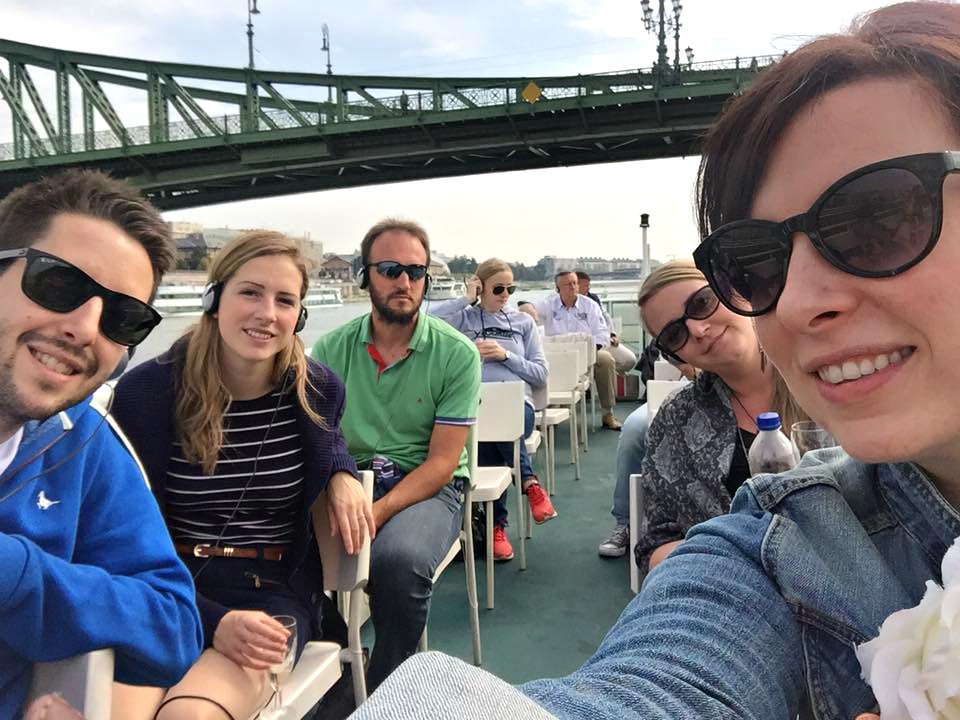 Langos and Bikes: not a good combo
Margitsziget Island is not accessible via the very cheap and reliable Metro line (guys, we're talking £1 for a single journey) and it's approx 20min walk from the nearest Metro stop. So make the most of the Danube cruises and use it as an opportunity to explore the island.
The island is 2.5k long & 500m wide and comprises mostly parkland and a few medieval ruins. The best way to get around the island is on pedal bikes, which range from single-person up to 6-seat bus bikes: Imagine Fred Flintstone and his family on a car trip, this is pretty much how we looked.
There isnt much diversity in dining out options on the island. There are 2 hotels, 2 cafe's, and 1 street food stall. An alternative option would be to visit the Grand Market Hall for food (maybe toss in a bottle of wine?) and picnic on the island. Then again this would mean missing out Langos, and trust me when I say this is a Hungarian speciality you do not want to miss.
Langos is a deep-fried flatbread, smeared with sour cream and cheese, topped with bacon and onion, and filled with self-loathing. It was bloody divine. Grab one of these, undo the top button on your jeans, and chill out by the musical fountain. Do not do as we did, and then proceed to tear up the island on the bike swiftly after eating one.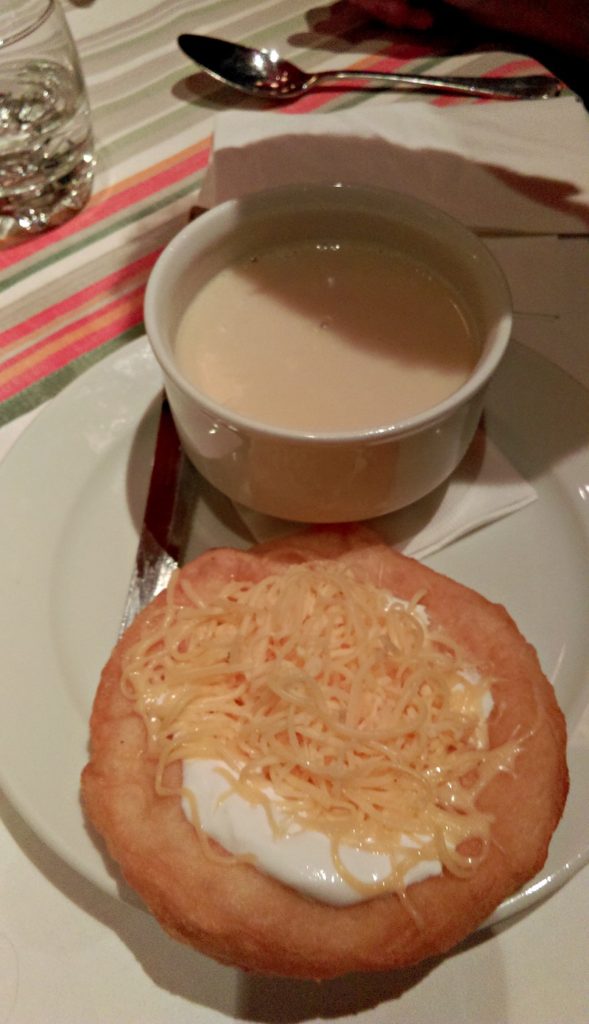 Big Fish
Big Fish was hands down, some of the best seafood I've had in my life. Which is saying a lot for a restaurant in Budapest considering it isnt exactly close to the ocean.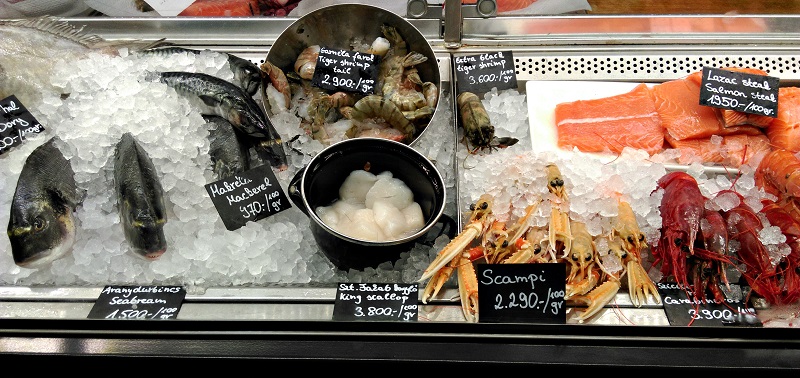 It was their method ordering I digged: you select your fish/seafood at the counter, choose how you want it served, then pick your sides and drink, and select. Much to my fella's delight, there was even a lobster tank where you can he could select a lobster to his liking. Granted the puddings were disappointing but like I said earlier, head to the Hiszteria Cremeria next door for ice cream and be done with it.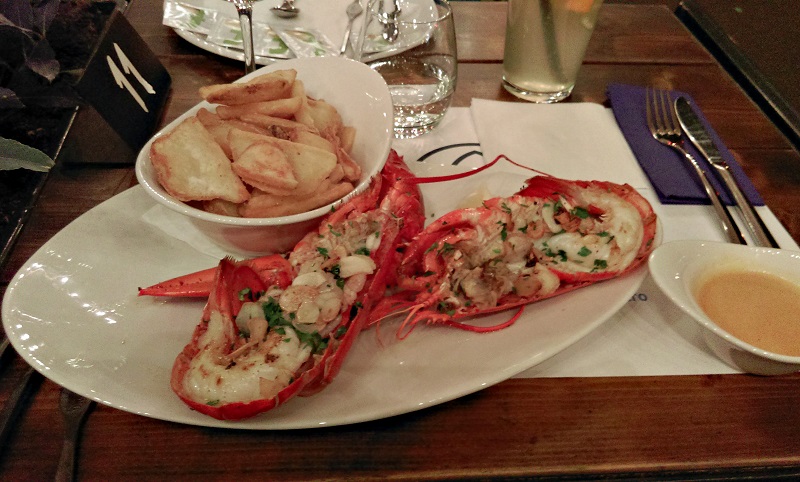 New York Cafe
The New York Cafe is not to be missed spot in Budapest, It doesn't hold the title of the Most Beautiful Coffee House in the World for nothing, and yet despite the extravagantly opulent interior, it wasnt that overpriced (a running theme throughout this city).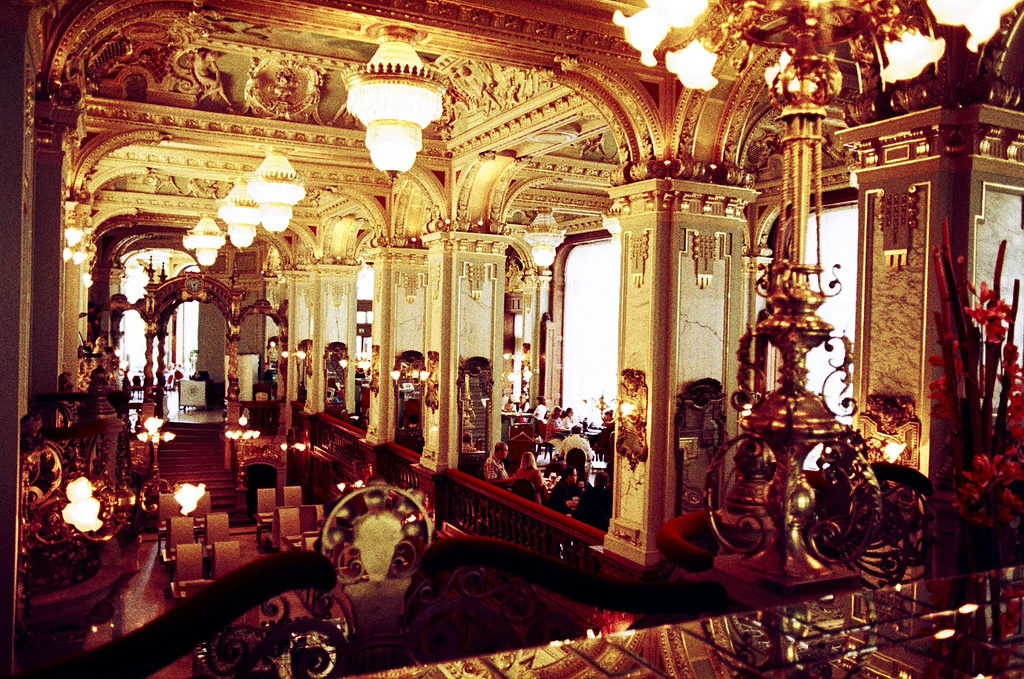 Head here for afternoon tea/coffee and cake, and if you're celebrating anything this is THE place to do it. Afternoon tea with champagne for 2 will cost about £50, while tea and cake for 1 is approx. £11.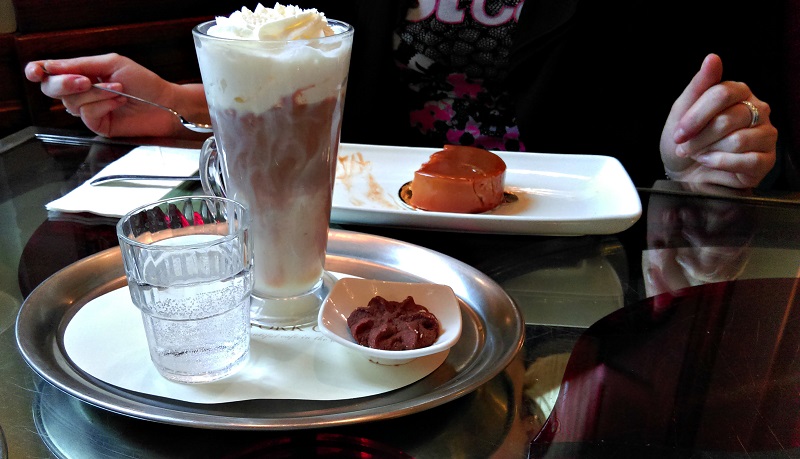 Book ahead to avoid a long wait, but we did manage to get in without a reservation and only a 10 minute wait. The menu has a delectable selection of cakes, pastries, cheesecakes, hot chocolates, teas, and coffees. However do be prepared for a very crowded environment so plan your visit wisely to avoid the crowds (and the many flashes of phones taking pictures of food).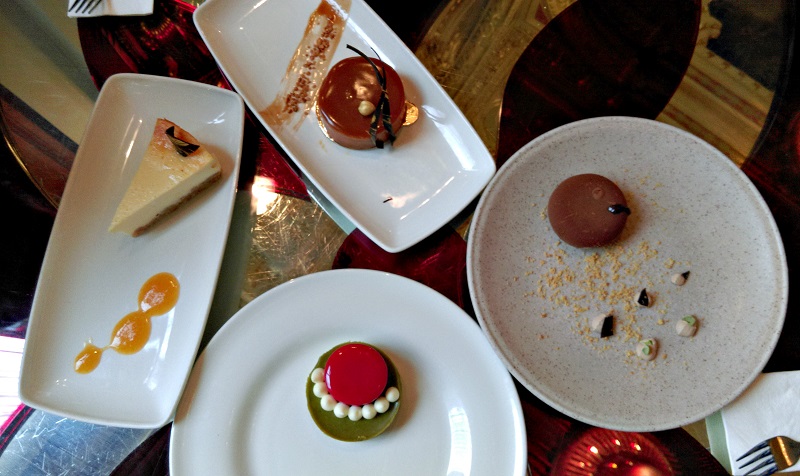 Based on my minimal prior knowledge of the city, I had zero expectations of Budapest: which I don't think is a bad way to go about travelling, its liberating in a way and it doesn't set you up for a disappointment. I found Budapest a relatively tough city to fall in love with, that said I don't think I managed to scratch the surface of what it had to offer, but excellent value for money and it seemingly has something for everyone. So I say go and eat as much as you can before it turns into another European stag destination with inflated prices. Just be cautious of the cottage cheese puddings