Previously this recipe for Baby Scones was included within my Afternoon Tea: The Victorians Knew What They Were Doing post but considering the attention they've received on Twitter and Instagram I felt it was time to give these wee fellas the individual credit they are due.
They say good things come in small packages. Ok true. Cadbury's Fudge, a brand new box of kirbies (because those things grow legs & disappear) or a new and unused tub of Carmex. Although in my book, the best things that come in small packages come smothered with clotted cream.
I'm gonna fess up and admit that I eat scones for no other reason than to eat clotted cream. I find eating clotted cream straight out of the tub gives off the wrong impression. However if you don't suffer from the same profound greed I experience then rest assured these wee guys taste just as good with a more restrained spreading of butter.
American Translation – Scones are what Americans might identify as Shortcake or Biscuits. While Americans may eat biscuits as a savoury accompaniment to a meal,  try them with jam (jelly!) & cream. I promise you will thank me for introducing these to your life.
Baby Scones
There are certainly no shortage of scone recipes but if you've never embarked on scone baking before it can get somewhat confusing to decipher the different approaches. I make no claims to discredit other recipes but only offer up those which I like to eat and that work for me, which is another offering from our Domestic Goddess – Nigella Lawson.
If you are new to baking then these are the best things to start off with. These are quite simply a doddle to make and go from larder essentials to plate in less than 20 mins. Provided you don't overcook them you cant really go wrong.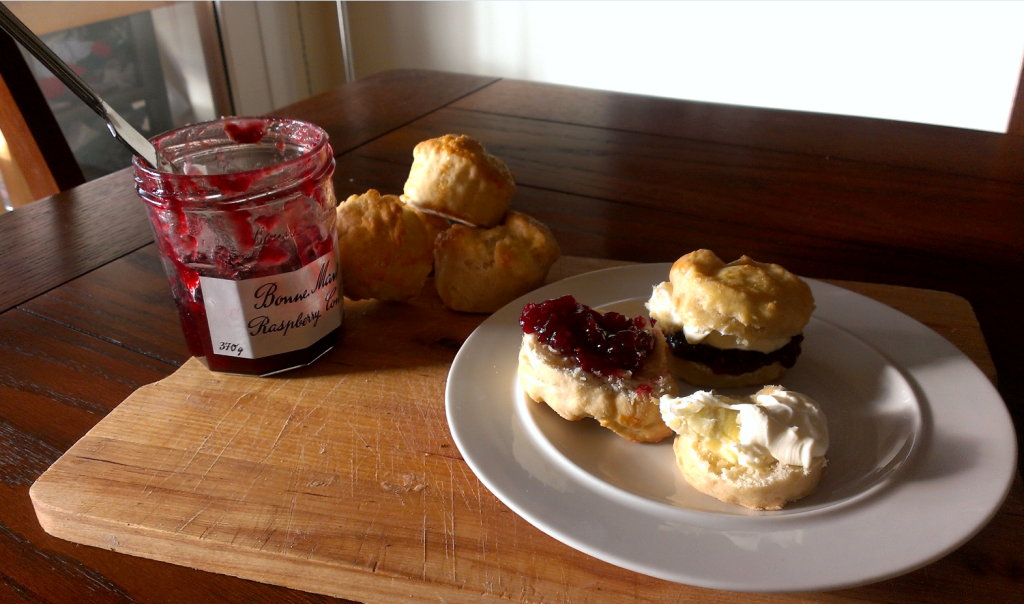 Ingredients

Heat the oven to 200C. Dab a little butter or oil on a baking sheet & smooth a piece of grease-proof paper over the top.
Sift the flour, bicarb of soda, cream of tartar & salt into a large bowl. Stir to combine. Either break or cut the butter up into small pieces & drop into the flour.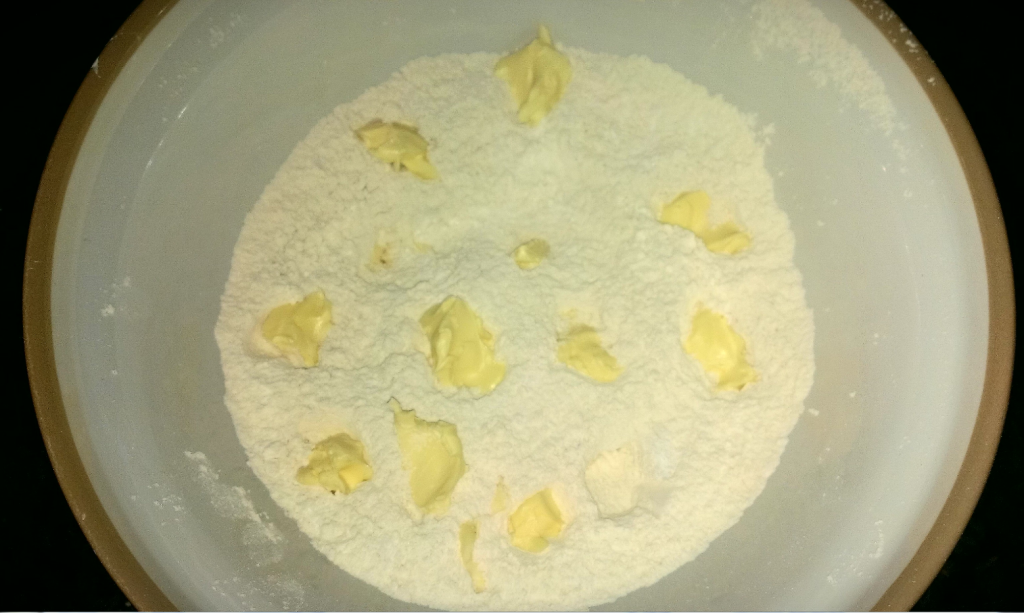 Rub the flour & butter together with the tips of your fingers until incorporated & there are no lumps of butter.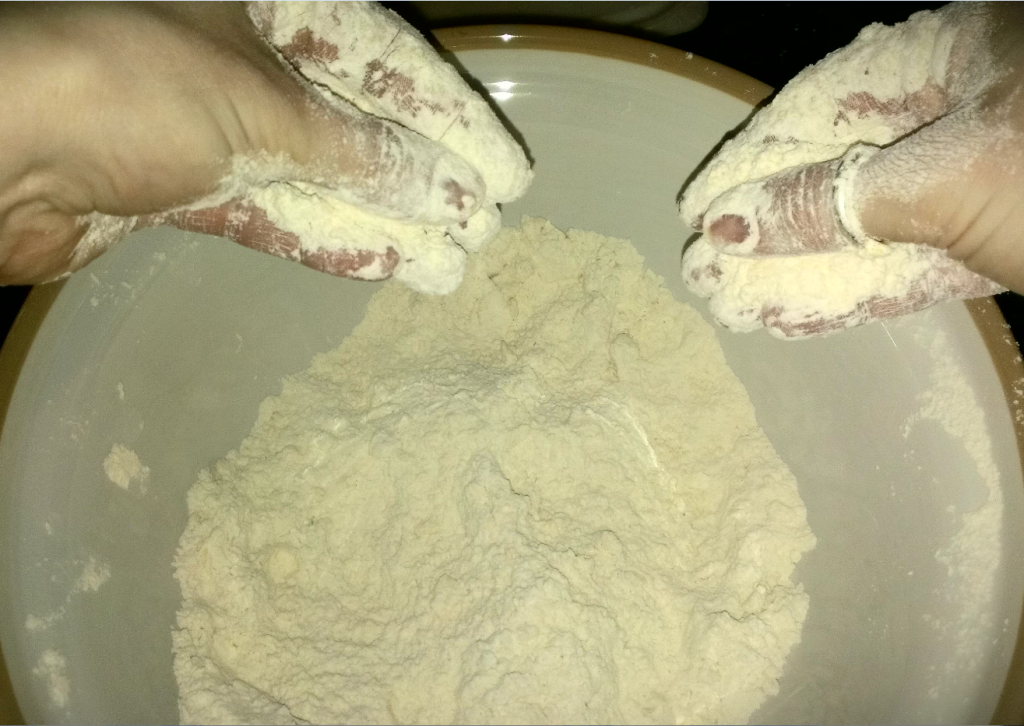 Pour the milk into the bowl & mix with a spatula until it comes together into a lump. Don't worry about the dough being lumpy, it should be like that. Then use your hands to bring all the remaining flour & dough in the bowl together.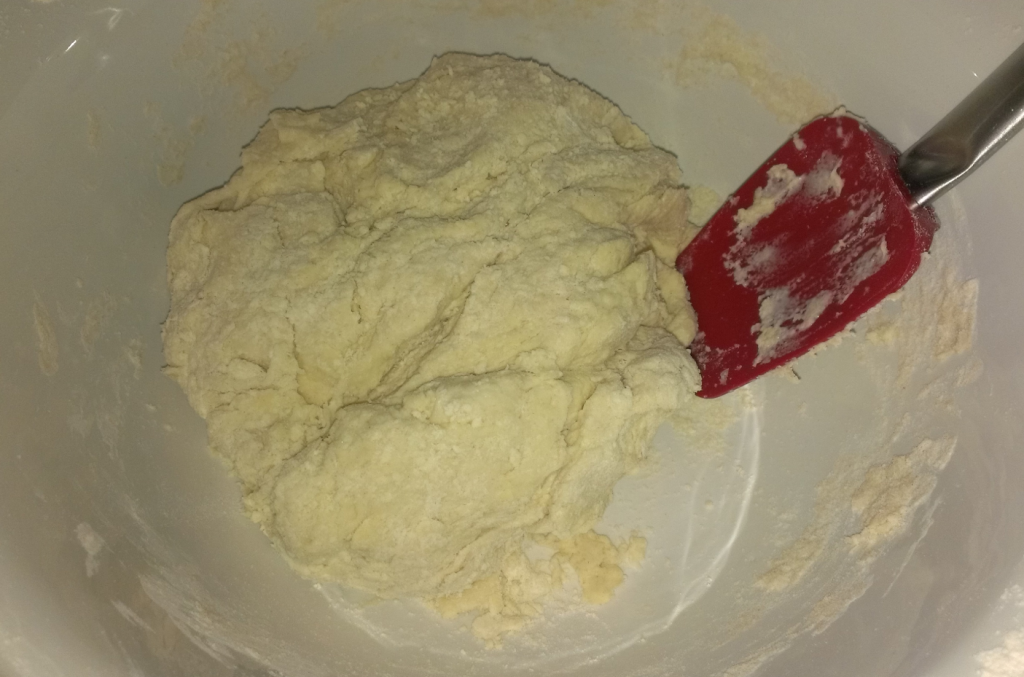 Plonk the dough onto a floured surface & roll out gently until its approx 3cm thick. Stamp out your scones using a floured scone cutter or a glass. I like to use the baby scone cutters which are approx 2 inches wide.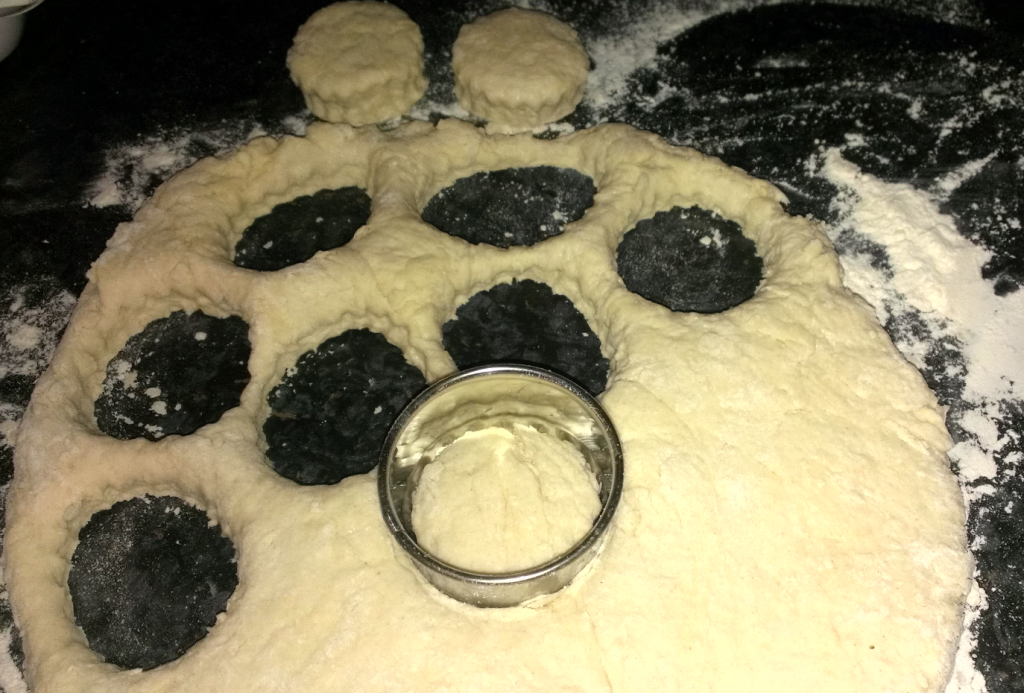 Lay the scones onto the baking sheet & brush with beaten egg. Bake for 10-12 mins until a pale golden colour.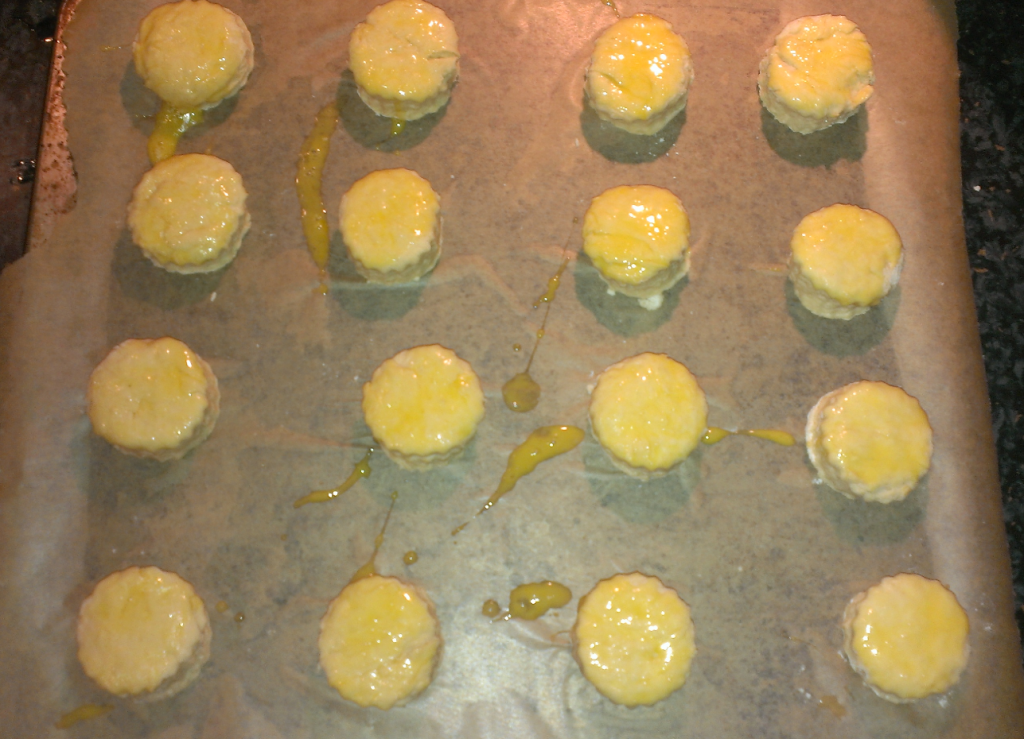 Transfer to a wire rack to cool or eat warm.
To serve, cut the scone in half, smear 1 half in as much clotted cream as you can squeeze on and the other half in jam. Sandwich together & apply to face. A cup of tea alongside is always a good shout & helps to up the classy factor.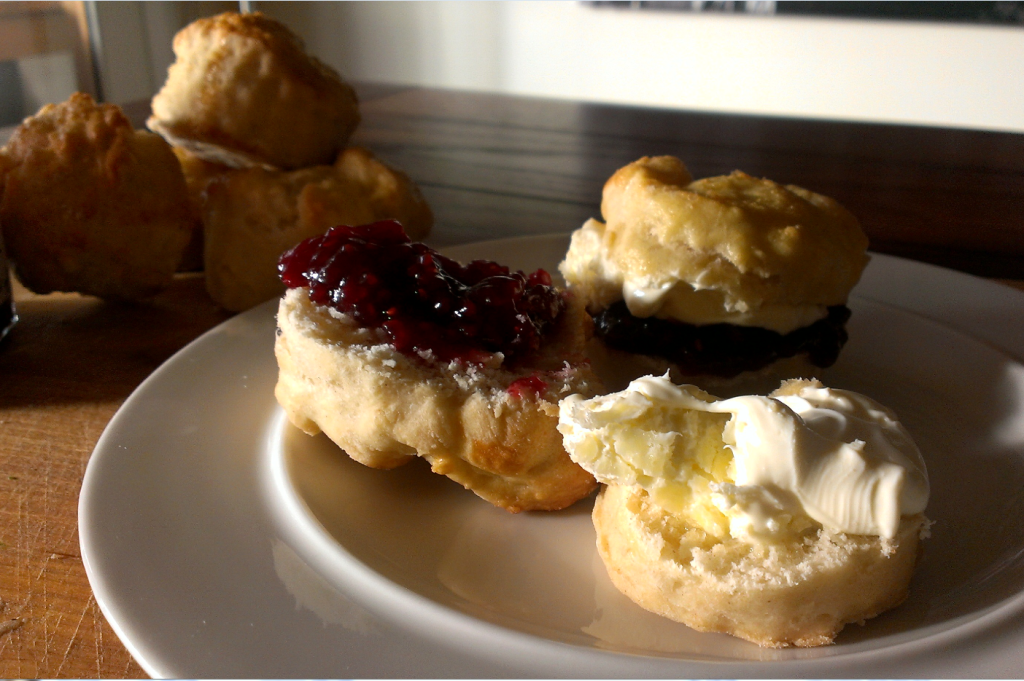 These will keep in an airtight container for 5 days. Alternatively stash in the freezer after baking where they will keep for 3 months.
These scones are neither sweet or savoury. I found by skipping out the sugar they not only cut the calorie content (perfect for when they're to be covered in jam & cream) but also the scones then become much more versatile for toppings.
Once you have practised making a few batches of plain scones you could always play around with different flavours & fillings. Here are a few to kick you off:
Chocolate Chips

– Add anything from 3-6tbsp of chocolate chips to the flour mixture before adding the milk
Sultanas

– Coat the sultanas in flour before tossing into the flour mixture before adding the milk
Cherries

– As above with the sultanas
Cheese

– Add 100-200g grated cheese to the flour mixture before adding the milk.
Cheese & Pancetta

– As above with the sultanas + cooled, fried pancetta cubes
Treacle – 2-3tbsp of treacle added to the milk. These are fantastic covered in salted butter