I was recently sent a selection of sauces from Encona, the UKs number 1 best selling range of authentic hot and spicy sauces from around the world.
Obviously, as a food blogger, I am expected to sing write for my supper. This poses a problem when the product I'm sent goes against how I cook and what I purchase.
I don't tend to buy pre-packaged or processed food, especially sauces, in fact (dare I say it), I kinda see them as a waste of money. Now this isn't snobbery, I am a self confessed junk food addict remember, it's just when it comes to processed food I always come away with the feeling I could have made it myself, for less money and sometimes with a better flavour.
Anyway, in the interest of curiosity I played along, conducted a few cooking experiments with the sauces and tested them out on my fella. This recipe for Fajitas was used with Encona's Mexican Smokey Jalepeno sauce from the Taste of the Americas range. The sauce has a mild blend of chillies and spices and has a smoky fruity flavour. It's ideal for marinading meats but can also be used a dipping sauce.
This Smokey Jalepeno sauce is Gluten & Lactose free but it's not suitable for hardcore veggies or vegans since it contains anchovies.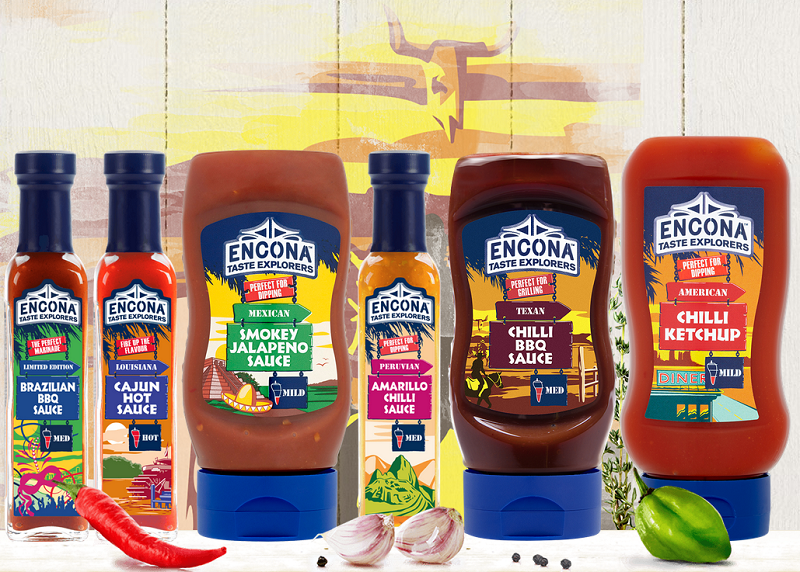 Smoky Jalepeno Fajitas
Who doesn't love fajitas huh? It's the meal that spans the generations, stretches across a plethora of dietary restrictions and can be enjoyed any time of day. From toddlers to grannies, vegans to coeliacs, breakfast to dinners, there's a fajita out there for us all. 
Nowadays, when making fajitas, I make my own salsa too. Purely because the flavour & texture is like nothing you can get out of a jar. If you prefer to use the jarred stuff, go for it. But considering the home spun version involves only a little light chopping & a stir, it's definitely worth a try.
This will serve 6 fajitas and feed 2-3 people depending on how hungry you all are. Feel free to increase the portions of chicken, veg and tortillas to feed more people.
Ingredients

Make it Veggie: Replace the chicken with a mixture of vegetables (peppers, onions, courgette)
Make it Vegan: Remove the cheese or replace with vegan cheese. Replace the chicken with a mixture of vegetables. The Smokey Jalepeno sauce is not suitable for Vegans but there are sauces which are suitable. Click here to check out their website for more info.
Start with marinading the meat (or vegetables). Of course the longer you marinade the better the flavour but if you don't have time, even 5 mins of marinading while you prepare the salsa will be enough (that's what I done).
Cut the chicken or veg into long thin strips. Mix together the chicken or veg in a bowl with the Encona sauce and leave to stand at room temperature for 5 mins. You should marinade in the fridge if you are leaving it for a long period of time but the meat needs to come up to room temperature before cooking, so remember to take it out an hour in advance.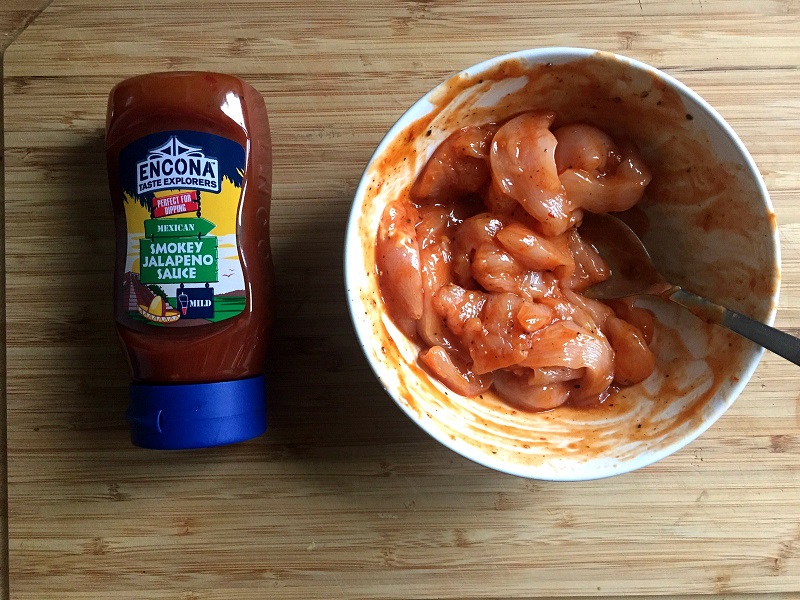 Meanwhile, prepare the salsa in a food processor or using a knife. Finely chop the onion & baby tomatoes and toss into a bowl.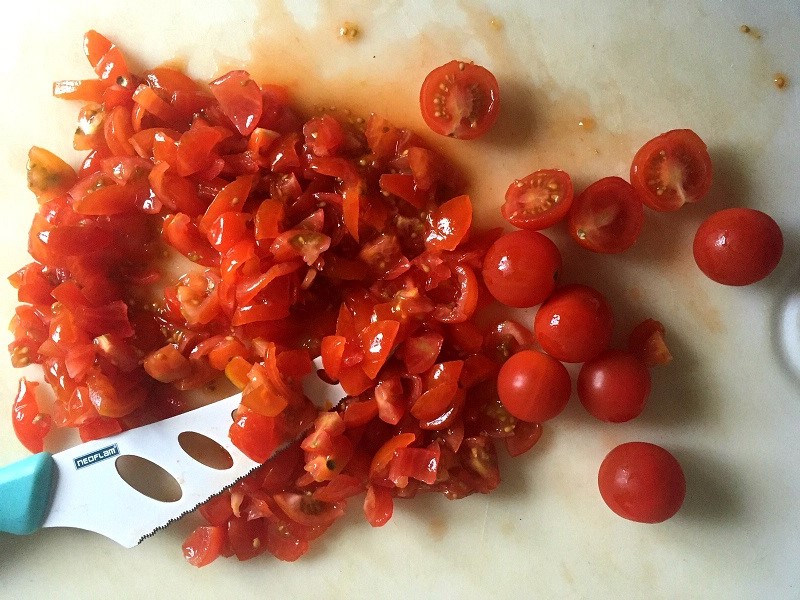 Next, crush, mince or finely chop the garlic clove and add this to the bowl of tomatoes with the lime juice, chilli and parsley or coriander. Season with salt and pepper, taste and then set aside until ready to use.
If you prefer a saucier salsa, you can blitz it in the blender until smooth.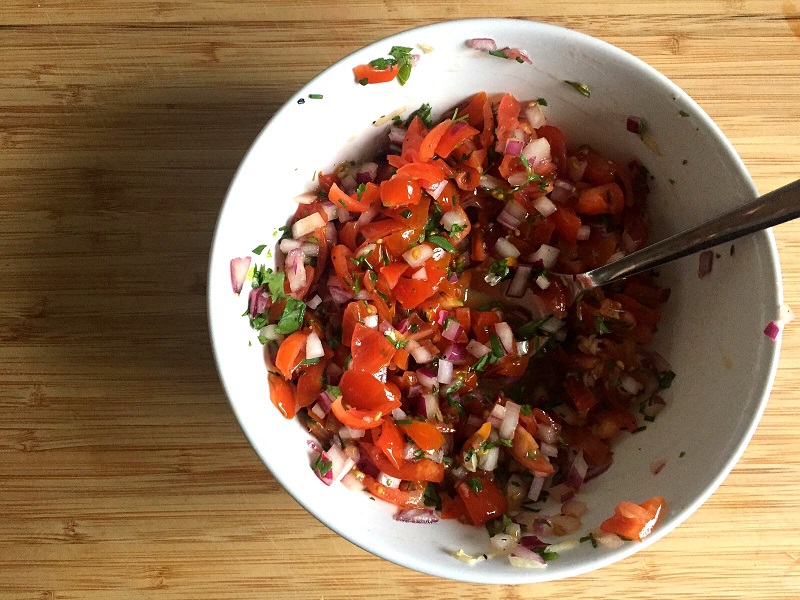 Next, finely slice the lettuce and grate the cheese. Open up a tub of sour cream and set the salsa out.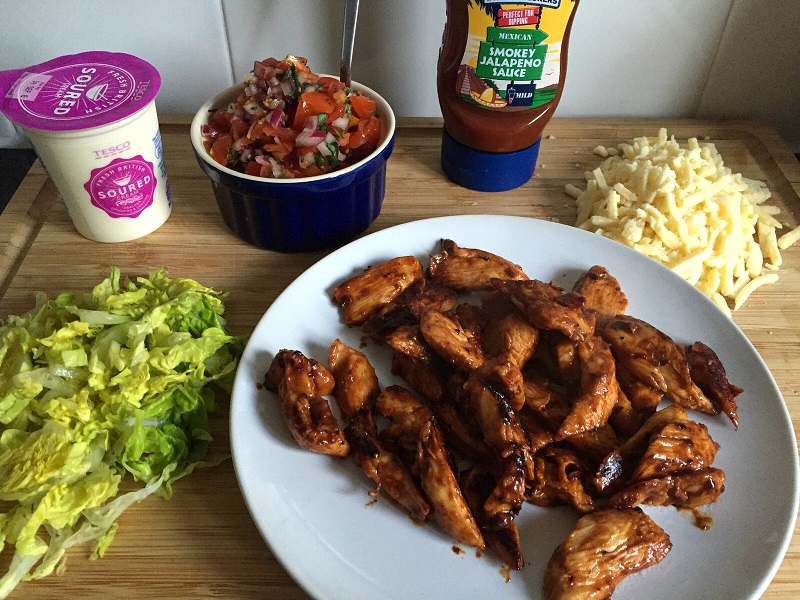 Place a large frying pan or wok over a high heat. Add a little oil and when very hot, add the marinated chicken or vegetables. The vegetables will take minutes to cook, but the chicken will take approximately 8-10 mins.
While the chicken or vegetables are cooking, warm the tortillas in a microwave or wrapped in foil in the oven (the packet will give instructions for how long to warm them for).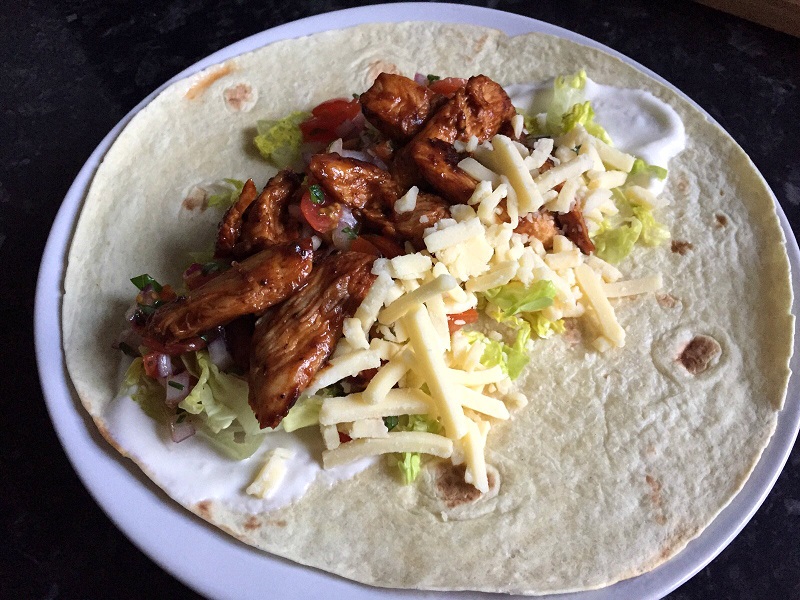 Remove the chicken or vegetables from the heat and decant into a bowl. Then let everyone help themselves to pile their fillings into the warm tortillas.
While you're at it, you may as well chuck a few margaritas or Coronas into the mix. Sombreros are optional.
The Verdict
Considering the chicken had only marinaded for 5-10 mins I found the sauce imparted a strong smoky flavour, ideal for midweek cooking when I want minimal input but maximum flavour. This is something to bear in mind come BBQ season next year and you're looking for a selection of marinades. The combination of the smoky chilli flavours of the sauce & a charred BBQ taste would be lush!
So while the flavour was good, was it good enough to merit me, or you, buying it in the future? The short answer is yes, depending on what I'm cooking.
Yeah I could probably make a smoky jalepeno sauce myself but that would involve a fair amount of time spent googling, shopping, chopping, simmering and blending. Not to mention the cost. So why would I go to this amount of effort just for something like fajitas? In my eyes, fajitas are for those nights when I can barely face cooking but I don't quite want to go down the route of takeaway / ready meals.
In these instances, yeah I can see the appeal of pre-packaged sauces. It's a compromise to make life easier and as I've discovered, doesn't necessarily require compromising on taste. I'm happy to report that Encona offers an enticing range of sauces and marinades, which can easily be adapted for most meals, at a reasonable price tag. So much so I'd happily keep 1 or 2 bottles tucked away in my cupboard for those nights when I need a little help in the kitchen.