This is the first of 3 recipes I was given to taste test by Border Biscuits for their Big Baking Bonanza. You can read more about it here. I'll be posting each of the recipes, in 3 separate posts, until the winner is announced at the end of the month. These include:
Stem Ginger & Chocolate Chip Oaties
Raspberry & White Chocolate Biscuits with a hint of Lime.
Stem Ginger & Chocolate Chip Oaties*
Stem ginger has an intense heat, which I do love, but it can dominate other ingredients. In this recipe I found I couldn't really taste the chocolate because of the overpowering flavour of ginger. While the ginger and oats were a cracking combo, ditto with the ground ginger, oats & chocolate, personally I would have one or the other in a biscuit.
That said, this was a good biscuit base to play around with. It makes those soft Millies Cookies style biscuits whose consistency I'm a big fan of. Even after a few days in the biscuit tin, they still retained a dense chewyness.
You could eat these as they are but I reckon they would be a great accompaniment to vanilla ice cream for a pared down pudding. Just dish up the ice cream, leave a pile of biscuits on the table & let everyone, dunk, nibble or make their own ice cream sandwiches.
Ingredients

Add the butter and sugars into a large bowl & beat with an electric handheld whisk, a wooden spoon or use a free-standing mixer. The mixture should be beaten until it becomes pale & smooth.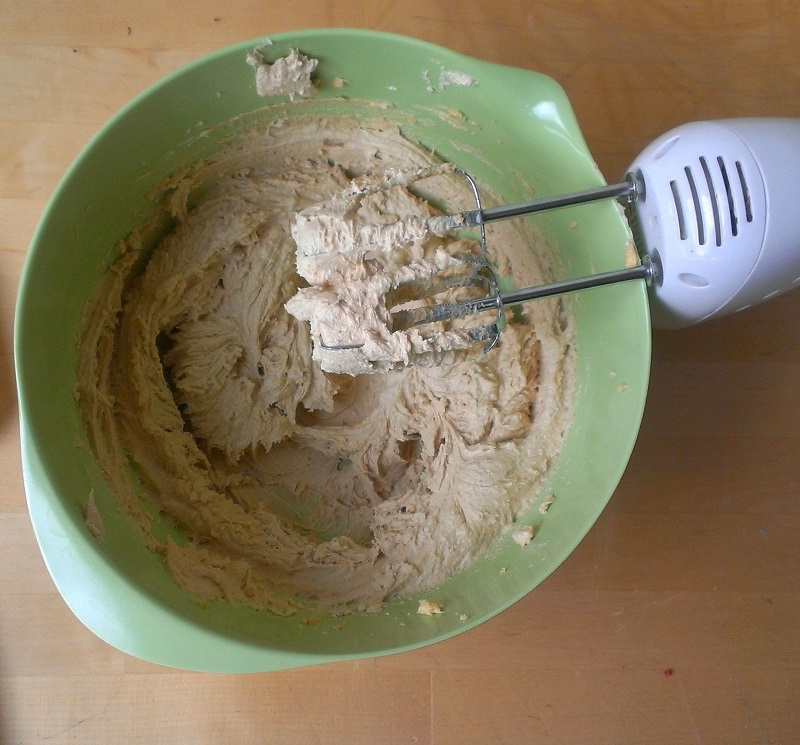 Measure & sieve the flour, bicarb, salt, ginger & cinnamon into a separate bowl. Mix to combine.
Crack the eggs into the butter mixture, one at a time with 1tbsp of the flour mixture. This flour will help prevent the butter mix from curdling. Beat the mixture until each egg is combined.
Sieve the bowl of flour mix again into the butter, then add the chocolate chips, ginger and rolled oats.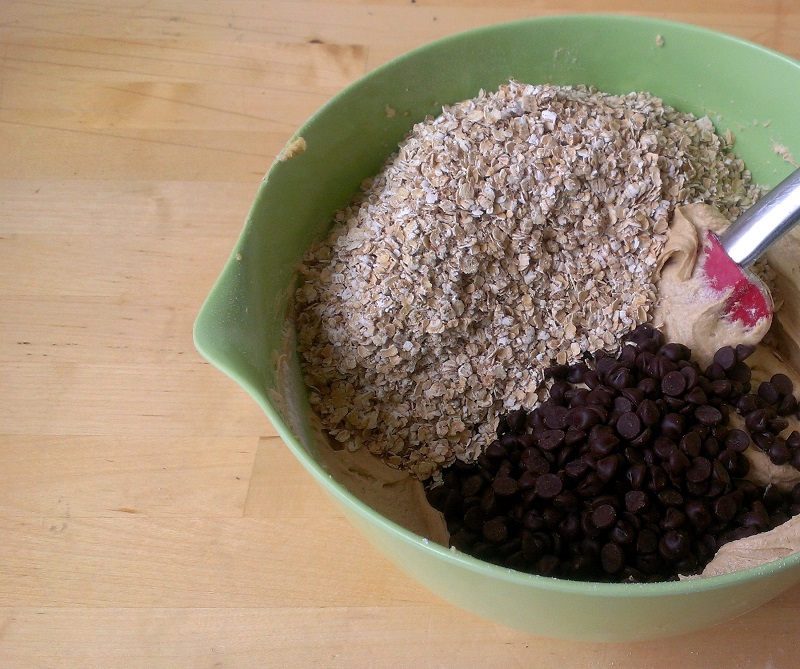 Mix until combined. It should now resemble a wet biscuit dough. Cover the bowl with cling film & chill for 1 hour.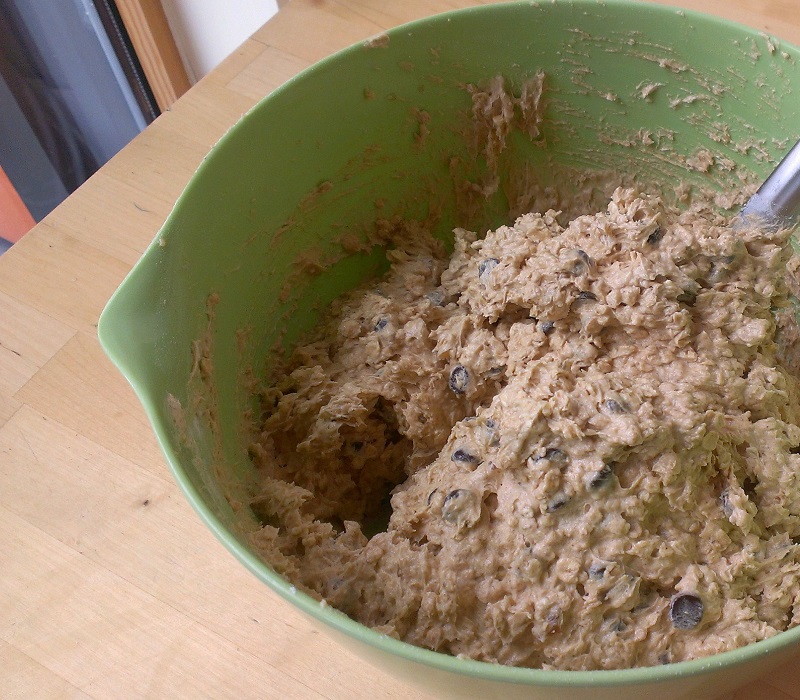 When ready to bake, heat the oven to 190C and line a baking with greaseproof paper. Use a tablespoon or an ice cream scoop (which will give you evenly sized biscuits) to scoop the biscuit dough onto the tray.
Remember to leave space between each biscuit so they can spread. Press the biscuits down lightly with the back of a fork. Bake for 10-12mins.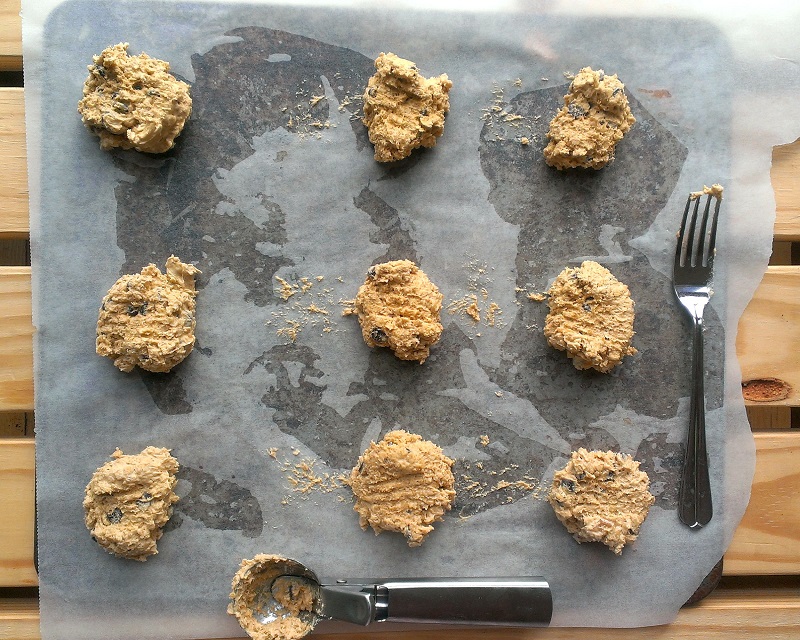 Let the biscuits cool on the baking sheet for 5-10 minutes before transferring with a spatula to a cooling rack.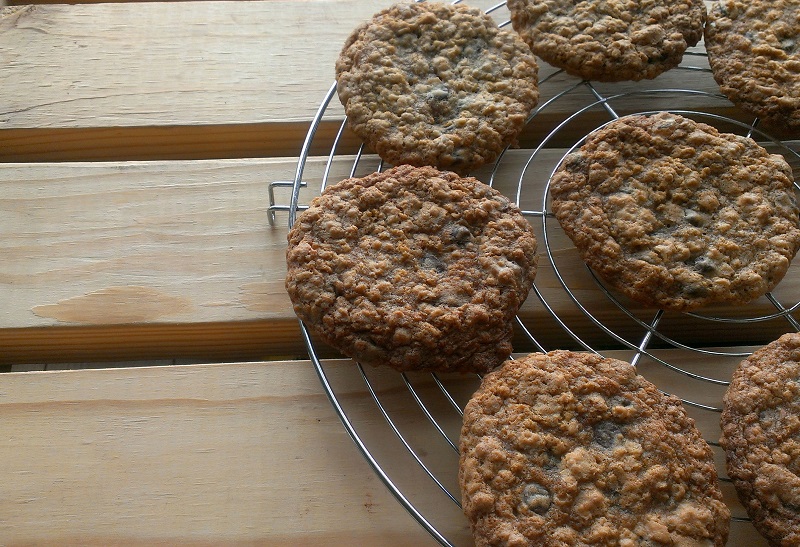 You can eat these warm or when cooled. They will keep in an airtight box for 3-4 days.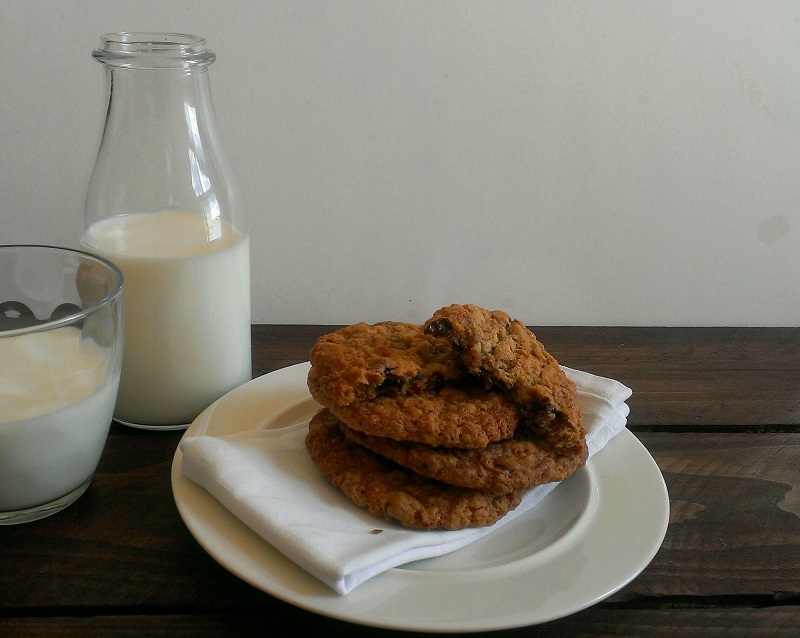 My Tips
Don't bother pressing the biscuits down with a fork. It doesn't make a difference to the end result & it's a step which can be skipped.
Drizzle some stem ginger syrup (from the jar) into the dough along with chopped ginger if you want more heat.
Replace the caster sugar with Vanilla sugar.
Err on the side of caution & make small biscuits. These really do spread out when cooking & the smaller biscuits had a nicer consistency.
Use Self Raising Flour if you want a little more rise to the biscuits.
Try sultanas in place of dark choc chips.
*Note:
This recipe was an entry to the Border Biscuits Big Baking Bonanza. It was sent to me by Border Biscuits to taste test. While the recipe above (aside from My Tips) is identical to that sent to me, the method is in my own words & I have clarified points where I thought it was necessary.