For such a wee city Glasgow can never be accused of being a dull place for dining out. There are literally hundreds of options at your disposal across the city, each offering you something a little different. Burgers may be the latest trend to take the city by storm but its the Street Food and Pop Up Restaurant scenes that I'm most interested in.
What is Section 33?
Pop-up restaurants have launched their own guerilla warfare on the traditional restaurant in a bid to reduce overheads and offer diners something a little cheaper but which doesn't skimp on quality.
Section-33 claims to be the 'cutting edge of the underground pop-up restaurant scene' in Glasgow. They promise un-pretentious food and locally sourced produce from expert chefs.
Diners can book their tickets (£5 each) for the event and choose from a list of times at which to dine. Be warned however, the dinner slots do book up fast. The venue and the menu is released several days beforehand in a bid, I assume, to keep us all on our toes and build anticipation.
This time it was held in Govanhill Baths, a beautiful Edwardian public bathhouse which closed in 2001. The Govanhill Baths Community Trust has since been campaigning to refurbish and reopen the baths and their plight has been achieved through the numerous art exhibitions, theatre shows and gigs using this space and bringing it to the public's attention.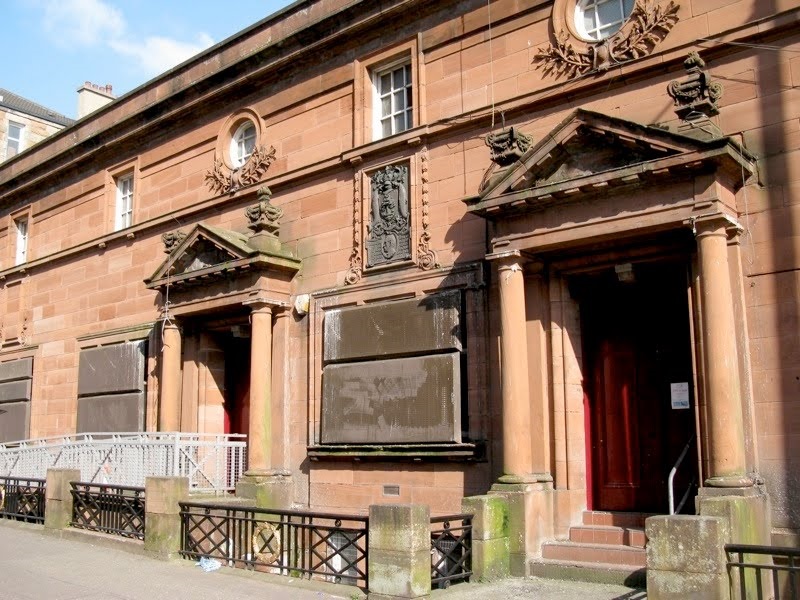 The Date
Our booking was for 5.30pm. We arrived promptly, were offered a free unidentifiable 'Rum or Gin based cocktail' and invited to take a seat until our table was ready. Our table was ready 30 minutes later.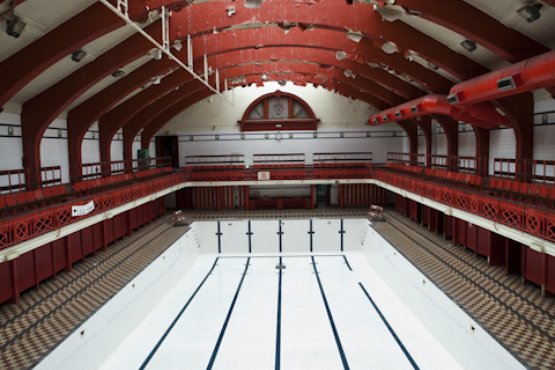 The dining area was inside the empty swimming pool, which was a fantastic quirky idea in theory but in reality this meant you were sitting at an awkward angle for the entire evening. The building was beautiful (if a little neglected) and there was plenty of fantastic features which caught our eye but its was UNBELIEVABLY freezing. Given that this was a derelict building with, I assume no heating, this was to be expected but a little heads up beforehand would have been appreciated. My silk blouse & heels were clearly a bad choice of attire. A hoodie, Ugg boots & fingerless gloves would have been a better option.
The tables had a roll of kitchen paper (in lieu of napkins – full marks for Working Class Chic), the menu, a side plate & cutlery and a candle (which we later tried to use for warmth). The table was not clean and still had the remnants of someone's tea on it.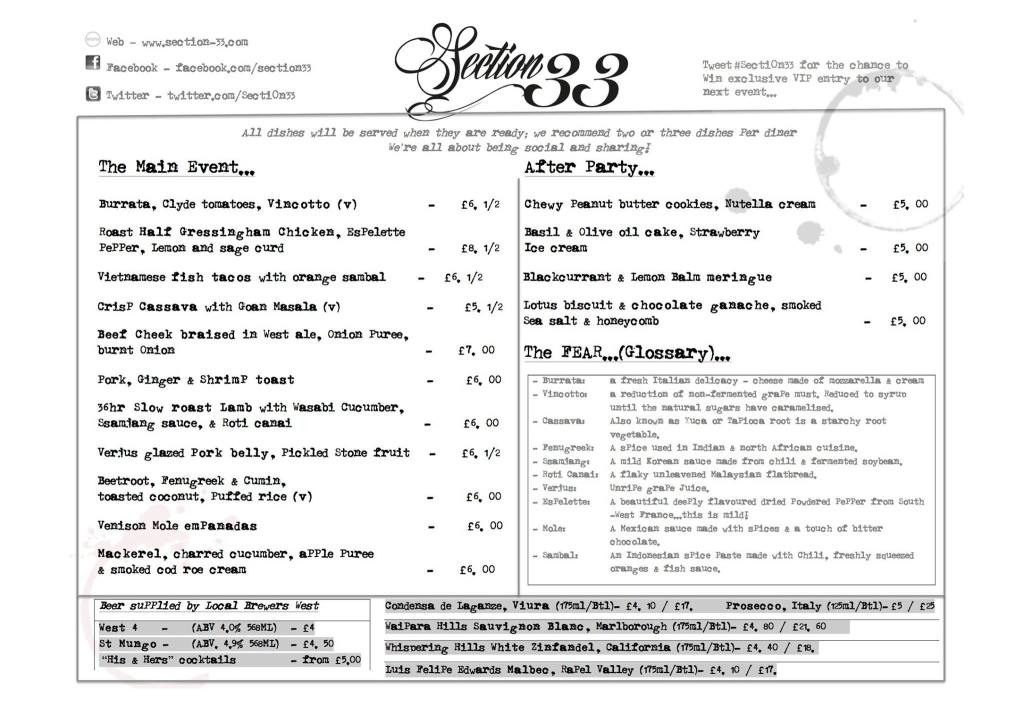 Our drinks order (Prosecco & a Beer) was taken and served promptly in plastic cups. Our food order was taken soon after the drinks arrived and we were advised the menu was designed for tapas style dining. We ordered 6 items to share.
With tapas you would normally expect to get all your items brought out to you at once however, at Section-33 each item was brought out to us individually. Also, no one came again to take another drinks order. In the end, we received only 4 out of the 6 items we ordered. Having waiting 20-30 mins from receiving the last food item, and feeling parched, hungry, cold and frustrated, we flagged down a waitress, cancelled our remaining items and asked for the bill.
Admittedly our waitress was very kind and apologetic and although we weren't offered an explanation, she removed the drinks charge from our bill.
The Food
The menu was released several days before the event which of course, is a great way of stirring up the salivary glands. We ordered:
Vietnamese Fish Tacos with Orange Sambal

– This was 2 soft tacos filled with cherry tomatoes, parsley & an unidentifiable white fish marinaded in the Sambal (an Indonesian spice paste made with chilli, oranges & fish sauce). The flavours were delicious and the fish was cooked perfectly to opaque. 2 tacos was a little miserly, although more filling would have made it better. Alternatively 4 tacos would have done the job.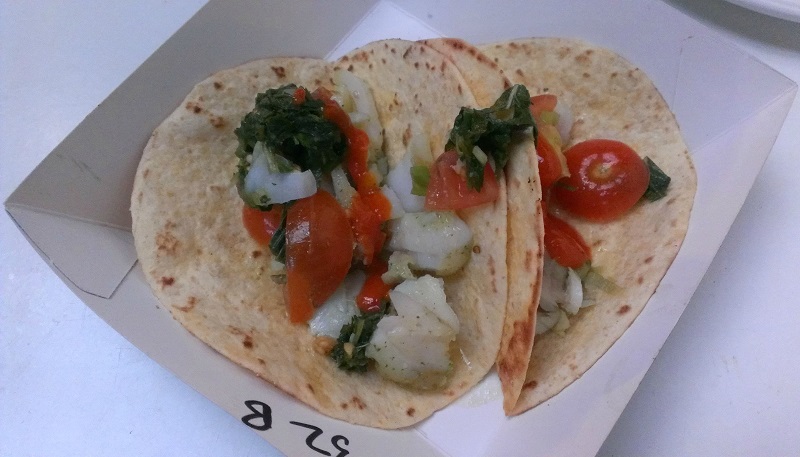 Pork, Ginger & Shrimp Toast

– We received 2 little toasted baguette sandwiches with a strange looking, but very more-ish, parsley garnish & spicy sauce. Each little sandwich appeared to contain a filling of Pork, Ginger & Shrimp and this was also smeared on the top with sesame seeds. At first glance this was not a very inspiring dish. I couldn't quite place where the strange grey colour was coming from but the flavour certainly made up for it. The pork was a little bland but it gave a meatiness to what would have been an otherwise limp sandwich and strangely, it worked well with the shrimp. Again, 2 pieces were a little stingy.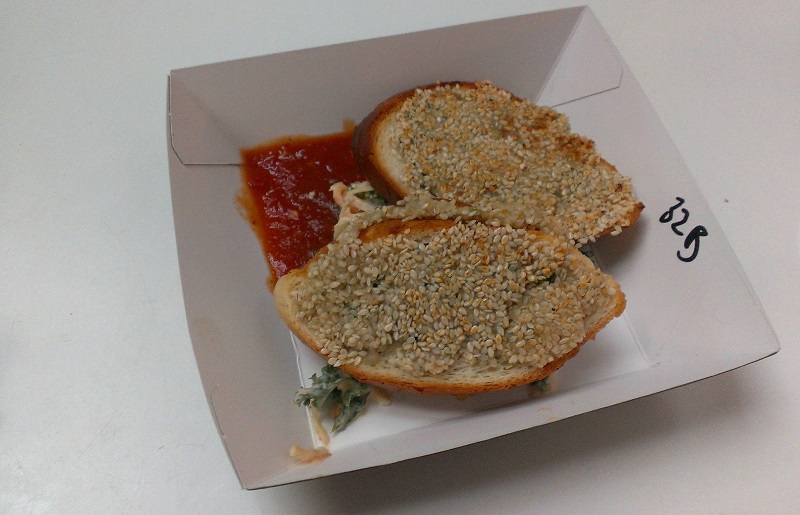 Glazed Pork Belly with Pickled Stone Fruit

– This was hands down my favourite dish of the night. We had a big thick chunk of pork belly which was cooked to perfection. The glaze & fatty rind was sticky and sweet and the pork meat 'pulled' in that way pork does so well.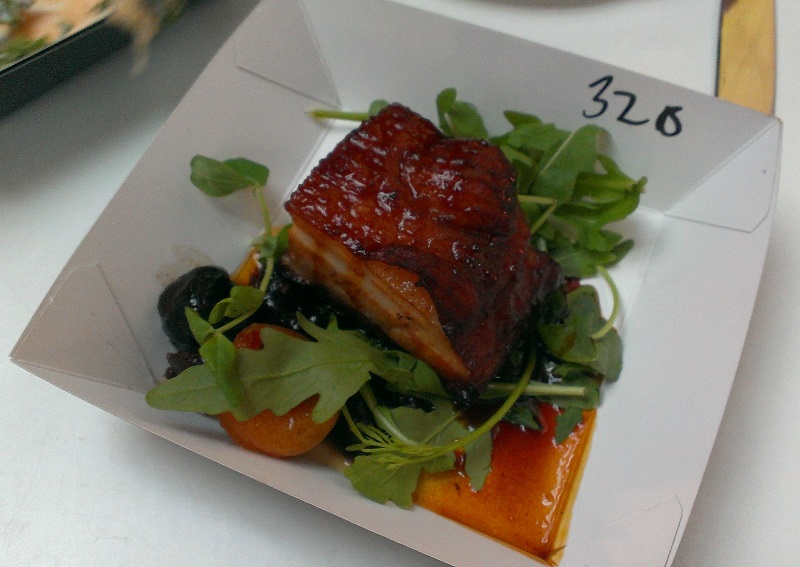 Venison Mole Empanadas

– This was probably my biggest disappointment purely because it was what was I looking forward to the most. The flavour combo was inspired but poorly executed. The venison was dry & frankly, I couldn't taste the mole. You could have told me this was anything & I would have believed you. Although full marks for a soft flaky pastry.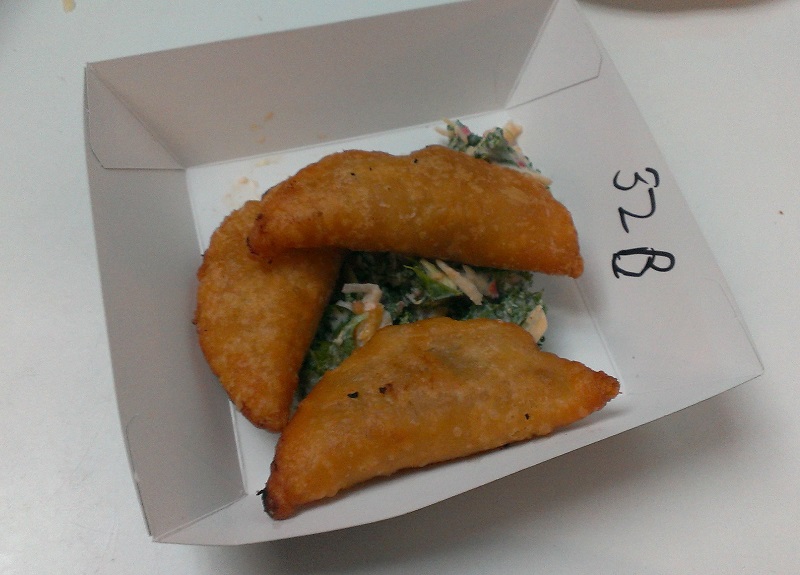 36hr Slow Roast Lamb with Wasabi Cucumber, Ssaming Sauce & Roti Canai

– Ordered but never delivered.
Beef Cheek braised in West Ale, Onion Purée & Burnt Onion

– Ditto with above.
The food was great but then again this was to be expected with a Pop-Up, the good food is how they tempt us diners through the doors. The menu was varied and although it was mostly meat based (no complaints from me there) there was a few inspired Veggie options which would tempt even the most hardened of carnivores.
The only gripes I have with the food was the portion sizes. It wasn't very clear from the menu beforehand that the food would be served tapas style, that is, you were not ordering meal. Which is fine however most of these dishes did not translate to tapas style dining because they were difficult to share between 2 people (how do you share a small square of pork belly?) or too small to share. So perhaps more thought needs to go into the menu or the style of dining they wish to offer.
The Verdict
Pop-Up Restaurants for the sake of reducing overheads are always going to be difficult to pull off because inevitably a compromise has to be reached on something. Generally this is never the food because the good nosh is how they tempt diners in the door. So where else does the compromise come from?
For Section-33 I believe this lay in the service and the location.
Don't get me wrong, the staff were very friendly and accommodating but there appeared to be very few waiting staff for the number of covers they had. Our drinks order was taken once & never again within 1 & half hours. Which is a shame because this is clearly where they can recoup a lot of money (particularly with us two). Having a jug of water & a couple of tumblers on the table would also have made a difference and still have been a minimal overhead.
I got the impression that in order to reduce costs Section-33 cooked each individual item in bulk rather than cook each table's order. So rather than our 6 items coming to our table at once we received each item separately, with a 10 minute gap in between each one. This might sound a little pedantic but practically speaking it was a nightmare because we could either eat the item as it arrived and given the portion sizes, it disappeared fast, then wait hungrily for an unknown amount of time. Or we could wait until the remaining items arrived to eat, meaning our food would most likely have went cold.
Imagine going to a tapas restaurant and ordering 6 items to share. Then imagine the staff serving your wee plate of Patatas Bravas on its own. You both eat it in 2 bites. Then wait another 10 mins for your wee plate of Calamari to show up. You eat it again in 2 bites. And so on and so on. This was Section-33. It wasn't too bad since there was only the 2 of us dining together, therefore we could manage to share whatever food was served, but I'm curious to find out how this would work if you were dining as a group.
Finally, the location in theory was fab. I loved the Govanhill Baths as a historical building and as a glimpse into the past. The reality was a FREEZING cold, eating in your coat, trying to get some warmth out of a candle type of dining. The organisers really ought to consider investing in some heating if they continue to use this venue in the future.
The result was we ended up grumpy, cold and hungry and we had paid £5 each for the privilege of it. We ended up buying a McDonalds & going home to eat it under a duvet. Nuff said.