There are days when we have all the time in the world to cook. I love those days. On those days I put an apron on, I line up a couple Morcheeba albums on Spotify (the ultimate chill-out music to take me back to the 90s) and I tuck myself away in the kitchen to make a Boeuff Bourgingnon. I relax into it and I accept that I won't be eating for several hours.
Then there are days when I swear I have an alien living inside me sucking all the nutrients out of me. Those are the days that no matter how much I eat, I can't seem to fill myself up. Those days are normally after a 4hour rowing session and on those days I need food fast.
Enter the smoothie into my life.
I arrived late in the smoothie game. At first I wasn't convinced of it's satiety potential plus there's the whole 'not a fan of fruit' issue I have going on. Frankly, if it was a choice between a bowl of grapes or a bowl of steamed broccoli, I'd head for the veggies. Then again, if a Mars Bar was kicking around I'd opt for that instead. Much less prep you see. However, if we're aiming for something a little healthier and, lets face it, filling for longer, I can see why smoothies are the better option.
Banana & Vanilla Smoothie
It's the sheer simplicity of this smoothie in which lies it's appeal. While a banana and a glass of milk are good enough snacks on their own, by combining them into 1 drink, they instantly become more appealing, but with minimal effort. This is the kinda smoothie you could make for the kids coming home from school or for when you get home from the gym and you're ravenous.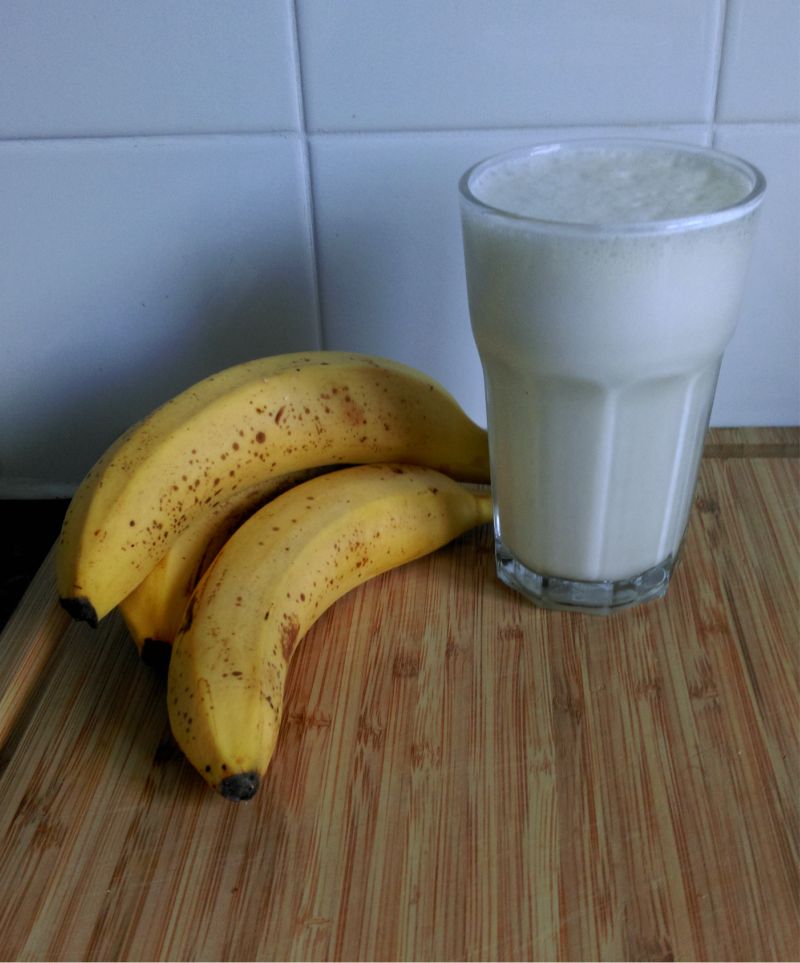 Even better, this is an easy base recipe to play around with, so you can change the flavours and ingredients to suit whatever you have lying around the kitchen. Just make sure the bananas are VERY ripe (i.e. with black spots) beforehand. You want that full hit of banana flavour which only comes with over-ripe fruit.
This will make 1 glass. Double or treble the quantities if you want more.
Ingredients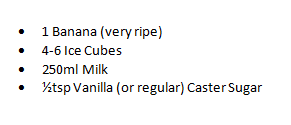 Peel and chop the banana into slices. Add to the blender with the ice, milk and sugar. Blitz until smooth.
If you like a thicker shake then add another 1/2 banana cut into slices. If you prefer a thinner smoothie, add more milk until you have the desired consistency. I find this a perfect in-between consistency.
Pour into a glass and drink immediately.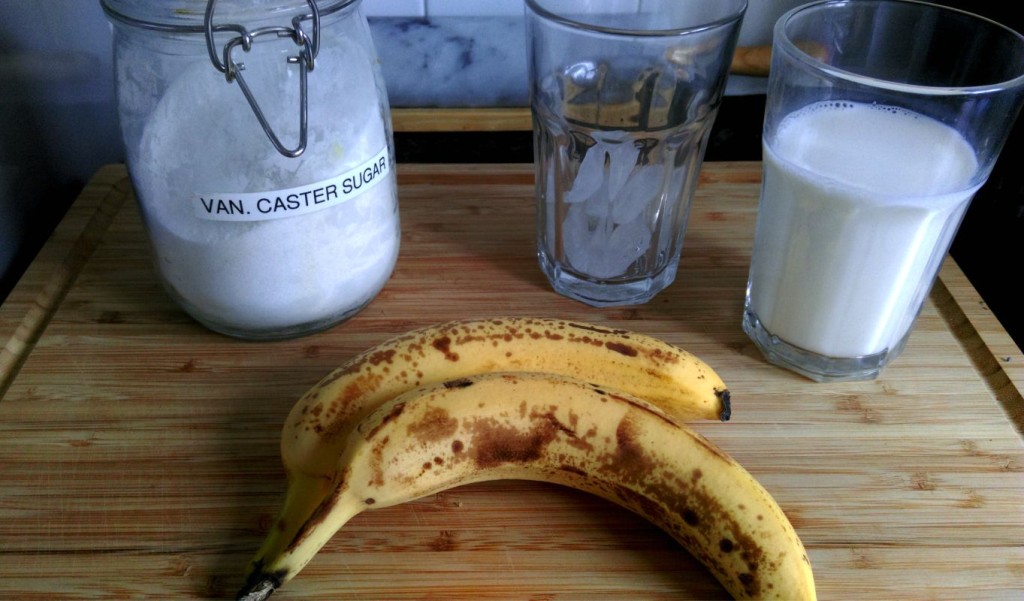 Make it Vegan: Replace the cows milk with unsweetened almond milk.
Make it Sugar-Free: Replace the sugar with honey or skip this out altogether.
Variations
Add 1tbsp smooth peanut butter & a scoop of whey protein powder for a high energy post-training smoothie
Top with 1 scoop of vanilla ice cream & a dusting of cocoa powder for an afternoon treat kids will love
Add 1 chopped kiwi & a glug of apple juice for a fruity kick
Or as my fellow Weegie blogger Charlene from Dainty Dresses recommends: Add 1tbsp peanut butter, replace the sugar with honey, a glug of OJ & 1tbsp porridge oats for her ultimate smoothie combo. A power breakfast smoothie to see you through till lunch.