If you keep up with my antics on Twitter or Instagram you've probably surmised I've moved. Over a year ago in fact. My Weegie Kitchen is no longer the open-plan space with bags of storage and an island unit ideal for parties. It's the complete opposite. But its all good in the hood because this time around my Weegie Kitchen is exactly that. Mine!
Yes folks, this perpetual student (9 years and counting) has managed to bag herself a mortgage and place one converse-clad foot firmly on the property ladder. So here I am, 15 months since signing on the dotted line & how does my new Weegie Kitchen fare? Well, see for yourself.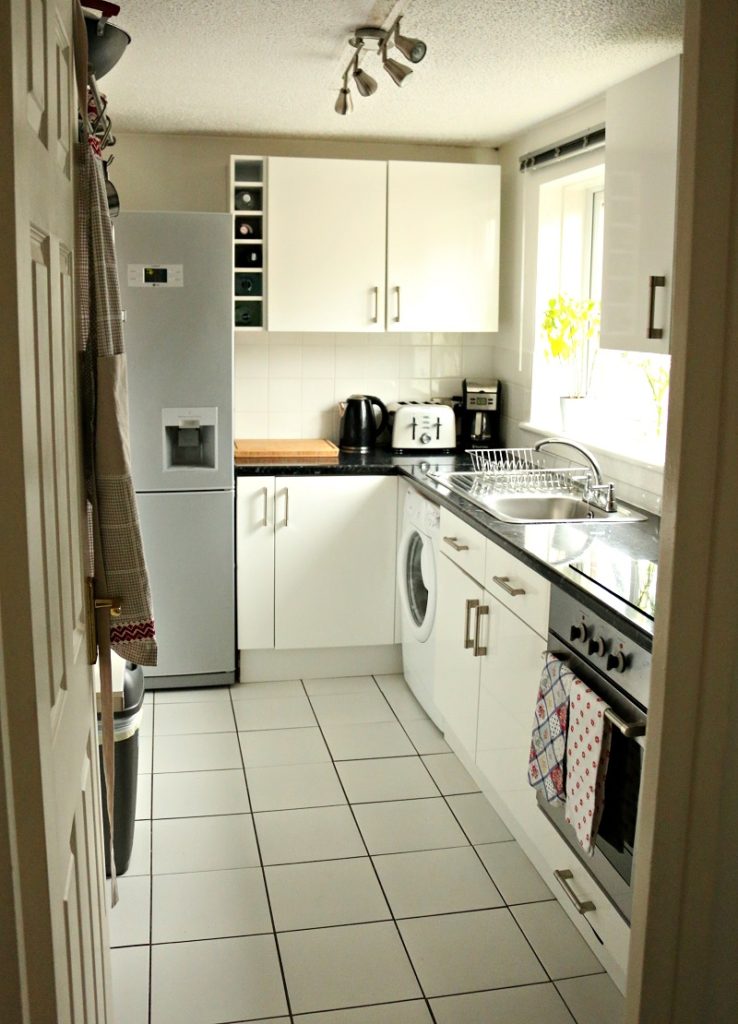 The Kitchen Tour
My kitchen is approx 7 square metres. It's not a galley kitchen, thankfully it's slightly wider than that. So while I can't quite swing a cat I can bop around to music while cooking without causing too much damage and I can fit 1 other person in the kitchen without feeling claustrophobic.
The kitchen is set out in an L-shaped design with IKEA glossy white base & wall mounted units, and a dark speckled laminate worktop. I have a free-standing fridge-freezer, electric-fan oven, 4-ring ceramic induction hob, washing machine & stainless steel sink & drainer.
Despite the dimensions the kitchen doesn't feel too small. I attribute this to the double east facing window and the fact that everything in the kitchen is white: units, tiled splash-back, walls, skirting, door and floor. Yes it sounds sterile but I love it. With all my kitchen paraphernalia, open shelving, pictures, plants and my brand new blackboard wall, it has a comfortable functional feel.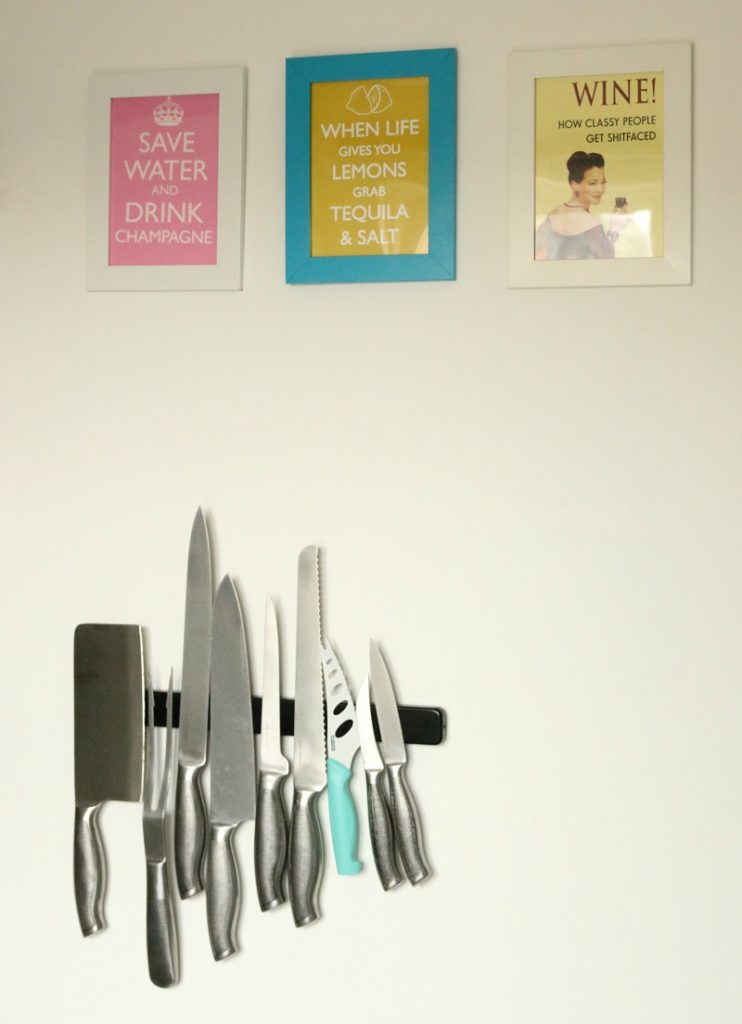 My Style: This is the first time I've lived alone so I never really knew my style until I started decorating my flat. It turns out I like a classic clean & neutral look with small splashes of colour throughout my home. A somewhat relaxing but inspiring aesthetic if you will.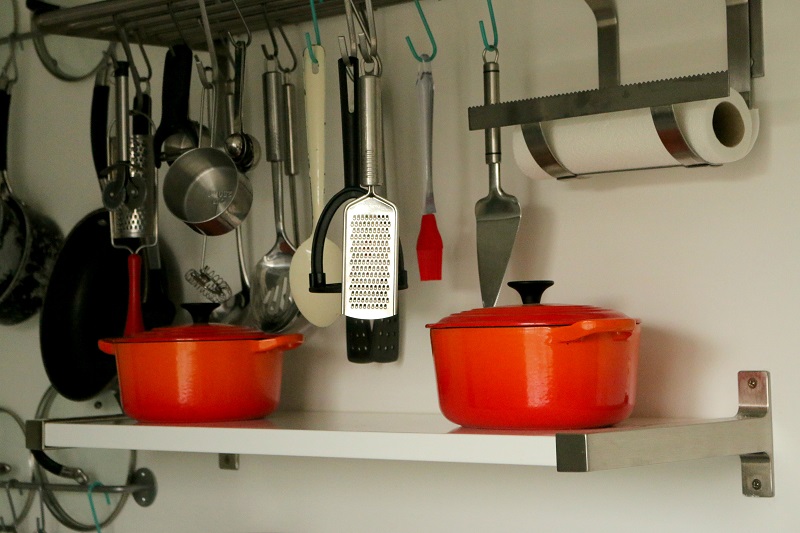 Biggest challenge in the kitchen: Working with a tight budget while trying to create a functional yet inspiring space I wanted to be in was the biggest challenge. Thankfully the fixtures & fittings were mostly new so it only needed a few personal touches to make it feel like home.
I added a wall mounted magnetic knife rack, some hanging rails for pots and a new ceiling light. I also re-painted the walls white & introduced a blackboard wall. This all came in at approx. £70
Dream Splurge: If I had the budget, I'd have an oak style worktop and replace the tiled splash back with a perspex one. I think it would brighten the kitchen and make it a lot easier to clean. I'd also want to introduce a built-in fridge-freezer with a cupboard above to make use of dead space and streamline the look.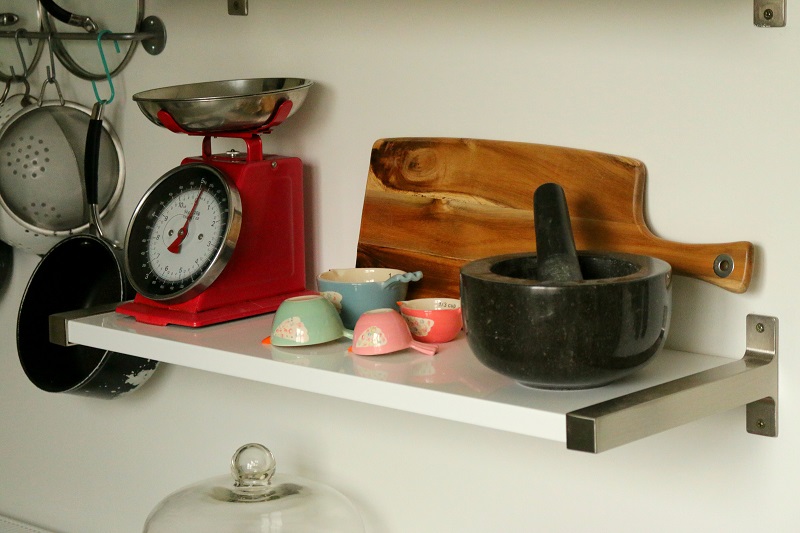 Favourite Element: In terms of functionality, my favourite element is the open storage. With a lack of cupboard space, a lot of dishes and food, I turned to open storage. Currently, 1 wall of my kitchen is solely dedicated to open plan storage.
I've made good use of the dead space behind the door by affixing strong tension rods with hooks to the walls to hang my pots & pans. No more digging around in the back of cupboards.
The large & heavy equipment, like my cast iron pots and pestle & mortar, sit on the open shelving along with everyday items and utensils hang from hooks above. Everything I use on a daily basis is now within arms reach.
Biggest Difference from Old Flat: Some would suggest it's the space but I reckon its the window. I didn't have a kitchen window in my last flat and now I couldn't live without one.
My kitchen looks onto a large leafy tree with lots of nesting birds and I'm lucky to get the morning sun all year round so I can keep a small herb garden on the windowsill. Currently my chillies, basil & parsley are thriving. I find its a lovely to place to sip my coffee in the morning.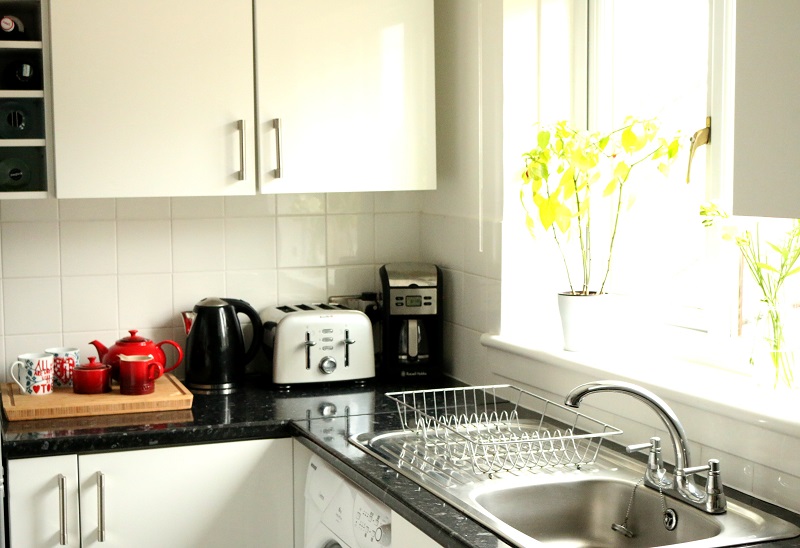 Biggest Embarrassment: Well, its gotta be the kitchen light situation.
So, there used to be a old fluorescent tube light which had an awful humming noise when turned on. I always intended to replace it but never got around to it. Then in November 2015 the bulb blew & finally bought a new light fitting however I didn't actually arrange to have this fitted until months later. March 2016 in fact. Which means over Winter I was pretty much cooking in the dark. Even now a new light has been fitted, I'm still used to cooking in darkness I forget to turn it on.
I'm not sure whether this story gives the impression that I'm actually very adaptable or plain lazy.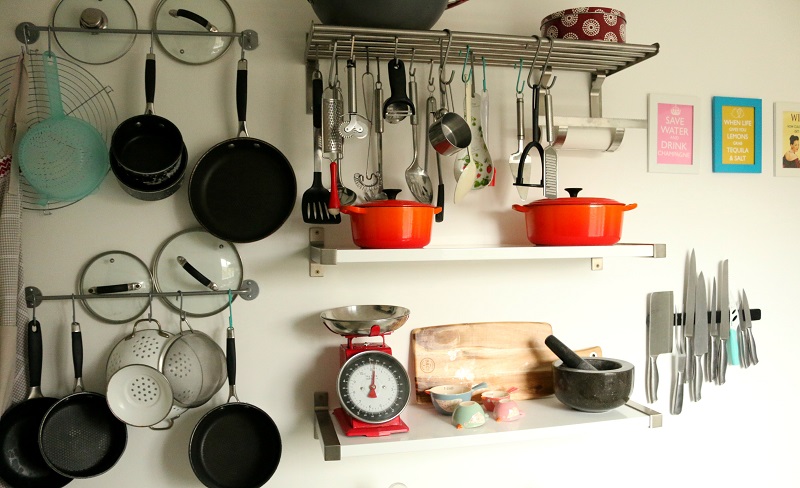 Proudest DIY: I hesitated painting the kitchen in colour primarily because I couldn't see anything I liked but I still wanted something of interest in this somewhat sterile room. So after a little Pinterest inspiration, I opted for a fun & functional blackboard wall.
Despite initial concerns the blackboard wall doesn't make the room feel smaller because its only on 1 wall & its the wall with the door on it. So when you look into the kitchen, you can't see it.
It cost me approx. £10 and, included prep work, was completed in half a day. I can now happily spend half an hour doodling away in here and I have somewhere to store my shopping list. What's not to love?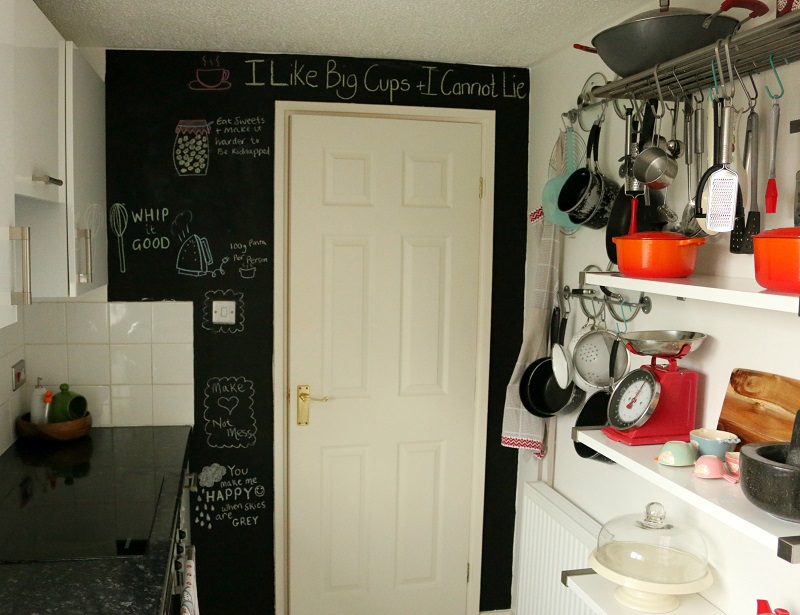 What I'd change: Without a doubt, the flooring. Its white so it needs mopped Every. Single. Day and because it's tiled it's flipping freezing when I go in barefoot in the mornings, not to mention the fact I need to be very careful with everything I handle because once it lands on the floor, it's a goner. So far I've managed to break:
2 wine glasses
3 champagne glasses
a ceramic olive dish
a candle holder
2 plates
a much loved vintage china saucer
300g jar of chilli flakes (cue 4 minutes of sneezing)
1kg tub of butter which pretty much exploded on impact (cue 30 mins of wiping butter off every kitchen surface)
numerous pieces of cutlery which means my downstairs neighbours must hate me.
I'd change to a wooden floor, even lino, in an instant.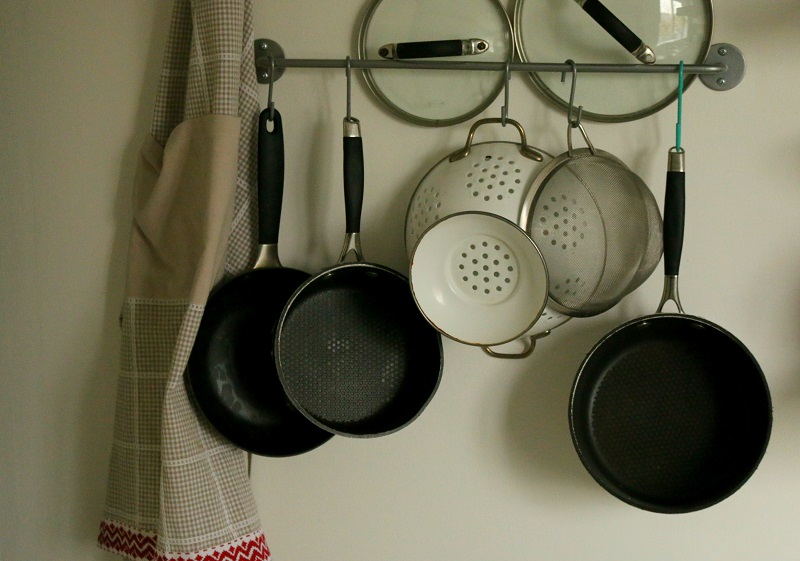 Best Advice: If you're on a budget then think about the small ways you can make your mark on the space without spending a fortune. For example:
Paint a feature wall with only a small tin of paint
Change the handles on the kitchen cupboards
Add a strip of brightly coloured washi tape to cupboard shelves
Paint the insides of kitchen cupboards
Introduce herbs and plants
If you'd like your kitchen to feature on The Weegie Kitchen, please get in touch! [email protected]