I don't know about anybody else but I get a great deal of pleasure from stocking up my larder at this time of year.
OK, perhaps larder isn't accurate. Its more like stocking up my tiny kitchen cupboard and the space I have left in the Ikea unit which forms our drinks cabinet / additional glass storage. But larder does have a nicer ring to it.
There is just something innately satisfying about preparing for winter by jarring, jamming & chutneying your way through a few lazy weekends then stashing it all away for later use. Perhaps its the innate animal instinct in me wanting to prepare for hibernation or maybe its a little desperately seeking nostalgia .
Regardless, I understand why this was routine for many people way back when. If you have an excess of fruit or vegetables then it makes sense to preserve it for use over winter. Nowadays this doesn't necessarily entail dragging out the preserving pan. It could simply mean making the most of the freezer & maybe stash away a few crumbles or apple cakes from a fruit glut.
Equally indulging in this type of nostalgia doesn't require your own fruit tree or veggie patch. People with these are normally inundated with so much fruit & vegetables they can't possibly use it all so are only too happy to give it away (if you are stuck for finding such a person, gimme a shout, the people I know are). Otherwise seasonal fruit and veg is always cheaper to buy than its out of season counterpart.
So either raid your neighbours, friends, families gardens or stock up on those cheapo offers from your local grocers or supermarket and join me in a spot of winter hibernation prep!
My hibernation essentials
I try not to go overboard when it comes to winter hoarding, there really is a limit on how much food I can store in a city centre flat. But then I would always rather than more of a few things (say 6 jars of a really good chutney) than a small supply of different things.
I decide on 3 or 4 items and stick to those. These normally include:

Piccalilli – I will eat this with cold cuts & leftovers. Sometimes a strong cheddar but I am equally happy to eat it out of the jar with a spoon. Perfectly acceptable in my book.
Chutney – To go with cheese, because who in their right mind doesn't go through winter without spending several days eating just cheese for their dinner?
Mincemeat – for obvious reasons although when I make mince pies I use last years stash of mincemeat which tastes better (after a generous helping of brandy) so I make another small batch to replenish this. I don't make much mind you, only a couple jars for myself.
Over the next few months I will keep you posted on my hoarding activities which should hopefully feature most of these and perhaps a boozy preserved fruit or 2.
Spiced Apple Chutney
This recipe is from my favourite Nigella Lawson book, aptly named for this job, How To Be A Domestic Goddess. Now when I say that every recipe I have ever made from this book has turned out fantastic I'm not lying, nor is it an attempt at boasting. It is purely because of her fantastic recipes and guidance.
I have made no attempt over the years to change this recipe because its perfect as it is. All I do now is triple the quantities and dispense jars of chutney to friends & family along the way.
Half of this year stash of chutney.
I adore this chutney because of its unexpected chilli hit. I wouldn't call it spicy in the fiery heat sense, so please don't be put off by that. Its more warming I would say. Which is what I need this time of year. This will make 1Litre so make sure you have enough jars beforehand.
Ingredients
Sterilising the jars
I keep a hold of every jar which passes through my kitchen purely for these purposes. To me this makes more sense than buying expensive preserving jars. Every time I finish a jar of mustard, marmalade or gravy granules I fire the jar & lid into the dishwasher then stash it away. Granted this means I have jars in all different sizes but I like that.
A small percentage of my jar & bottle collection
Heat the oven to 120C. Wash the jars & lids in hot soapy water then rinse in hot water to remove the suds. Alternatively run these through the dishwasher a 2nd time.
If you are using funnel to help decant the chutney into the jars (of which I do recommend) then wash this as well although it doesn't need to be warmed in the oven.
When the jars & lids are still wet, line them up on a roasting tin & heat in the oven for 30-40mins. After this turn the oven off but leave the jars in there until ready to use. The chutney needs to be placed into hot jars.
Stage 2 of sterilising the jars – Getting ready to bake them in a low oven.
The jars & lids are now sterilised. The only thing you need to be careful of now is touching the inside of the lid & inside of the jar, thus undoing all of your work. In which case you need to go through the process again.
Chutney
Peel & core the apples until you have 500g in weight. Chop them into chunks & fire them into a jug of water while doing so. Don't stress if they turn brown, remember they will be cooked down into a mush.
Cut the apples into rough chunks. Who cares if they go brown?
Finely chop the onion. De-seed the chilli & finely chop. Place both of these, the apples & all the remaining ingredients into the largest pot at your disposal. Stir & bring to the boil.
All ingredients get fired into the pot at once. No standing around waiting.
When the mixture starts to bubble reduce it to a medium heat & cook for 40mins, partially covered, stirring occasionally. If you feel the mixture is starting to catch on the pan or you are worried it will burn, reduce the heat slightly.
A word of caution – Take care when stirring. Because of the heat & the sugar content you can get a nasty burn if it makes contact with your skin.
While this is cooking, cut out rounds of greaseproof paper large enough to cover the top of the jars with a little overhang. Set aside. After 40mins the mixture will have thickened slightly (and to be frank, look wholly unappetising).
A hot chutney mush ready for jarring.
Remove the pot from the heat & while the chutney is piping hot, immediately ladle it into the sterilised jars. Use the funnel (with a wide neck) to avoid any mess. Fill the jars approx 1cm below the rim or to just where the ridges for the lid start.
This is why you need a wide necked funnel for jarring (or a smaller ladle?)
Lay the circle of greaseproof paper on top & immediately screw on the lids as tight as possible.
Top the hot jars with greaseproof paper & tighten on the lid.
Some of the paper may peek out but that's ok. You can always pretty it up by wrapping a square of scrap fabric around the lid & trying with a ribbon if you want to give it away.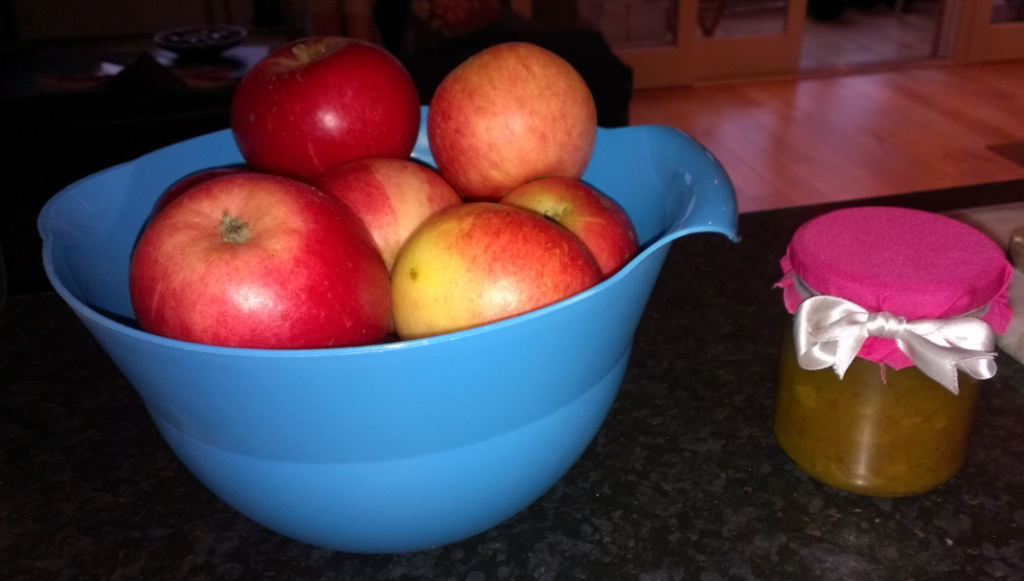 Leave these jars to cool overnight. When cold, wipe off any sticky residue on the sides. You can do this straight away but I find the jars a little too hot to handle.
Once cooled, stash them away in your cupboard for at least 1 month to the let the flavours develop.
Why Bother?
I often wonder maybe the things that put people off preserving is either the effort involved or the concern over sterilising jars.
Obviously the first concern is relative to what you preserve. I find marmalade and jams for example require a great deal more care, attention & equipment than a chutney. So perhaps if you are new to this game it is best to start off with something easy like chutney or mincemeat. It is after all just flinging a few things together in a pot, applying heat then spooning it into jars. Very little effort and a jar of chutney from the supermarket does not give the same amount of joy of doing it yourself.
Now when it comes to the whole business with sterilising jars for a start, all you are really doing is cleaning them. You could sterilise jars & lids with just the dishwasher but this means timing the dishwasher to finish (therefore providing you with hot jars) just as the chutney is ready. Heating them in the oven sorts this out for me.
The whole palaver can seem like a hassle and this is probably why its traditionally only done a few times a year. However I personally love it. For me it signals the changing of the season, that feeling of hunkering down for the winter and the general excitement of my favourite time of year.
I know that come December when I am cracking out my good cheeseboard and spending a fortune on cheese at the Christmas market, these wee gems hidden in the back of my larder Ikea unit will be brought out and savoured. Its a Christmas tradition in itself. n in the back of my Ikea unit will be brought out and savoured. Almost like a Christmas tradition in itself.