Christmas may be over but that doesn't mean you can't swot up for next year. Welcome to the final part of the beginners guide to a very British Christmas.
Christmas Dinner
Us Brits traditionally sit down to our main meal in the afternoon of Christmas Day. In true British fashion, your Mum (or the female host) should be in the kitchen all day, slaving away to create this wonderful meal. While she may complain about it, any offer of help will be shooed away. Your job is to produce lots of yummy noises during the meal to compensate.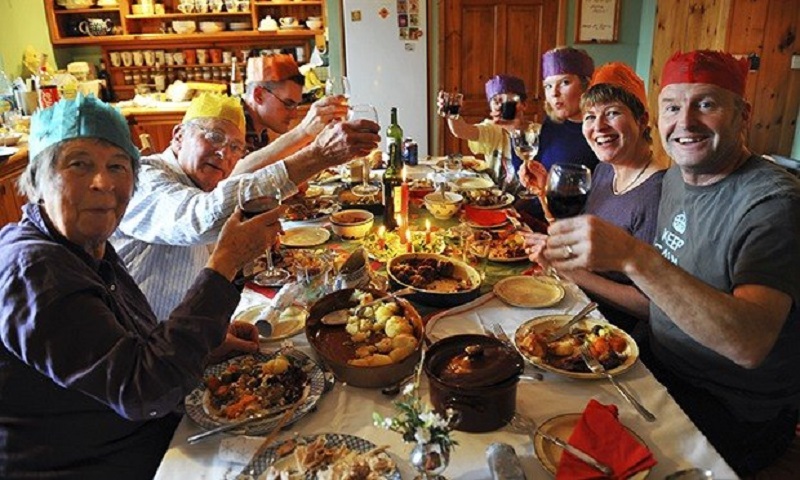 Starter
The prawn cocktail is a much loved choice of starter and has been around since the 70s. You start with a bed of lettuce, onto this you dollop some home made Rose Marie sauce (aka: ketchup, mayo & tabasco – at least 1 family member will be called in to make the sauce since they do it 'really good'), top it with prawns and a wedge of lemon. That's it. Feel free to fancy it up with avocado, crab, crayfish and rocket, or keep it retro with iceberg lettuce & frozen prawns.
Main Meal
Roast turkey is the modern day option (it used to be goose) and depending on the quality of the meat and cooking skills, this can range from dry & bland to moist and tender. Do not be tempted, under any circumstances, to utter the word moist at the dinner table. We Brits have dirty minds & you will be greeted with stifled giggles.
Roast potatoes are a necessity and the star of the show. Just make sure you cook them in goose fat and don't even CONSIDER offering an alternative potato however mashed potato can be offered in

addition

to roast potatoes.
Roast ham, stuffing and pigs-in-blanket. Brits are not content with just a giant turkey to feed the family we add more meat into the equation. Roast ham is often served alongside the turkey (very useful for sandwiches later on), pork stuffing is there to soak up gravy and bacon wrapped sausages (pigs in blanket) only come out once a year so we enjoy them while we can
Gravy. I couldn't care less if the meat was dry and tasteless or if the stuffing was burnt. Once you soak it all in gravy, anything tastes good.
Bread sauce & cranberry sauce are concoctions the English has introduced into the foray and I don't know a SINGLE Scot who has them for Christmas dinner. Bread sauce is a weird lumpy tasteless gloop made from stale bread & milk and cranberry sauce is essentially jam. Ditch both and stick to gravy.
Sprouts. Sprouts are like mini cabbages. Even if you hate them you have to include them in the Christmas dinner. Of course you could also serve edible vegetables like broccoli, parsnips, carrots and peas but a small bowl of cooked sprouts will keep every Brit happy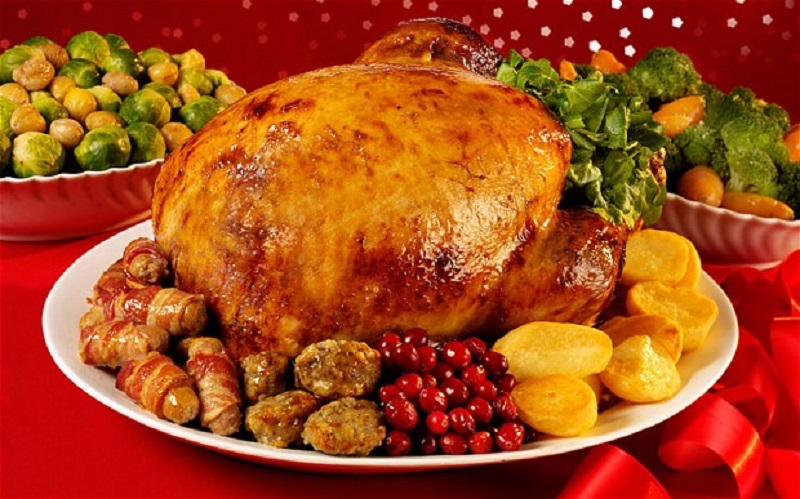 Pudding
Some families serve a choice of puddings, most likely these will be:
Trifle – a cold pudding with layers of sponge, custard, jelly, sherry, fruit & cream
Something fancy from Waitrose – anything with 'Heston Blumenthal' on it is acceptable
Christmas pudding – a big solid lump of brandy, dried fruit, suet, breadcrumbs and sugar. We set it on fire and serve with double cream, brandy butter (butter & brandy), brandy sauce (custard & brandy) or all 3
Crackers
Christmas crackers have been around since 1847. These are cardboard tubes covered in bright paper with 2 ends to hold onto. 2 people 'pull a cracker' which bursts open with a small bang. Whoever gets the largest piece of the cracker wins the prizes inside.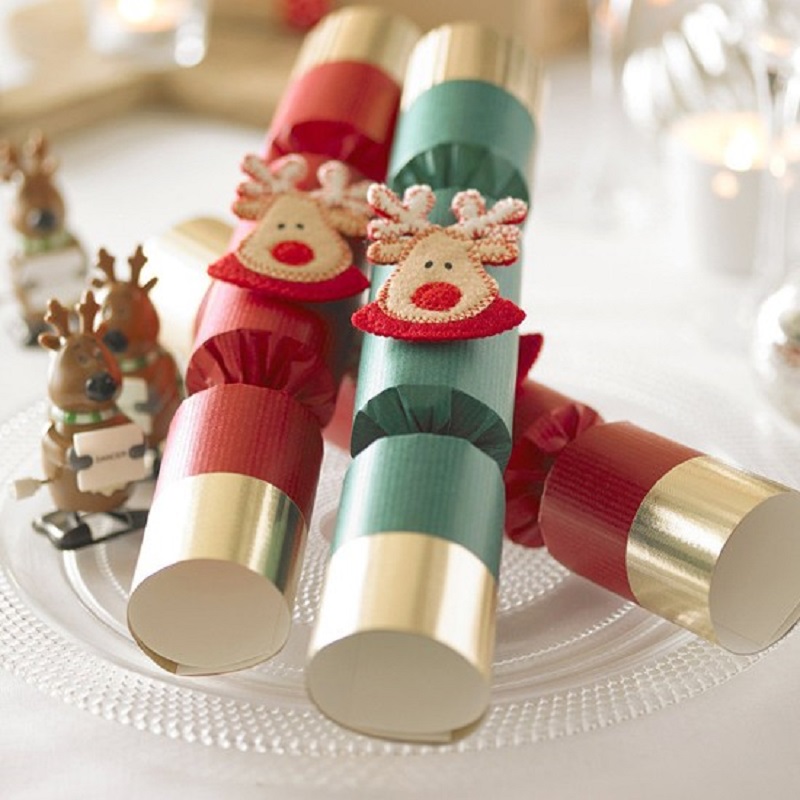 Crackers contain a bright coloured paper hat (which you MUST wear during Christmas dinner), a 'joke' and some kind of cheap toy/gadget/game (e.g. nail clippers, spinning top, tiddly winks). Crackers are cheap and a waste of money but we can't have a Christmas without them.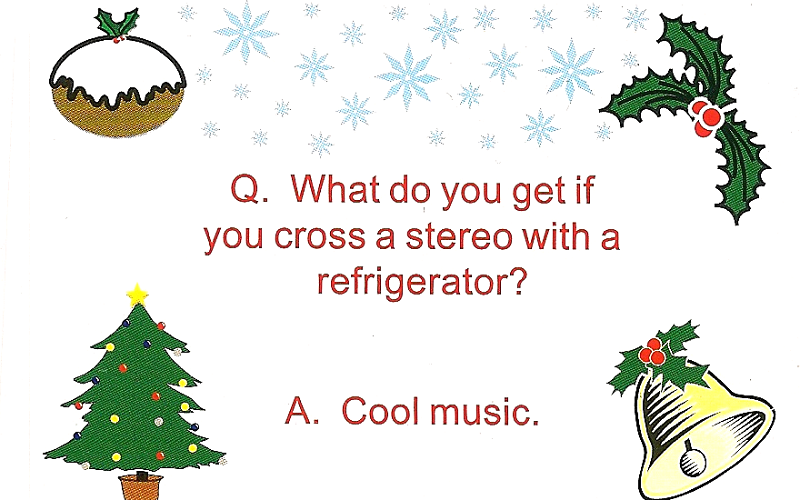 Queens Speech
Every Christmas, since 1932, the monarch will address the nation in their Christmas speech. It started with King George V (aka: the Queens grandad) broadcasting on the radio and today Queen Elizabeth II reflects on the past year via the medium of television on Christmas Day at 3pm.
I recommend you view the Queens speech just like you view sprouts at Christmas. There are better options available and no one expects you to indulge but it's tradition and its presence alone is enough.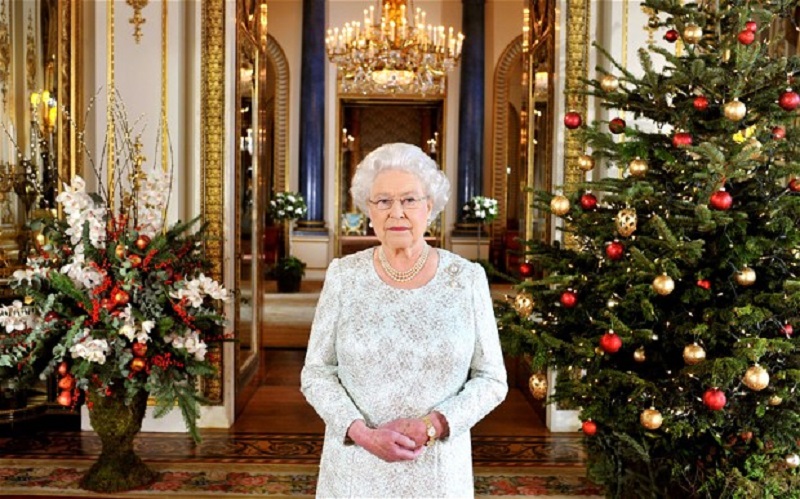 Games
Once the meal is over and you're slumped on the sofa you now have 2 choices of entertainment: TV or games. If you opt for TV then you have a plethora of fantastic British telly viewing to choose from (see here) games on the other hand fall into 2 categories:
(1) Parlour games (e.g. charades, 20 questions, Who Am I). These are fun if you can get the whole family involved and entertains children and adults. Although it is most likely the kids will be playing with their phone/ipad/PS4 and think these games are lame.
(2) Board games: Monopoly is a ticking time bomb. There are too many 'unofficial' rules (the Free Parking money anyone?) and it goes on far too long. Opt for something simple like Articulate, Frustration or Mr & Mrs.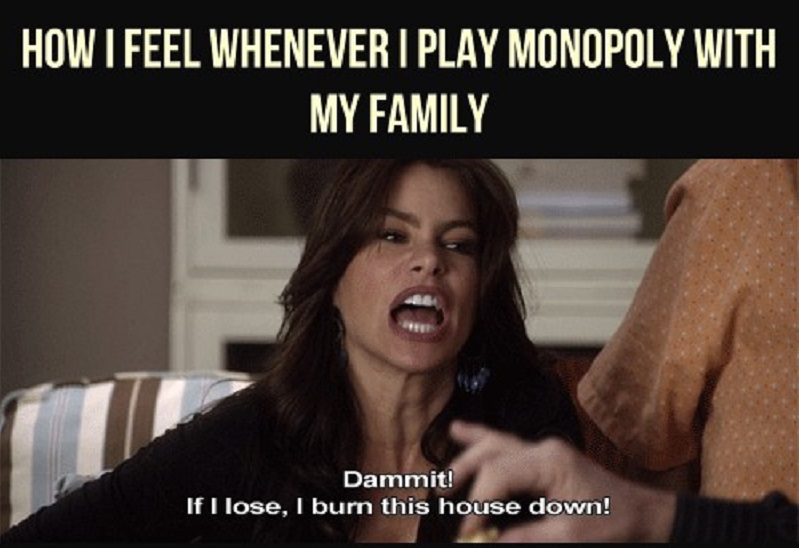 During the Games session of Christmas Day, don't worry if after a couple hours you start to feel a strange sensation of hunger. You won't actually be hungry because you've consumed around 4000 calories during dinner. This feeling is called 'peckish' and you, or your host, should satisfy this feeling by serving things to nibble on. Options include:
cold cuts of meat
cheeses
smoked salmon
olives
nuts
mince pies
Christmas cake
Turkey sandwich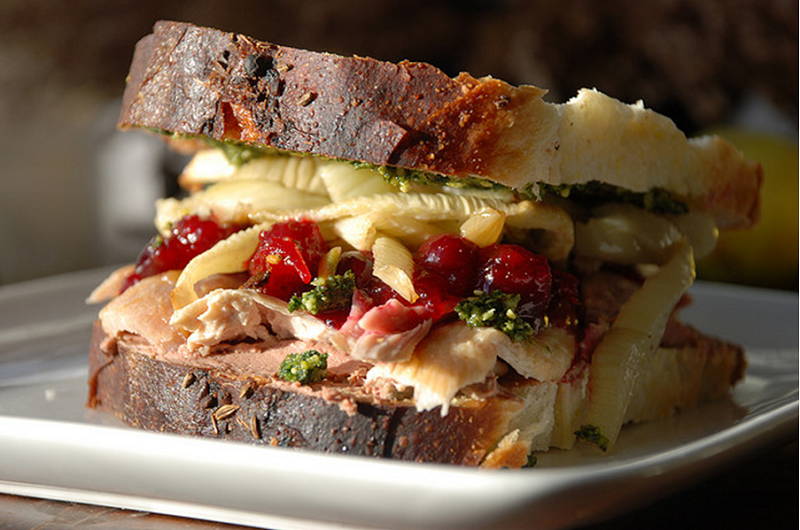 Boxing Day & Leftovers
The true origin of Boxing Day is unknown but we Brits don't really care about why we USED to have it, because we currently use it for 3 things: The sales, TV and using up leftovers.
The sales used to start on Boxing Day but nowadays they seem to start in November. Nonetheless, women up and down the country can be found queuing outside the shops in the early hours of 26th December to nab a bargain. My mum & aunt in particular are fanatical about the Next sale and regardless of how much they've drank on Christmas Day, or how little sleep they've had, you can count on them to prop the Next queue open on the 26th.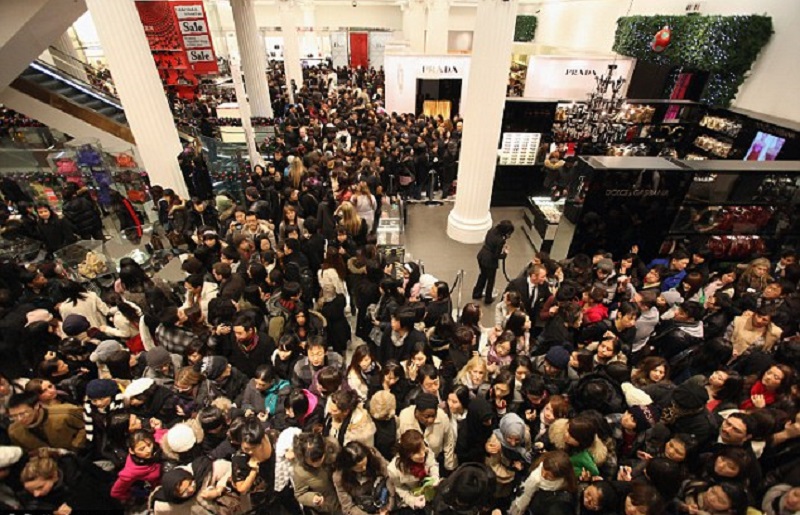 Merry Christmas!!