We've all got our dream kitchens. Thanks to Pinterest and some very aspirational Instagram accounts, dream kitchens are just that lil bit more prominent in our lives. But long before Pinterest and the much loved hashtag, there was cinema and with cinema came a plethora of inspired #KitchenGoals.
Here's my top movie kitchens.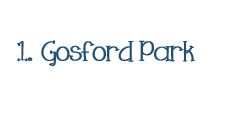 Gosford Park's vast subterranean kitchen loses marks for it's sheer inflexibility (no dishwasher, no soap, no running water, no oven thermometer) and the fact you really do need staff for it to run efficiently. That said I'm in lust with the subway tiles and large scrubbed pine island table to work at. You could roll out pasta at 1 end and have someone working on their laptop at the other and still have bags of space inbetween.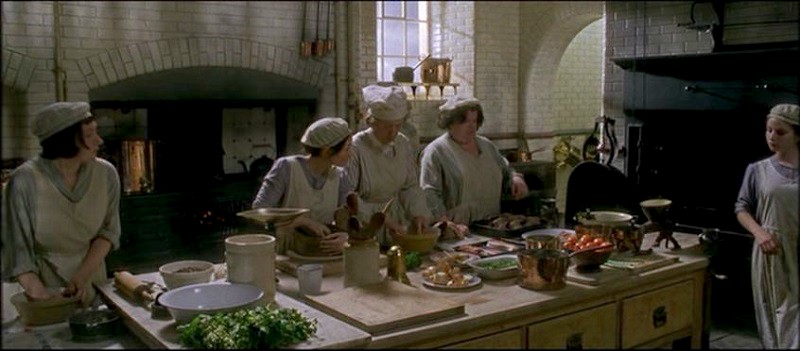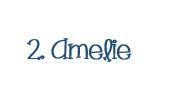 Amelie's kitchen epitomises Parisan living: teeny, tiny but with bags of style. Here our gamine heroine has pulled off colour blocking and 70s kitsch (beaded curtains? jadore) in a way only French women can. Extra points for the potted herbs on the windowsill proving that with small kitchens you need to maximise every inch of space.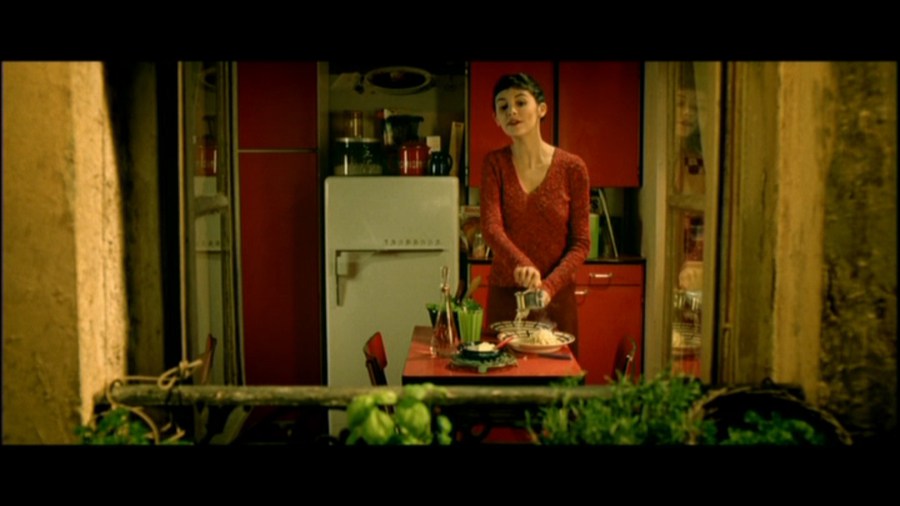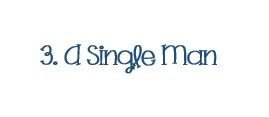 George's kitchen in A Single Man features jade green appliances and counter tops, mixed with dark (cherry, walnut?) wooden panelling and low beams. Not quite to everyone's taste but it packs a style punch and is the perfect accompaniment to a Tom Ford bespoke suit & a dirty Martini.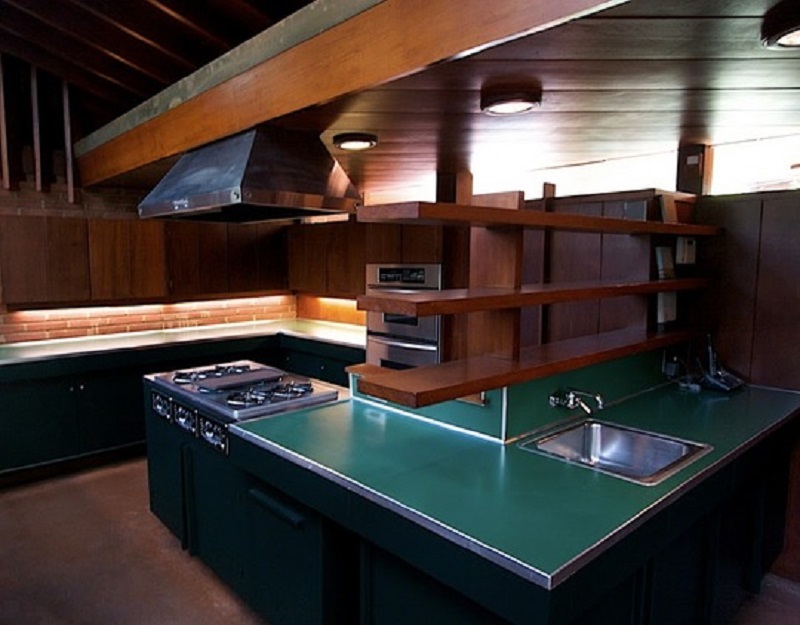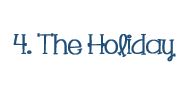 If you look up 'quaint country kitchen' in the dictionary I guarantee you'll find Iris' kitchen. Dark beams, painted pine doors and an open fire for goodness sake but with all the mod cons that even an Angelenos can survive. Iris may have a distinct lack of storage space but she makes up for it with open shelving to the ceiling, a useful cart tucked into the corner and a central table for an extra work surface when required.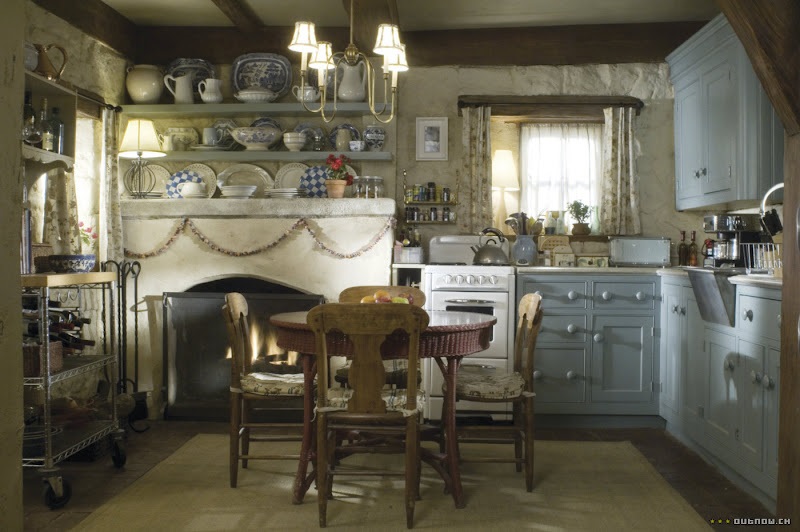 Practical Magic is my all time favourite chick flick and in the 90s growing up, I had serious style envy from this movie: floaty skirts, fitted cardigans and long hair. Even their kitchen is on point: From the Belfast sink (incredibly useful since they don't seem to have a dishwasher – then again, they can magic their dishes clean right?) to the ubiquitous central island table, useful for when you need extra counter space (or resurrecting a dead boyfriend). The dark wooden floor and creamy wooden cabinets is timeless but its the sheer size of the kitchen which I love, meaning you can afford to clutter and not feel claustrophobic.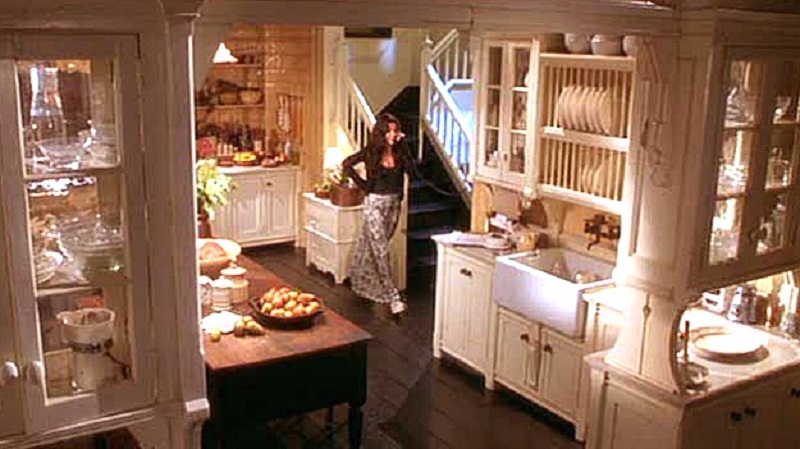 Throughout this movie Adler is itching for her house to be remodelled so she can have a bigger kitchen but for the life of me, I can't see why she'd wanna ditch this stunning kitchen. It mixes industrial with cosy perfectly. I love the range oven & handy storage for everyday utensils over the top, her MASSIVE fridge for all those leftovers when people just pop round and lets not forget the Instagram worthy marble counter. Oh and that ebony framed kitchen window makes me wanna rip my double glazing out pronto.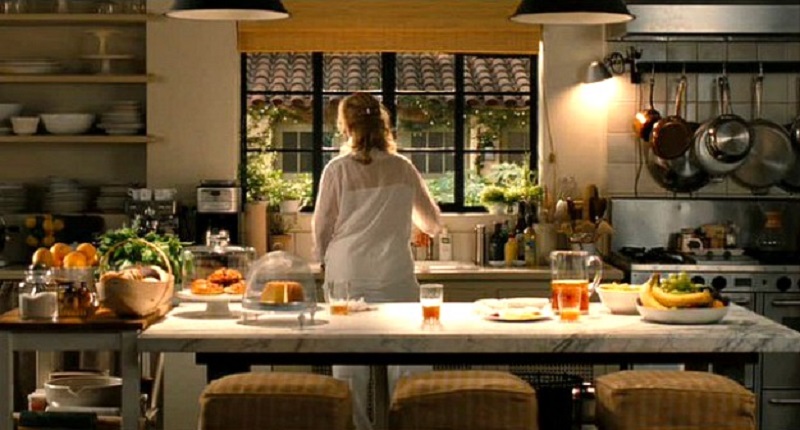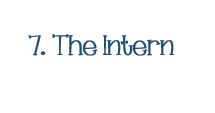 This is it. My #KitchenGoals movie kitchen in all its glory from The Intern. The blue cabinets make me swoon but you can only really get away with them if your kitchen is big and has tons of natural light. The open shelving stretching up to the ceiling is a fab way of showcasing your favourite items. Its the combination of a classic belfast sink, shaker cabinets and parquet flooring mixed with industrial feeling steel, glass and subway tiles: An old meets new perfection.
When can I move in?