In case you haven't noticed, Glasgow is fast becoming one of the best cities to eat out in. Now we may have our very burger region (still not sure whether this is something to be proud of) but that doesn't mean there isnt a place for folk who prefer their meals sans animal products. No matter whether you're vegan, veggan, veggie or pescatarian you're sure to find a boastin meal here in the Weeg.
We've come a long way from restaurants offering a frozen veggie patty in a bun and the ubiquitous roast veg & hummus wrap, but have we come far enough?  Well the folks over at Hard Rock Cafe Glasgow don't agree and are re-launching their veggie menu. So in true 2016 fashion, they invited a few of us bloggers and our blogger husbands (or in my case my PhD wifey / vegetarian Irish Pal #2) to their soft launch to sample a tasting menu chock full of veggie treats.
The Menu
The menu consisted of 2 wraps and 2 burgers. I've ranked these in order of my preference:
1. Roasted Squash & Walnut Pesto Wrap
The roasted squash & walnut pesto wrap is served in a 10″ flour tortilla with a side salad. The ingredients include:
Salad Oil
Chilli Powder
Sriacha Walnut Pesto
Spring Mix
Red Onions
Balsamic Glaze
Roasted Acorn Squash
Had you described this to me beforehand I'd have passed. Not because I'm an out and proud carnivore but because I would have expected blandness and an unappetising texture with this wrap. I was wrong. This was my favourite of the menu. The flavours were fresh and punchy. I loved the mix of sweet soft squash, crunch walnut pesto and the kick from the chillies. Gimme a side of skinny fries and I'd be delighted to lunch on this.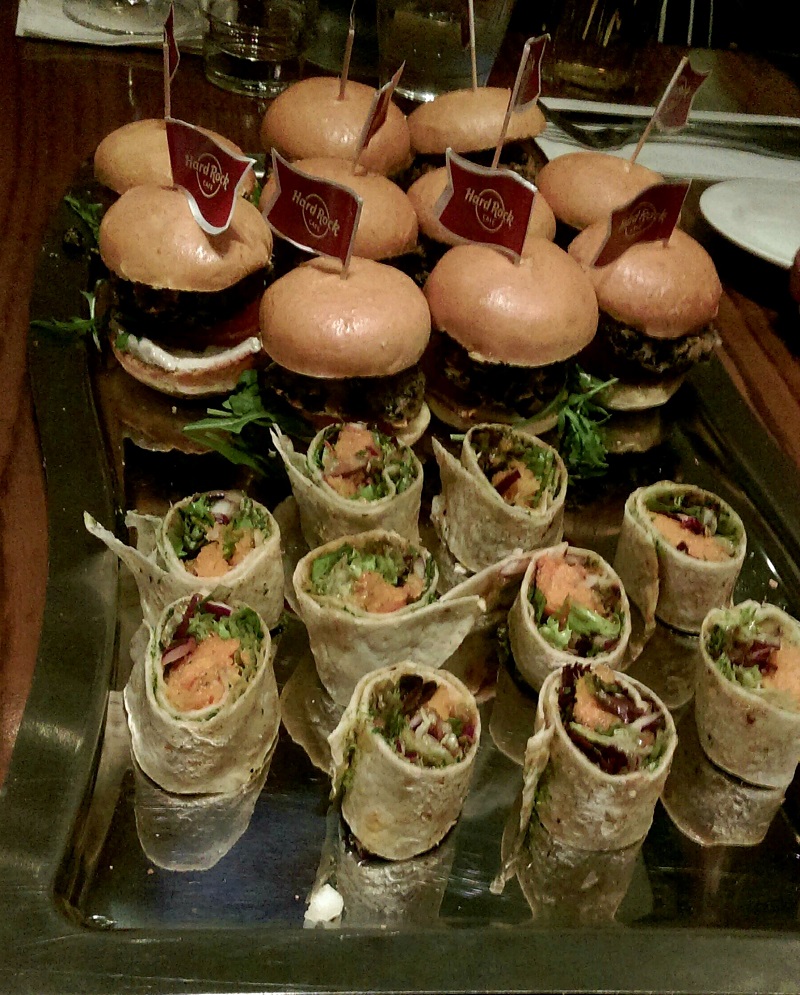 2. Quinoa Burger
The Quinoa Burger is normally served full sized with a side of skinny fries. The ingredients include:
Canola oil
Quinoa burger Patty
Hard Rock Cafe seasoning
Cheddar cheese
Baby arugula
Olive oil
Hummus
Tomato slice
Grilled red onion slices
Hamburger Bun
Unlike most veggie burger patties this had a fantastic texture, mainly owing to the inclusion of walnuts, which I loved. However I can't tell you whether it was made on the premises or what the burger patty actually contains (asides from walnuts & quinoa), perhaps the full menu will list this info. The additional of hummus, while a little odd on paper, is a nice alternative to ketchup or mayo but I suspect you could ask for either.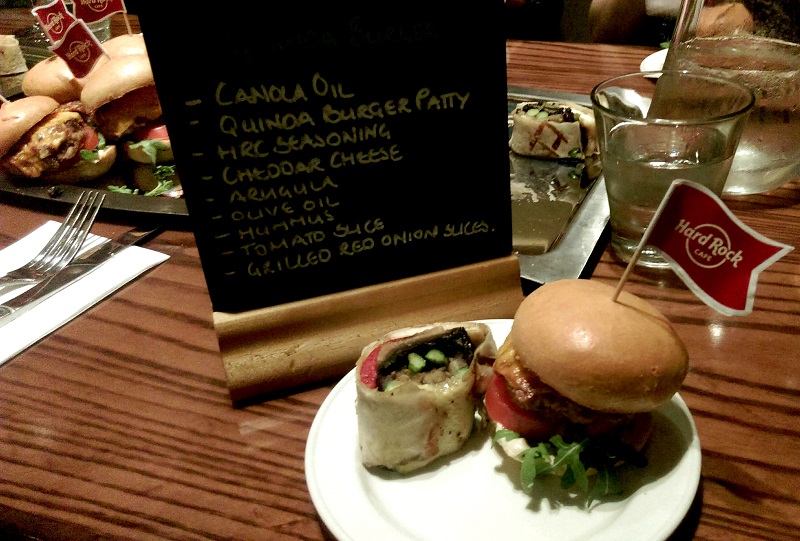 3. Grilled Vegetable & Halloumi Wrap
The grilled vegetable & halloumi wraps are served in a 10″ tortilla wrap with a side salad. The ingredients include:
Salad oil
Flour tortilla
Chilli powder
Mayo
Courgette
Aubergine
Red & green pepper
Mushrooms
Asparagus
Halloumi
Full marks to Hard Rock Cafe for moving away from the typical hummus and roasted veg wrap, but I wasnt all that impressed with halloumi. The flavours were great, thank goodness for that kick of chilli powder to counteract the blandness of halloumi, but I found the wrap fell apart because of the amount of oil in the veg and water in the cheese. That said, the vegetables were cooked perfectly with just the right amount of al dente.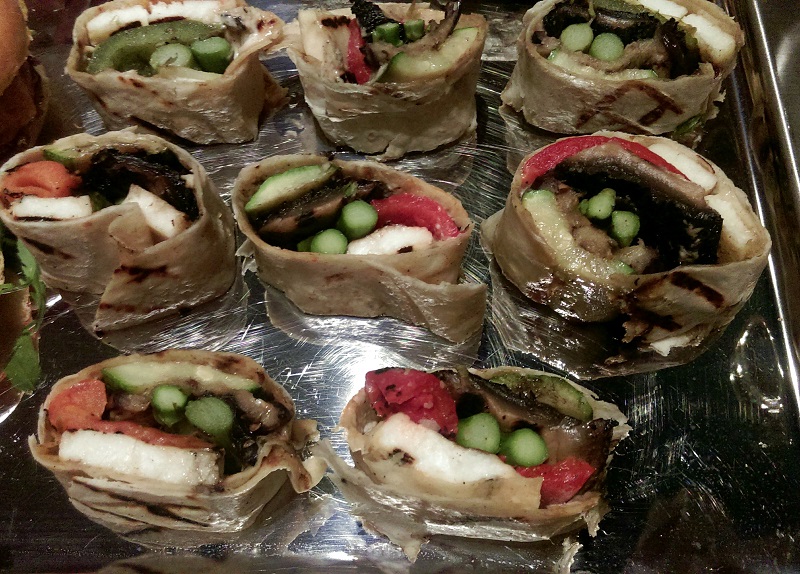 4. Black Bean Quinoa Burger
The black bean quinoa burger is normally served full sized with a side of skinny fries. The ingredients include:
Canola oil
Black bean quinoa burger patty
Baby arugula
Hard Rock Cafe seasoning
Tofu cream
Tomato slice
Like the quinoa burger, I can't tell you what the contents of the patty are or whether its made on the premises. I'd like to think so. My low ranking of this burger is primarily due to my dislike of beans, its 1 of the 3 food groups I will not touch with a barge pole (peas and sweetcorn are the other 2 fyi), but also a little due to the blandness of the burger, which compared to the other 3 items on the menu, was surprising. I'd have liked to see a little cheese or a kick of spice or pesto to lift it.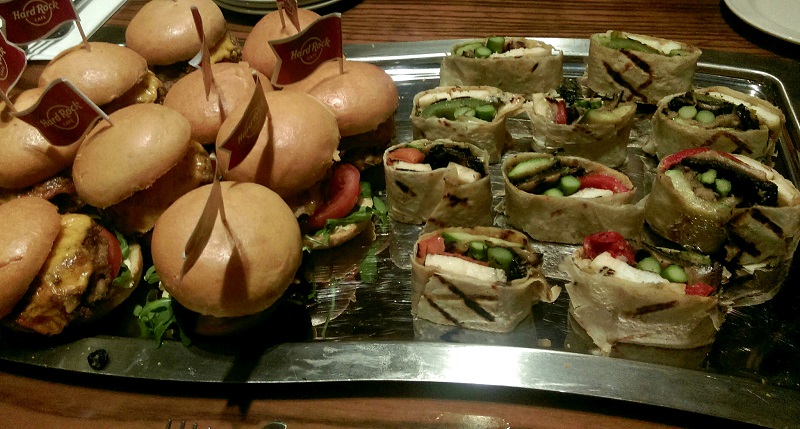 The Verdict
Hard Rock Cafe is not a place most people would associate with vegetarian food and I'd be willing to bet it's not high on vegetarians list of places to eat in Glasgow. So full marks to Hard Rock for recognising the ever growing diversity of peoples palates and branching out to provide a vegetarian menu, but some inspired items as well.
My main issue was that despite drinking water all evening I woke the next day with what I can only describe as a salt hangover. Ditto with Irish Pal #2. So I was curious, in absence of animal fats, was a liberal amount of salt being used to boost the flavour? And if so, was this necessary? I don't have as problem with salt content of food per say, but I would like to see restaurants publish the nutritional content of their food (on the menu) so we could make informed choices in the future.
That said, I liked the fact Hard Rock didn't solely rely on vegetarian burgers, because lets face it burger & chips can be a stodgy meal, and there are 1 or 2 items I'd be happy to eat again.
Note: Currently these items do not appear on the Glasgow Hard Rock Cafe menu online. All views are my own.