Hogmanay, or New Year's Eve if you're south of the border, is a BIG deal for us Scots. Some even proclaim it's a bigger deal than Christmas (it's something to do with the reformation and Christmas being a bit too, ya know, Catholic). Whether you agree or not, we Scots get an extra bank holiday at Hogmanay so that's reason enough to love it some more. So if you're interested in bringing in the new year like a Scot here's your guide on what to expect.
Food
First things first you gotta get the food and drink in. And while you're at it, buy more than you think you need cause you'll probably end up with first footers (more on them later). You will need:
Shortbread. This is a crumbly buttery biscuit and is amazing with a cup of tea or coffee but it's far too crumbly for dunking, you've been warned. It's also definitely too much faff to make your own shortbread and anyway the shop bought stuff is always good. Shortbread is easy to find in the shops, look for tartan tins with a castles or a stags on the front. Feel free to get some for the house and to give out as gifts.
Steak pie: The clue is in the name: Steak pieces and pie crust. Easy. Whether you're buying a steak pie or making your own, go big or go home. Us Scots like to emulate Desperate Dan and his coo pie at this time of year. You'll want to serve this up with a big jug of gravy and a pile of mash.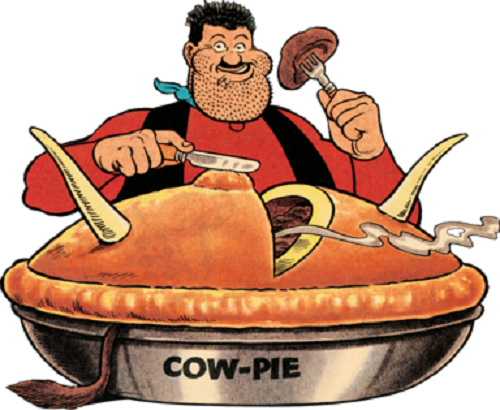 Homemade soup. Is lentil soup, and of course is always homemade, and even though we do make other soups at home only lentil is called homemade soup (don't worry it confuses us too). Click for a recipe here. It's a good idea to get someones Granny to make this soup and get them to make it on Dec 30th. Cause every Scot knows Granny's soup always tastes better, and soup always tastes better the next day.
Whisky. I mean it goes without saying that you'll need to buy whisky. Even if you don't drink whisky yourself (we don't) you still need to have a bottle in for offering people a drink (which we do). Look out for someone offer you "a wee dram" or in the case of my family "a wee half" which signifies they're offering whisky and be careful about measures poured at home: they're lethal.
Trifle. Some will strongly argue that trifle is a Christmas pudding, well in Scotland it's actually more of a Hogmanay thing although it's often called Tipsy Laird up here. Some Scots will fervently argue that cranachan is the pudding of choice for hogmanay but that's a Burns Night pud.
Telly
So now you have the necessary food and booze in, the next thing to do is check out the telly. Scotland has good telly at Hogmanay. Well at least we used to. Nowadays it's re-runs of the old stuff but whose counting really. You can without a doubt expect to see Jackie Bird (the ginger lass) hosting the live show and countdown on STV while re-runs of Scotch and Wry, Rab C Nesbit, and the Steamie will be on the telly somewhere. They're brilliantly funny and if you don't understand any of it then trust in the knowledge that this is comedy gold.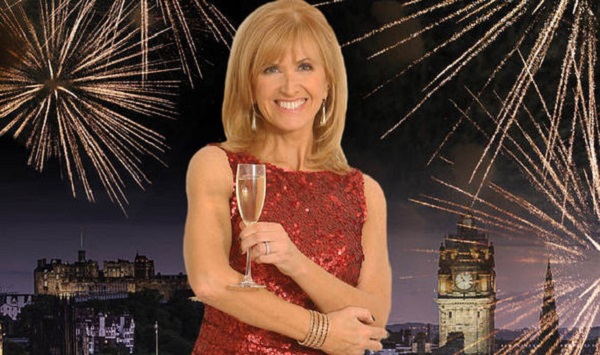 Oor Wullie and The Broons
Staying with the theme of not understanding Scots, Hogmanay is not Hogmanay until you have a copy of Oor Wullie and/or The Broons. These books are an annual collection of the comic strips which feature in the Sunday Post newspaper. The comics are written in Scots language and feature the escapades of a young lad, Wullie (Oor Wullie) and The 'Brown' family (The Broons), respectively.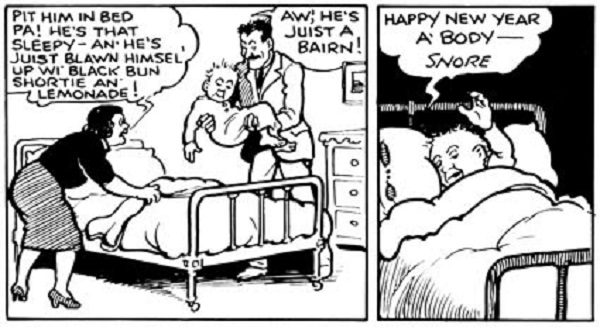 Now when I was kid these books came out bi-annually (Oor Wullie one year, The Broons the following year) and I and everyone else I grew up with got the book for their Christmas. The annuals always end with Wullie or The Broons celebrating Christmas and Hogmanay so are a good insight into real Scottish celebration.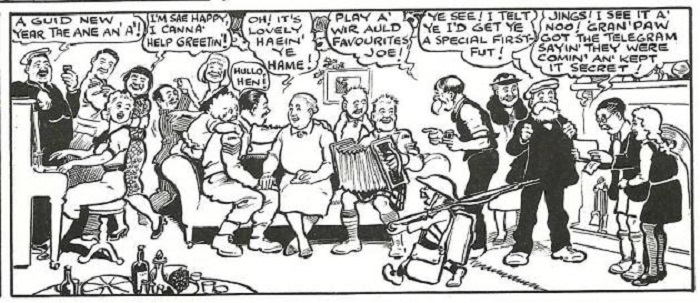 Ceilidh
If you're not staying at home then you need to find yourself a ceilidh. Although I guarantee one will pop up even if you do stay at home. Ceilidhs are everywhere at Hogmanay, the difficulty is getting a ticket so do buy in advance. The benefit of going to a ceilidh is that it'll be indoors (see Street Party on why this is a good idea).
When attending a ceilidh for the first time take heed to these 2 pieces of advice: (1) Don't worry about not knowing the steps. All dance steps in a ceilidh are called out in advance and there'll be plenty of Scots to guide you through. After all ceilidh dancing is literally part of our DNA (ok, its part of the school curriculum but same thing); and (2) for the love of god don't wear heels. Pack a pair of flat shoes in your bag and do not go barefoot. Only the truly initiated and experienced ceilidh dancers among us will brave a dance barefoot.
If you end the night having made best mates with complete strangers and you have bruises on your upper arm, know that you have been to a good ceilidh.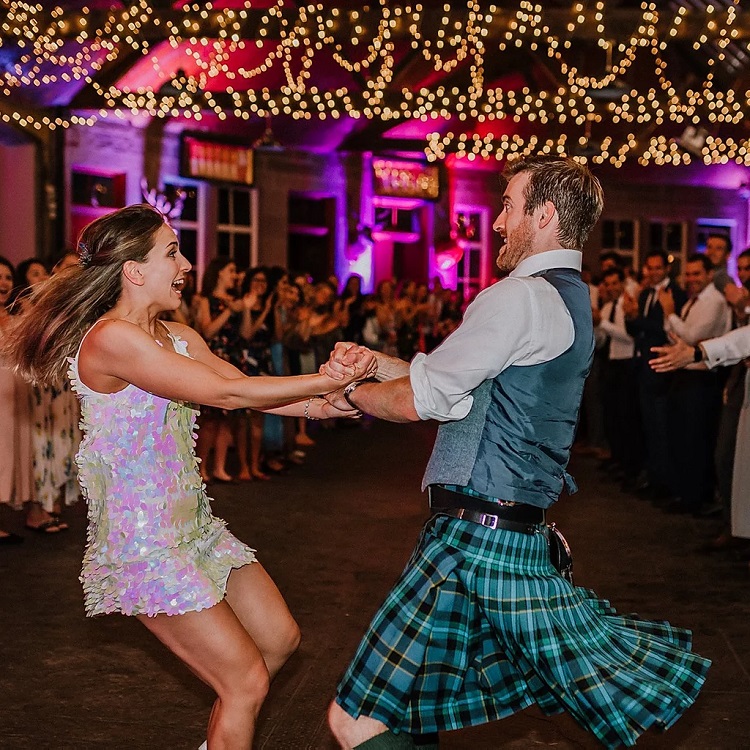 Street Party
The second option for going out on Hogmanay is to head to a street party. Most of the big cities and even some of the smaller towns will host their street party, typically involving live bands/singers plus presenter, a big countdown to midnight, and a fireworks finale. Edinburgh has the biggest street party although I reckon the smaller highland/island towns do a crackin night too. Events are ticketed and can be pricey. And remember it will be outdoors.
Now I don't want to sound like your granny but do wrap up warm. This is Scotland so it will be cold and most likely wet, and I guarantee that after a couple hours listening to Michelle McManus, Deacon Blue and Amy MacDonald you'll start to question why you paid this amount of money to stand in the bloody cold, when you could be at home and warm with a slice of steak pie.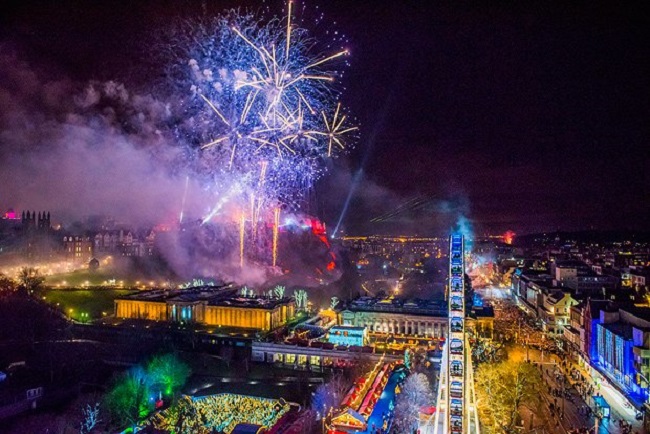 The bells
When the clock strikes midnight on Hogmanay we call it "The Bells". The Bells are treated like a destination ("did you make it to the bells?") and a noun ("I'm gonna see in the bells"). At the bells we shout Happy New Year (obv) and sing Auld Lang Syne. If you are at a street party or a ceilidh then after the bells, and after you've sang Auld Lang Syne a song called Take the High Road by RunRig will be played.
During this song you all stand in a circle with your arms around one another and do a sort of run in and run back out kinda dance (you really need to see it to understand it) which is fantastic fun. This song is also played at the end of Scottish weddings with the same kind of dance. And us Scots get ridiculously emosh over this song.
If you are at home, once you've cheered in The Bells and sang Auld Lang Syne (and perhaps even done the RunRig run in/run out dance) now is the point where someone tall, dark, and handsome (2 out of 3 is fine in a pinch) should come through the front door. It's very critical that this person be the first person to come through the door for good luck. Technically this person should be the first footer (don't worry we're getting to that) but if it looks like no one is showing up then you can send someone from inside the house who fits that description out, to come back in again. Oh and they need to be holding a lump of coal too.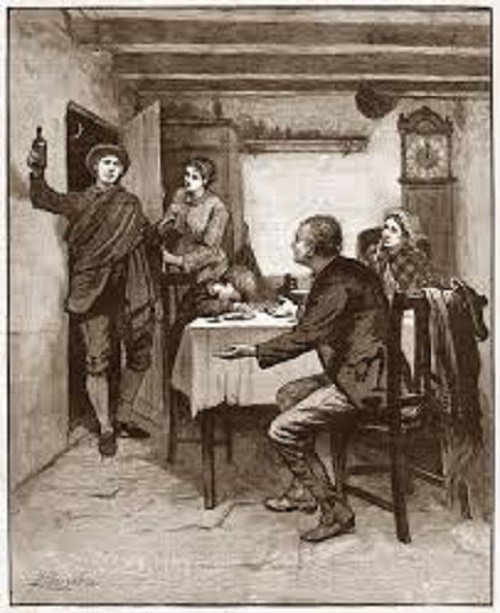 First Footers
Right, first footers. Really easy, these are just the first people to set foot inside your door after the bells. People who show up before the bells are not first footers, they're just visitors. See the distinction? First Footers can be friends, family, or neighbours. But not strangers ok? Don't accept strangers claiming to be first footers into your home in the middle of the night. That's just asking for trouble.
When the first gooters arrive you can offer them some of that shortbread or a wee dram. Although they won't expect the homemade soup, steak pie or trifle I reckon it won't be shouted down after a couple drinks. The good thing about first footers is that if you didn't make it to a ceilidh, you could probably hold an impromptu one now. So fire the ceilidh music onto Spotify and the Scots among you will lead you into the Gay Gordons or Strip the Willow. But you have been warned, this could up lasting into the wee hours of the morning. You could of course just do the RunRig run in/run out dance over and over for the rest of the night.
The morning after
If you're feeling slightly tender on January 1st after your Scottish hogmanay celebrations then fear not, today is a bank holiday in Scotland. So you won't need to go to work (unless you have an important job like a surgeon or police or Starbucks barrista). Hurrah. But if you do need something to jolt you awake then head over to the Firth of Forth in Edinburgh and take part in the Loony Dook.
The Loony Dook (i.e. lunatic dip) is where us Scots like to run into the freezing cold sea. It's bracing and will most likely give you hypothermia but just imagine going home to a lovely warm bowl of homemade soup after that, which by now will not be a day after but 2 days after so will taste bloody brilliant. And then when you wake up in the morning on the 2nd January its ALSO a bank holiday! So snuggle up with your Oor Wullie and Broons annuals, kick out any first footer stragglers, reheat that homemade soup, and enjoy the fact you've survived your first Scottish Hogmanay.