Feeding a toddler is tough work at any point in the day but I find teatime during the week the toughest. James is tired from nursery, I'm knackered from being at work all day and my commute home, and we've got a small window for quality time with one another before bedtime. So spending a long time in the kitchen prepping a meal for him (which he may or may not eat) is not on my radar. So like most parents, I prepare a lot of James' midweek meals from the freezer or rely on those easy dinners I can throw together in under 10mins. Here's my top 10 toddler meal ideas. Most of which you'd be happy enough to have for dinner yourself.
1. A one-egg omelette.
Buy one of these dinky frying pans and you can make the perfect toddler sized 1-egg omelette. My kid loves eggs so will eat a plain omelette if I'm stuck but I do tend to add to his omelette whatever is in the fridge: chopped chives, sliced baby tomato, sliced mushrooms, grated cheese etc.
Beat 1 egg with whatever filling you're adding. Heat a knob of butter in the pan over a medium-high heat, and cook off any veg you are using. Scrape the beaten egg into the pan and leave for 30secs to allow the bottom to set. Then pull the omelette away from the edge of the pan with the spatula, and allow the loose egg to run into the gap. Repeat this several times. Once you're sure the omelette is set on the bottom, carefully flip it over to cook the other side. Transfer onto a chopping board, cut into slices and serve. Most likely with ketchup. Rolled up into a tortilla is also a good shout.
2. Tomato & vegetable soup.
If there is 1 gift I would like to give a parent it is this soup recipe. To call it a recipe is misleading to be fair, but it is a freaking godsend in my house.
Heat the oven to 180c. Roughly chop whatever veg you have (the more the merrier): onion, celery, peppers, courgette, broccoli, carrot, sweet potato, mushrooms, leeks. And chuck it into a large roasting dish with a good glug of oil, 3-4 whole (peeled) garlic cloves, and herbs (dried or fresh). Cook in the oven for 30mins. Then pour in 1 jar of passata and chuck in whatever frozen veg you have: peas, sweetcorn, spinach. Cook again for another half hour. Blend the entire thing into a smooth soup and add extra water if you need to thin it. Feel free to add cream or grated cheese.
I often serve this, from the freezer, with cheesy stars. Heat the oven to 190C. Roll out a little puff pastry, sprinkle with grated cheese, fold and roll again. Stamp out stars, or whatever shape you're into. Bake for 10mins (ish) until golden.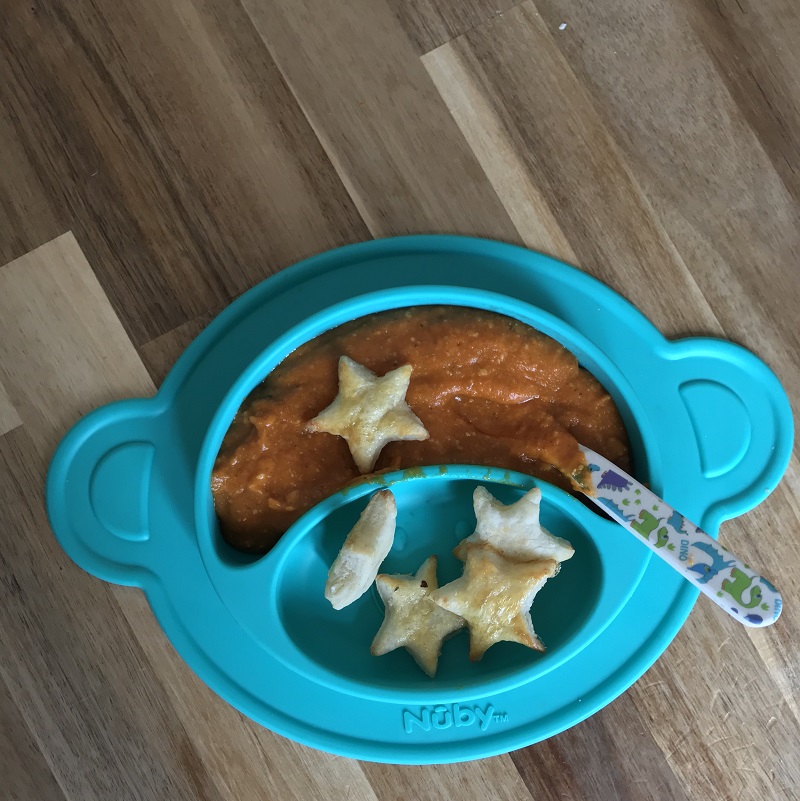 3. Oven baked fish fingers.
Once you get used to making these from scratch I swear you can get them on the table in less time it takes to cook ready-made frozen fish fingers. These are also divine sandwiched between thick bread with salted butter. So there's your dinner sorted as well.
Heat the oven to 200c. Cut a boneless piece of fish into slices (I like to use salmon or lemon sole as I know there will no chance of bones). Dip the fish into flour, then dip into beaten egg, then dip into panko breadcrumbs. Lay the fish pieces on a baking sheet lined with paper or foil. Bake for 10-12mins until golden. Cut them in half to cool faster, and serve. If you freeze these fish fingers before cooking you can cook them from frozen in the same amount of time.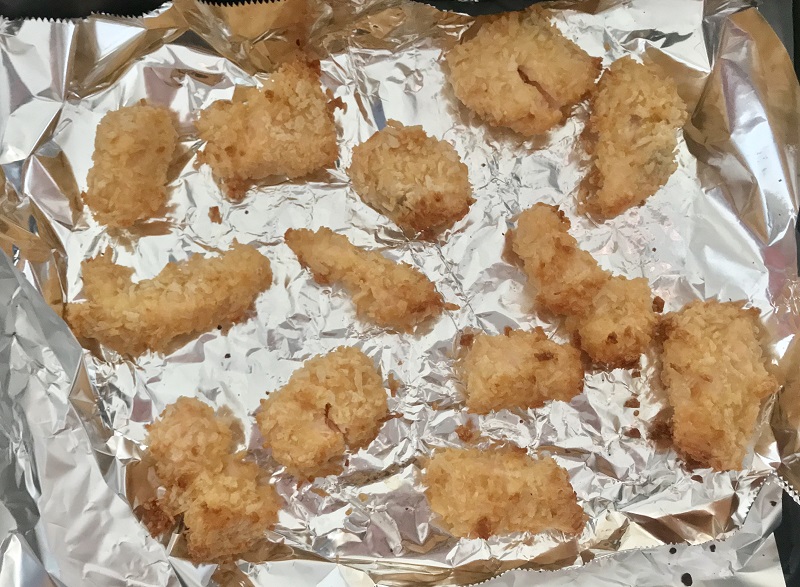 4. Turkey apple burgers
These go well with mini burger buns or wraps, chipotle mayo for me but the ever ubiquitous ketchup for James.
In a large bowl mix together 500g minced turkey, 1 grated apple, 2 handfuls of semolina or breadcrumbs or ground almonds, 1 beaten egg, and a small amount of herbs (dried or fresh – I like thyme here). Mush together with your hands and form into small burger patties. The thinner the burger patties the faster they will cook (critical for a fractious hungry toddler). Cook on the griddle or frying pan for a few minutes each side, cut in half to cool faster before serving. Freeze before cooking.
5. Cheese & pear (or apple) on toast
The pear sounds weird but it works. And it makes me feel less guilty when there's no other veg on his plate. Serve with beans or tinned spaghetti shapes for a fast and easy meal. Tip: add a little crushed garlic to the beans before cooking. Goes down a treat with my wee one.
Heat the grill and lightly toast bread on 1 side. Place a slice of cheese on the uncooked side of bread and top with grated pear. Grill until the cheese is bubbling. Leave to cool slightly and slice into fingers for serving.
6. French toast crumpets
You don't necessarily need to use crumpets but it is nice to feel you're moving away from a solely bread/toast diet with kids sometimes.
Beat an egg with some chopped chives and a little grated parmesan. Add a little oil to a frying pan and heat on high. Soak the crumpet into the egg on both sides and transfer to the hot pan. Cook on both sides until golden, drain on some kitchen paper, and cut into slices or quarters.
7. Corn fritters
These are basically pancakes with creamed style sweetcorn added. This means they still taste sweet and look like pancakes, and cause its creamed sweetcorn they barely even register its in there. But you feel good about serving up veg for dinner. Win win.
In a jug whisk together: 1 egg, 1 can of creamed sweetcorn, 1&half cups of self-raising flour, and 1/2 tsp paprika. If its too thick then thin with a little milk. If too thin then thicken with a little extra flour: either way, you're looking for thick custard consistency. Pour small pancake sized amounts into a medium-hot pan and cook until it bubbles on the surface. Flip and cook on the other side until golden. Cook up the whole batch and freeze the leftovers. Defrost in the microwave for 20secs and toast to warm. Serve for breakfast, lunch, dinner; with ketchup, peanut butter, cheese spread, honey, beans etc.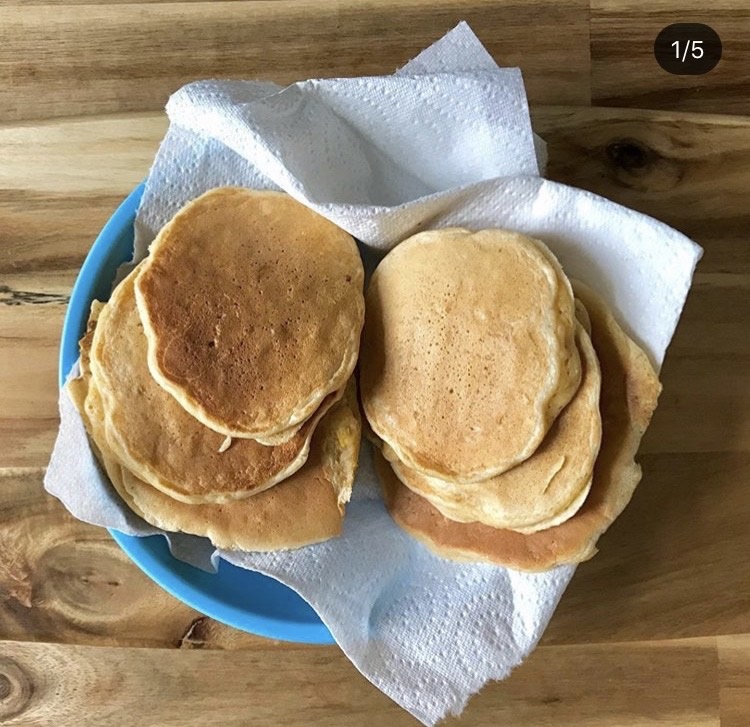 8. Pizza
I'm being realistic here and I don't expect any parent to start making their own pizza base from scratch. That time in my life is long gone. I buy ready made pizza bases (Morrisons do lovely ones at their pizza counter) and start from there.
Spread the tomato veggie soup over the top, and top with cheese. Easy. Now lay the pizza onto a dinner plate, cut into slices, cover with cling film and freeze. Once frozen, you can chuck the frozen slices into a large freezer bag. Cook the slices from frozen at 200c for about 10-12mins.
9. Cauliflower cheese soup
My kid is a cheese fiend but getting him to eat veg is a nightmare. Enter the hidden veg cheesy soup. *hail*. It's also another soup which is thick enough to double as a pasta sauce.
Heat the oven to 200c. Roughly chop 1 leek, 2 stalks of celery, and 1 cauliflower and chuck into a roasting dish with a couple garlic cloves. Drizzle with oil and add a some herbs (sage is nice here). Cook for 40mins. Transfer the whole lot into a pot and add 700ml veg stock. Cook for 20mins on a medium simmer. Remove from the heat and add 3 big handfuls of grated cheese. Blend until smooth with a dollop of double cream. My kid likes this with tortilla strips for dunking. Freeze whatever you don't need.
10. Easy pasta n sauce
To make life *easy* I batch cook a bag of wholewheat penne pasta and freeze it once cooled. That way I can take out a small James sized portion when I need it, and it'll cook in less than 2mins in the microwave with whatever sauce I'm using. Yeah I have no doubt Italians are screaming in pain at the idea of this right now. But it means I can get James' dinner on the table in under 5mins on a Wednesday night. So screw it.
Pop a handful of frozen pasta tubes into a microwable container with a few spoonfuls of the tomato soup or cauliflower cheese soup, and cook for 1-2mins tops (depending on your microwave). Top with grated parmesan and serve.
What are your go-to meals for feeding kids? Please share in the comments below