The Babymoon. Its the done thing now isn't it? I guess pre-pregnancy I never really got it or understood why it needed this cutesy name. I mean, its a holiday FFS, lets just call a spade a spade. But now that I am firmly with child I see there is vast difference between a holiday and a holiday with a bump hence the dedicated name for it. So this post is on the one hand a sort of 'how-to-plan-a-babymoon' for all you pregnant ladies out there based on my recent experience of holidaying with a bump, and an educational tool for everyone sans-baby who are wondering wtf the difference really is.
Our babymoon was a 7 day trip to Santa Eulalia in the north of Ibiza in late September when I was 21 weeks pregnant. And yes you read that right. Ibiza. While pregnant. And no, you're not the first person to question that decision. We found ourselves constantly having to say "no, no, the QUIET end of Ibiza, not the party side" whenever the topic arose. To be honest, it wasn't my first destination of choice and certainly not an island I associated with alcohol-free relaxation. Surely out of the 3 Balearic Islands, Menorca is the place to go for that? Well funnily enough Ibiza actually ticked every box for us:
Short flight time (2.5hrs) from Glasgow
Sunny and warm but not unbearably hot (24-26C each day)
Reliable health service (just in case)
No Zika threat
Luxury accommodation
No need for vaccinations
Part of the EU
So what did I learn?
Step 1: Planning the Holiday
Book your holiday for sometime during your 2nd trimester. Chances are morning sickness and exhaustion will have waned, and you won't be so big that you're uncomfortable.
Do your research on Zika virus and other health concerns.
Shop around for comprehensive and affordable travel insurance. Give them a call if you are concerned about cover but most providers will cover pregnancy as standard provided you're not classed as High Risk & you're not flying after 27 weeks. I got very comprehensive cover from Tesco for about £10.
Check the airlines pregnancy restrictions. Some airlines won't let you fly after a certain date, some require a letter from your healthcare provider if you're High Risk, and most will have restrictions on where you can sit on the aircraft (i.e. not beside an emergency exit)
Check with your healthcare provider that there's no problems for you to be flying (i.e. DVT risk etc).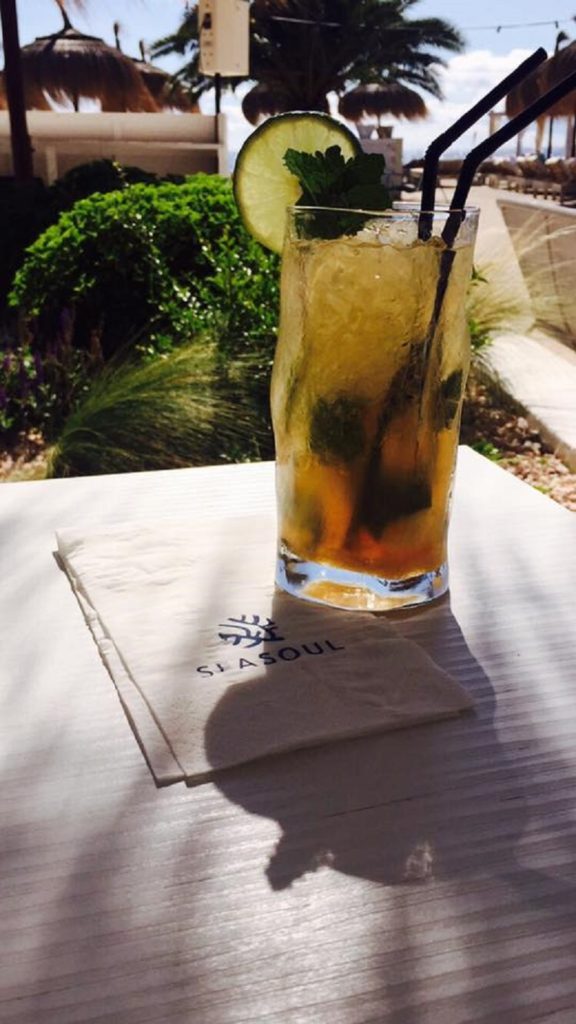 For the love of god, blow the budget if you can. If this is genuinely your one holiday until the baby arrives (and potentially in that first year too) then upgrade the heck outta this one. After all, you're pregnant and you're gonna want comfort and VIP treatment all the way. If money is tight, then at the very least pay for extra leg room and/or get the aisle seat. Trust me, sitting on a plane in a small cramped seat for several hours with a bump isn't fun.
Learn how to say "I'm Pregnant" in the local language. FYI, its "estoy embarazada" in Spanish. I used this a LOT during our holiday. Although you have been warned, in my experience this then gave Spanish women an open invitation to stroke my belly fondly.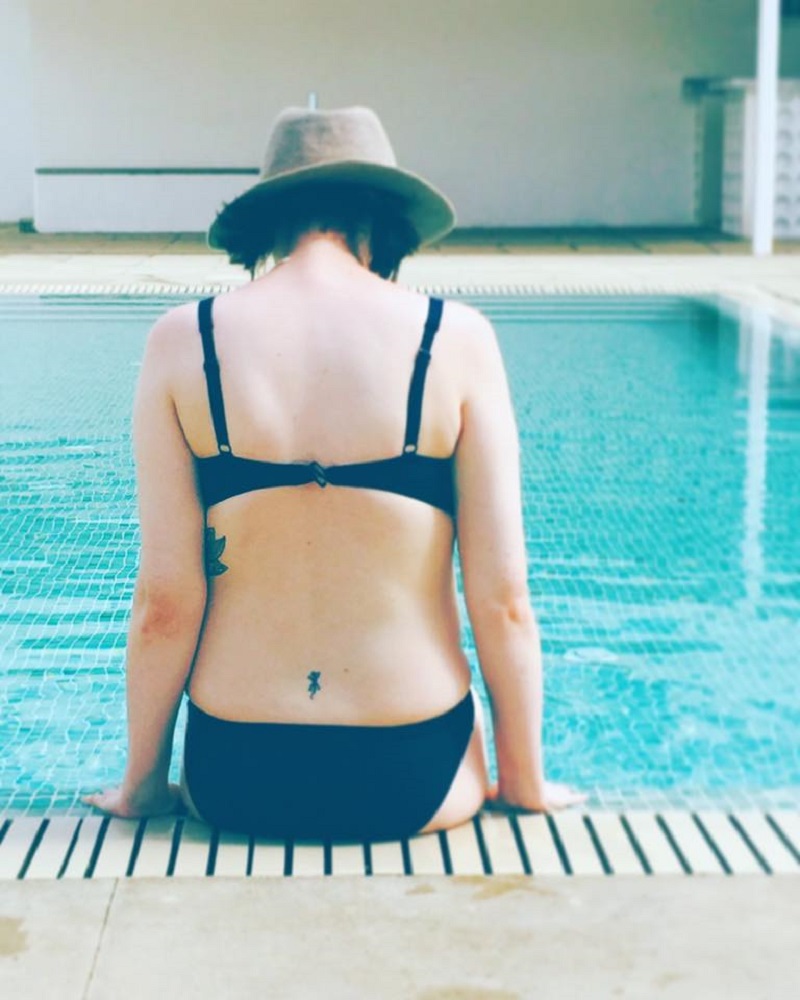 Scout out where the local hospital and local embassy (if there is one) are in the event of an emergency.
Bring copies of your pregnancy notes, your passport, and your health insurance; Email these to yourself as well.
Budget for, and book yourself in for a bikini & leg wax, pedicure etc before you head off. Sure you can't sip cocktails on the beach but you can have pretty toes to look at instead. And depending on how far along you are when you fly out, personal grooming in these areas might be proving tricky on your own.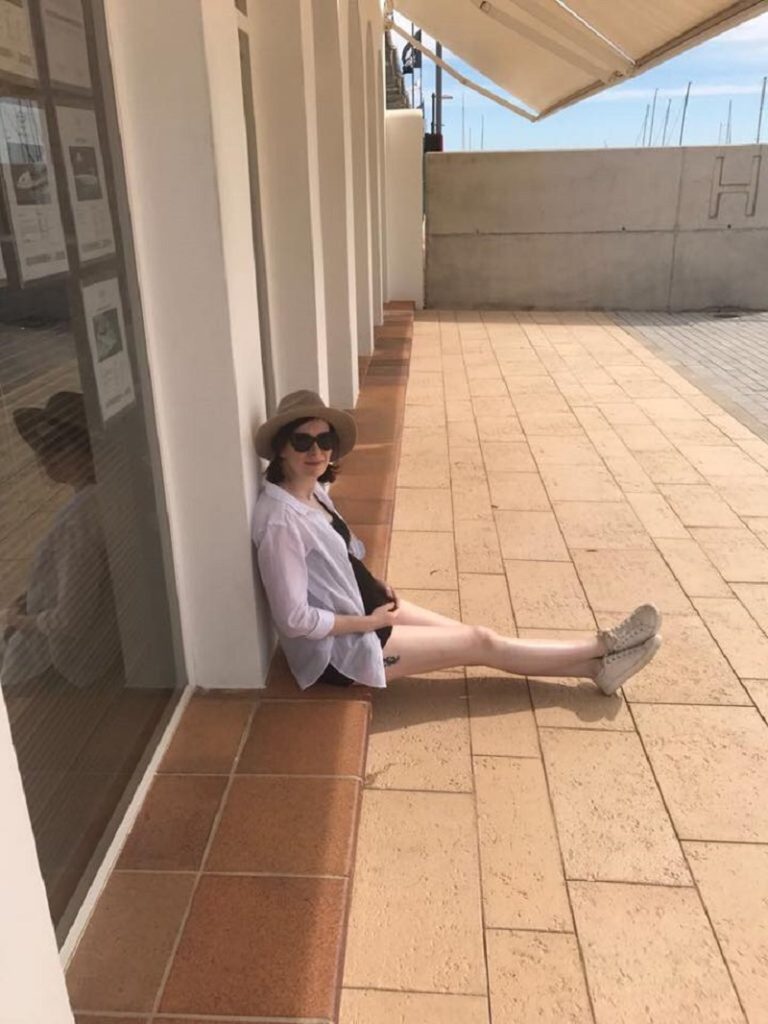 Step 2: Packing
Bring comfortable walking-around-in shoes, and any footwear which is easy to slip-on. The bigger you are, the harder it becomes to bend over to tie shoelaces. I learned this the hard way.
Don't feel constrained to a swimsuit or a tankini just cause you're pregnant. The last thing I wanted to wear in hot weather was a layer of wet, dark, lycra. So after a little encouragement from R and my friends, I opted for a bikini and embraced my bump on the beach. No one batted an eyelid. And I loved that for once in my life I wasn't concerned with sucking in my tummy on the beach.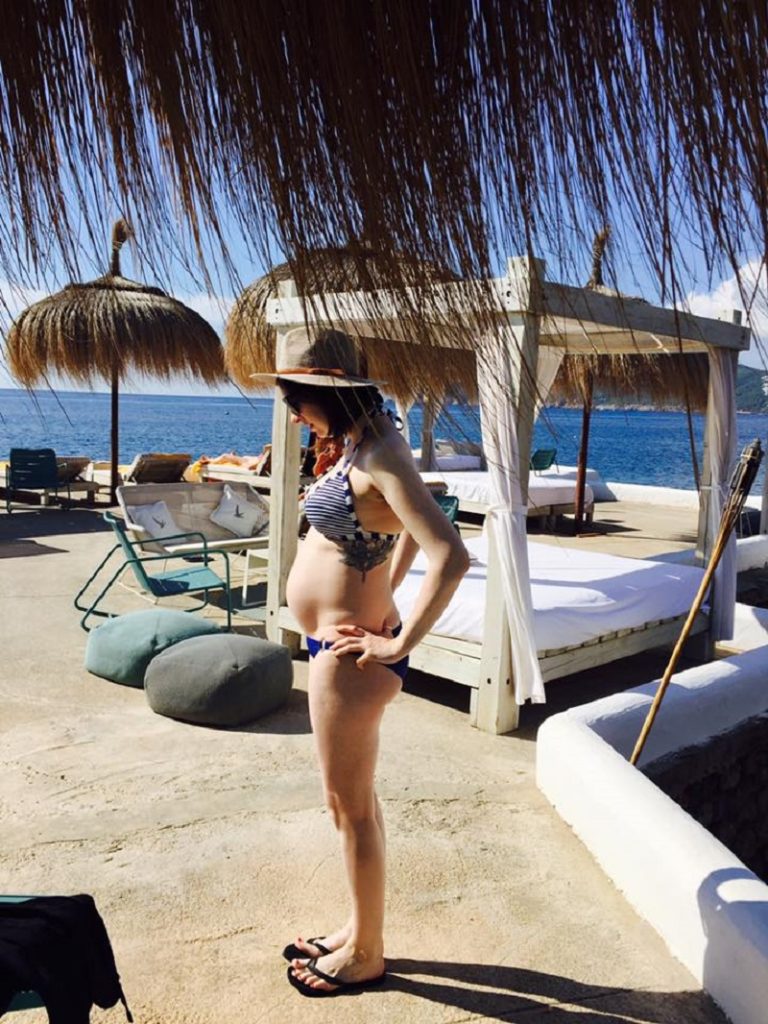 You don't need me to tell you to take a suitcase with wheels.
Pack your preferred medications: Gaviscon, rennies, paracetamol etc. Don't rely on finding these brands abroad. And remember your pre-natal vitamins.
Pack your preferred snacks to have on hand in case of emergencies while away. I stuffed multiple Jordans Frusli bars & mini bags of Haribo into my case, and I'd take these out with me when sightseeing on the off chance I couldn't find anything suitable from the local shops to snack on.
Consider taking suncream a little stronger than you normally use. Pregnancy can cause your skin to react differently than normal to the sun. My belly came out in a heat rash on Day 2 which I suspect was a combo of chlorine & strong sun, despite my standard thick layer of Factor 50 (yes, that's really what I use).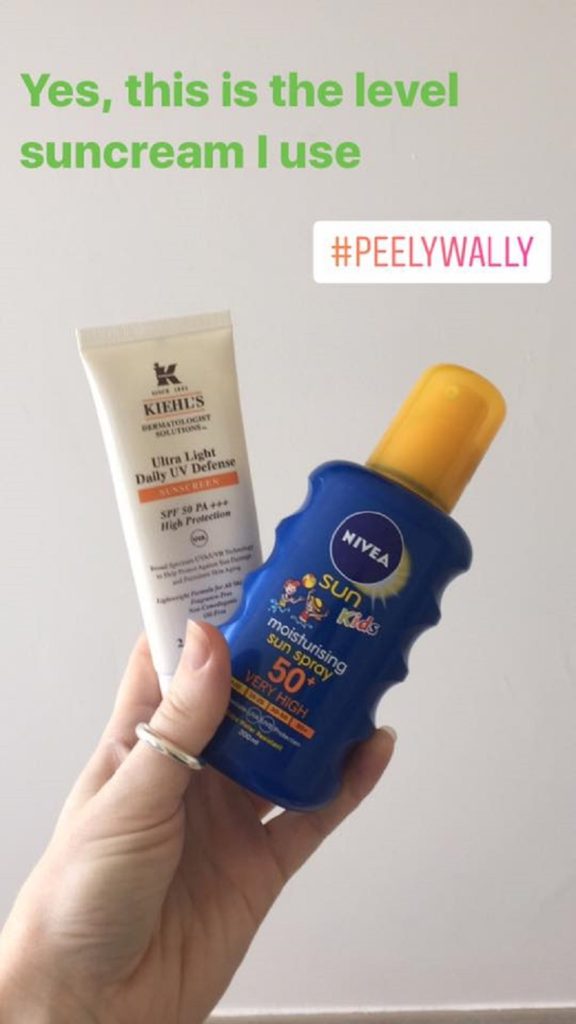 You probably don't need to buy a whole new maternity holiday wardrobe. The bulk of my pregnancy is in the winter months so the chances of me wearing any maternity summer clothes again are pretty slim (plus I live in Scotland). Most of what I packed were my normal summer clothes which still fit over my bump (i.e. dresses, kaftans etc). Although I did invest in a few additional maternity tops and a new bikini to accommodate my growing bosom.
Step 3: At the Airport
For travelling and for the sake of comfort, consider light layers of clothing and avoid anything which is tight across your bump (which alone gives me horrendous acid reflux) which can be uncomfortable when sitting for long periods. I vary from feeling extremely hot and cold while pregnant so I need layers I can peel off & wrap up in at a moments notice, so for travelling from Scotland at 2am I opted for a strappy maxi dress, cardigan, light denim jacket, a big scarf, and slip on trainers.
Get to the airport earlier than normal to avoid long queues at check-in and security. You don't want to be standing up longer than is necessary.
I wouldn't worry about priority boarding. Yeah you might get to be first on board, but if you're opting for an aisle seat you'll have to get up anyway to let the other passengers on. In fact, I'd rather be last on board.
Consider the VIP lounge. Most will offer free snacks, meals, and drinks; and they're a comfy place to hang out in if you'd rather not spend it wandering around the airport.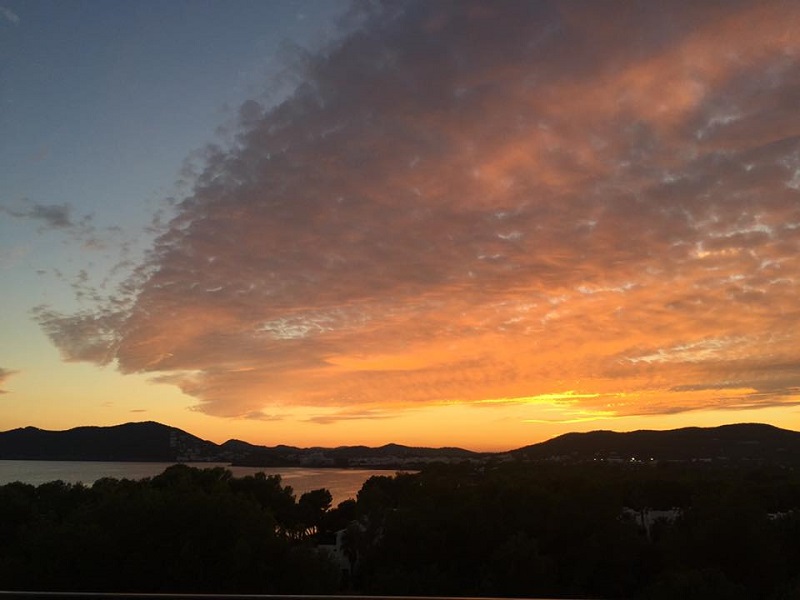 Step 4: During the Flight
I can't stress this enough: Book the aisle seat. This way you can stretch your legs out into the aisle and move about without pissing off the person sitting beside you. Due to a slight mishap with booking, I was stuck in the middle seat for the flight out to Ibiza & the woman in the aisle seat beside me promptly fell asleep precisely from take-off to landing. I was literally boxed in for 2.5 hours and I had to will my bladder to behave. For the flight home I had the aisle seat and it made for a considerably more comfortable experience.
I get incredibly thirsty while pregnant and I literally can't drink enough water. Bring an empty water bottle to fill up at the water fountain in the airport after security and ask the cabin crew to fill this for you during the flight if you need it. Don't buy expensive bottled water in an airport if you can avoid it.
Airline food is often notoriously poor and you never know what you're going to get. Avoid disappointment and hunger (and bloating and indigestion!) by just bringing food with you. You can easily pick up cereal bars, grapes, carrot sticks, sandwich, yogurt, dried fruit, nuts etc once you're past security.
Bring a memory foam travel pillow: use it for napping or (as I found I really needed) for lumber support on the flight, and later when lying on the sun-loungers.
Unless you're at risk of DVT or unless you're taking a long haul flight, then I wouldn't bother with flight socks. Just remember to flex and rotate your legs and feet often.
Step 5: At the Hotel
Tell the hotel staff you're pregnant at check-in. If you big this up when checking in, you might snag a wee upgrade like we did.
I don't know about you, but I now sleep in a pillow fort for maximum comfort and thankfully our hotel room had an abundance of pillows. But many hotels are notoriously skimpy on their pillows so don't be afraid to ask for extra if you need them.
Do try to snag the comfy sun loungers with a little option for shade, and don't be afraid to ask for/nab extra cushions or towels to get comfy. Every day I used 2 towels: 1 to lie on & dry myself with after swimming and 1 rolled up for lumber support. You might even need one to elevate your feet if your ankles are swollen.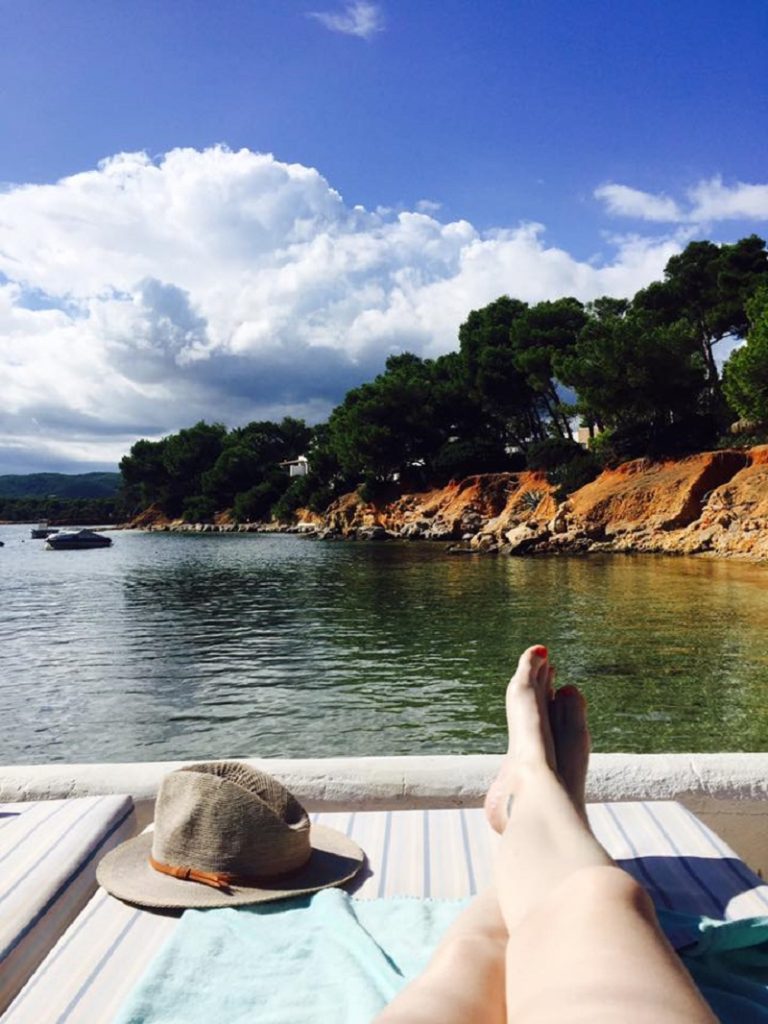 Bat your eyelids and ask the bar staff to make you the virgin equivalent of the cocktails. I practically lived off Virgin Mojitos, made with ginger beer, while away and I ordered them at every opportunity.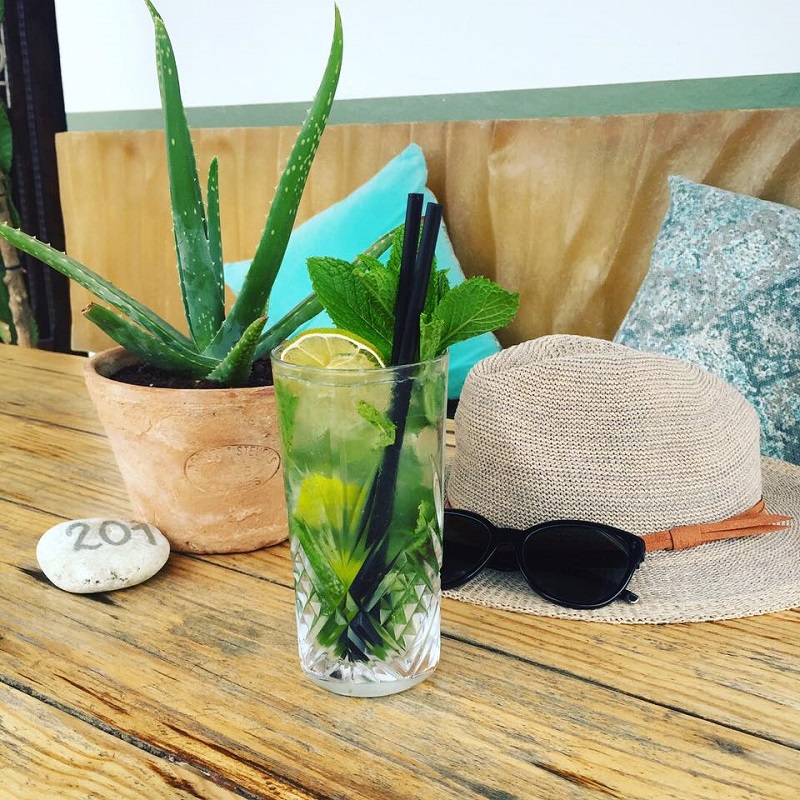 Always keep a water bottle with you where ever you are, the bigger the better, and remember to stay hydrated particularly when out & about.
Save your back & shoulders and use a rucksack style beach bag, or better yet get your partner to carry it.
Feel free to share your top tips for holidaying with a bump in the comments below. Thanks for reading!