When I say Digger Birthday Cake I'm sure anyone with a toddler or a Pinterest account knows what I'm talking about. But for those without either, the digger birthday cake is simply… a birthday cake with diggers on it. Easy. Kids love it cause lets face it anything cake shaped with toys is amazing in their eyes; and parents love it cause it's that kinda slapdash-fling-a-cake-together-while-the-kids-are-asleep baking that we love so much.
I baked this cake for James' 2nd birthday and I used Nigella Lawson's chocolate fudge cake from Nigella Bites as the cake base. Now I know there are cheaper and easier sponges to make, and if I was serving this cake at a kids birthday party and only the kids were eating it, then yeah I'd have used a different recipe. But seeing as this cake was going to be eaten primarily by adults, I wanted something a bit more decadent.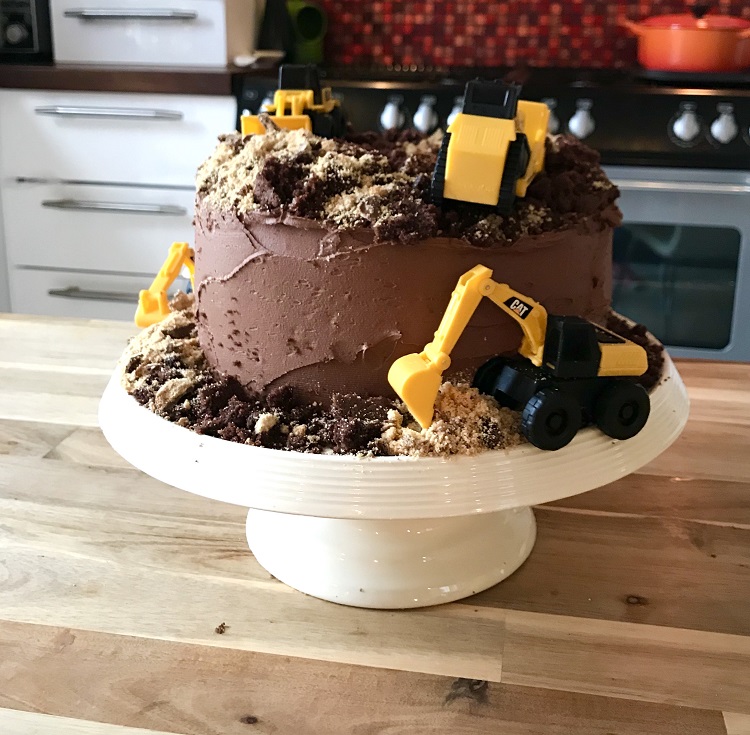 Ingredients
Cake
400g plain flour
250g caster sugar
100g light brown muscovado sugar
50g best quality cocoa powder (I like Green and Blacks)
2tsp baking powder
1tsp bicarbonate of soda
1/2 tsp salt
142ml sour cream (This is not a pedantic measurement, but the precise amount that comes in the mini tubs from the supermarket)
1tbsp vanilla extract
175g unsalted butter (melted and cooled)
125ml corn oil
300ml cold water
Fudge Icing
175g dark chocolate
250g unsalted butter (softened at room temperature)
275g icing sugar
1tbsp vanilla extract
Decoration
Selection of diggers, trucks, dumptrucks (I got this pack of 5 from Amazon for £6)
Chocolate biscuits (digestives, oreos, kitkats etc) or cake crumbs
Whipping cream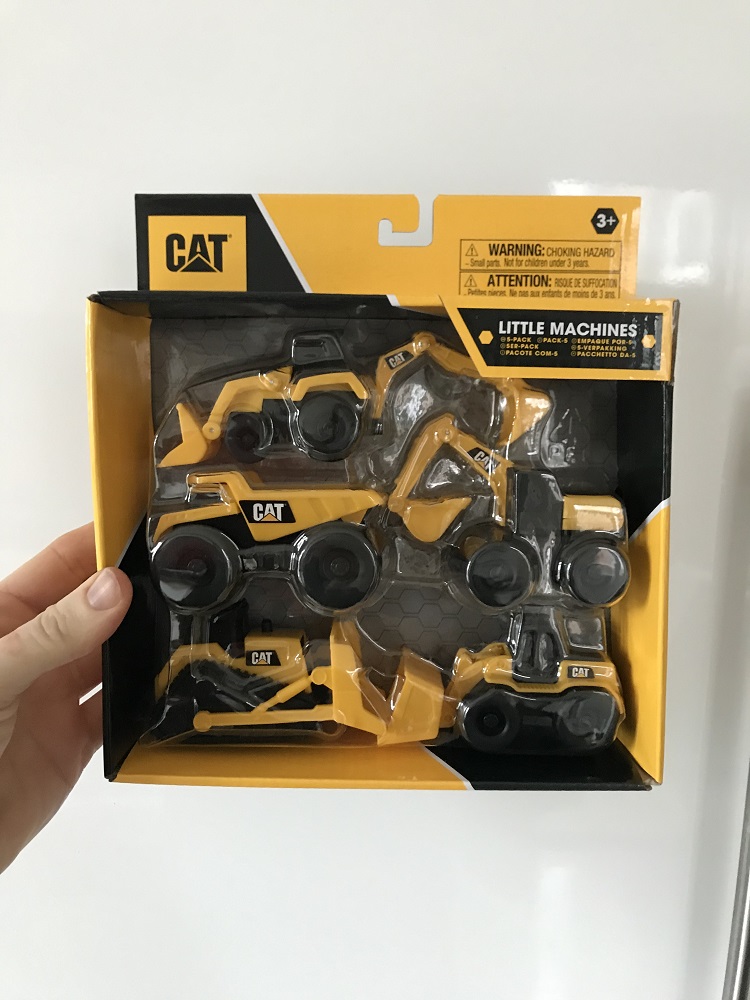 Method
Heat the oven to 180C. Grease 2 sandwich tins, line the base with greaseproof paper, and dust the sides with flour.
Melt the butter in a jug in the microwave. Once cooled, whisk in the corn oil and the water. In a large bowl, beat the eggs, sour cream and vanilla extract together until blended. Add the sifted flour, sugars, cocoa powder, baking powder, bicarb and salt; then pour in the water/butter/oil mixture. Using a handheld or electric whisk, gently beat to combine until you have a smooth cake batter.
Pour the cake batter into the prepared tins. Smooth the top and bake for 50-55mins. Check the cake 5-10mins before the cooking time is up by inserting a toothpick or skewer into the middle: if it comes out clean its ready. Leave the cakes to cool in their tins for 5-10mins before turning onto a rack and leaving to cool completely.
To make the icing: melt the chocolate in the microwave and leave it to cool. Meanwhile beat the butter until soft, add the sieved icing sugar, and beat again until smooth. Add the vanilla extract and the cooled, melted chocoalte and mix well. Try to ignore the temptation to stick your face in the bowl and eat it all for dinner. But do leave some to lick clean: cooks treat, ya know?
Decorating
You can sandwich the cakes together to make a 2-tiered cake, or slice both cakes in half using a long bread knife and make a 4-tiered cake. If your cakes are also a little domed on top, gently slice off the top with a bread knife to flatten it and the excess cake can be used as additional decoration.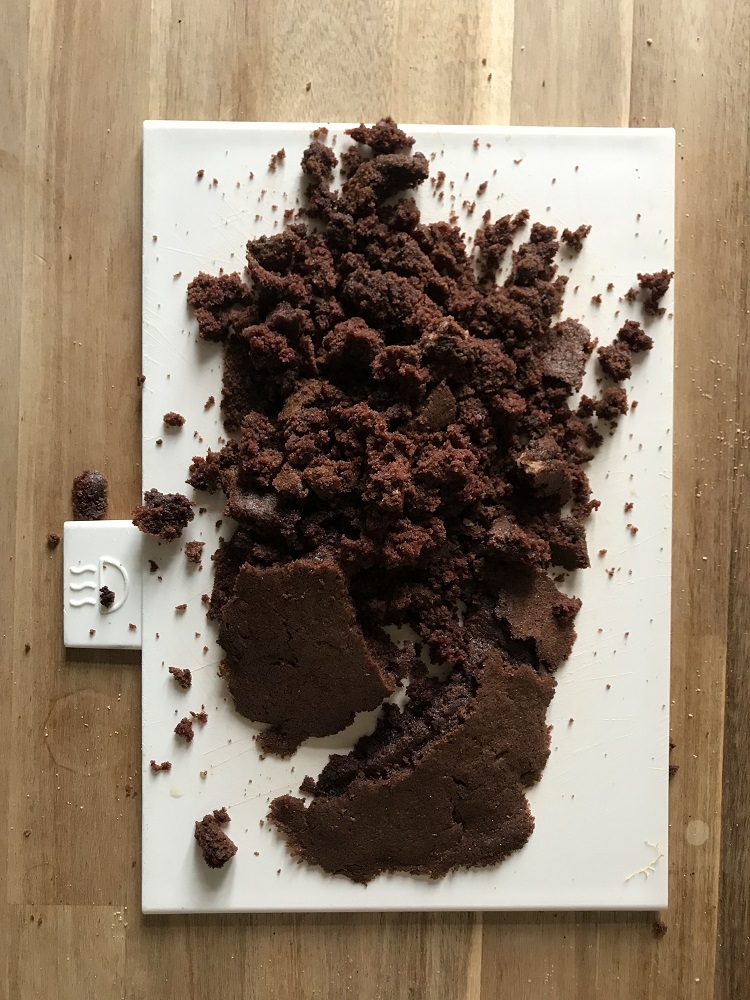 Sandwich the cakes together with the whipped cream. Then, using a pallete or butter knife, smear a thin layer of fudge icing all over the sides and top of the cake. Don't worry about it looking too perfect at this stage you're only doing this as a base layer. Leave the cake to chill in the fridge for 10-15mins to allow the icing to firm up. Then ice the rest of the cake with the remaining icing.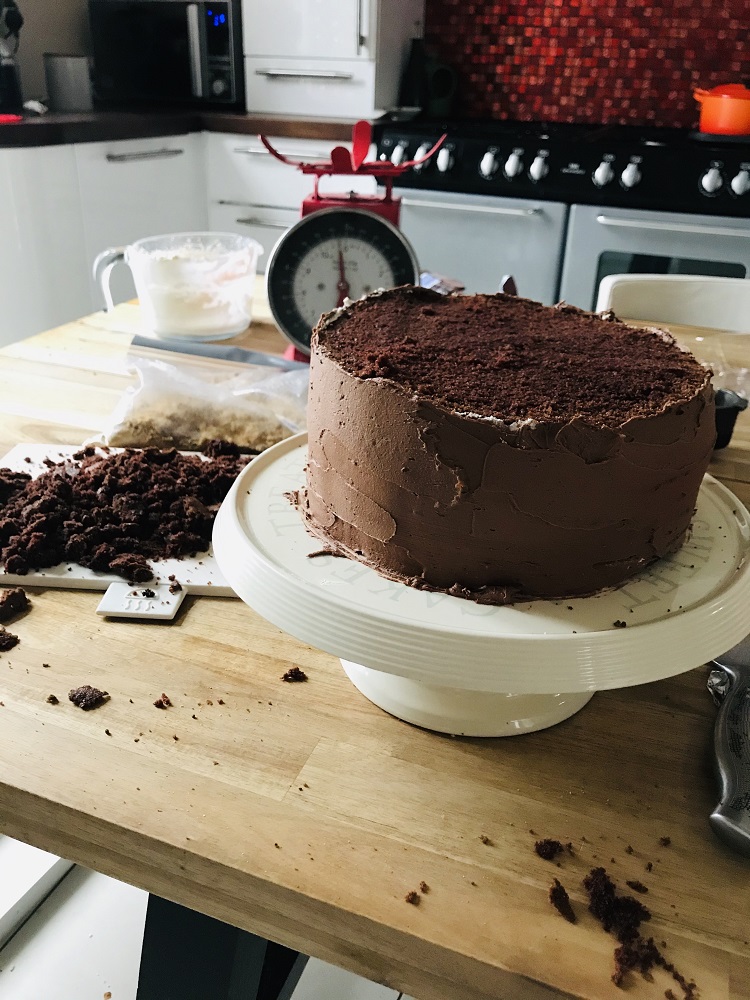 Place your diggers/trucks etc onto the top of the cake and around the base, then start spooning the "rubble and mud" (i.e. broken biscuts and cake crumbs) on top. Remember to position the trucks so it looks like they're carrying or scooping the rubble. Stab the cake with candles and go pour yourself a glass of wine on a job well done.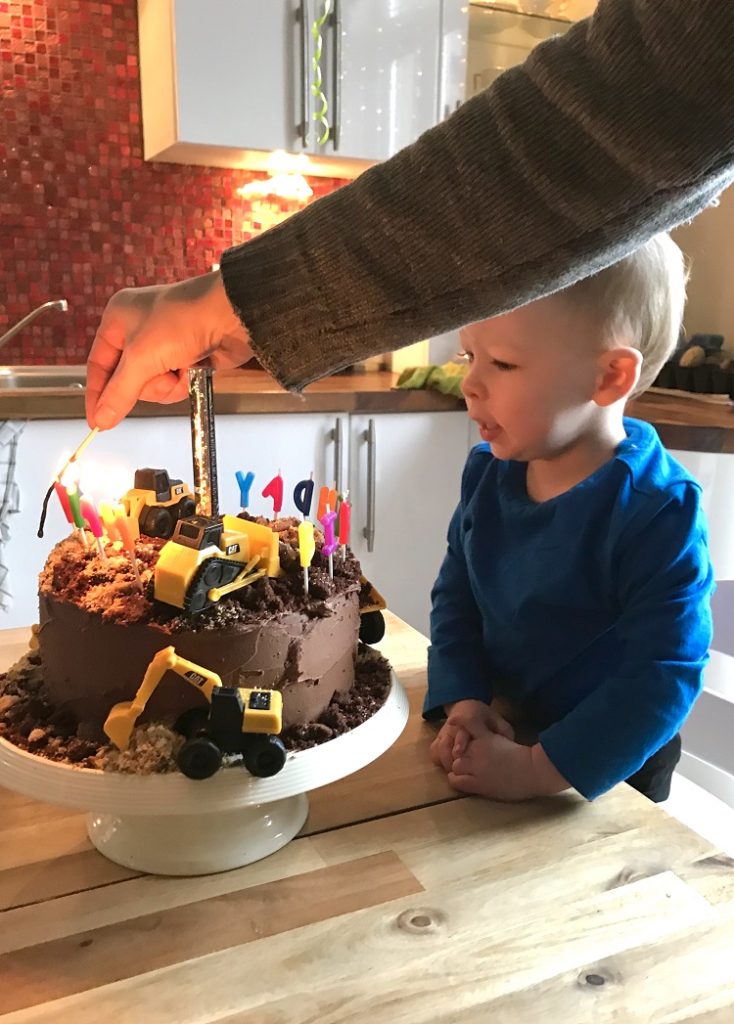 Tips
The little packet of diggers I bought were actually toys, rather than flimsy cake decorations. Once I cleaned them up they became some of James' favourite toys and are small enough to keep in the changing bag for when we're out or take on holiday etc.
I made the sponge the night before, left it to cool and iced it the next morning. You could also make the icing in advance and keep in the fridge but do remember to take it out a few hours before using to give it time to soften up.
Remember, this is a kids birthday cake, so if you prefer to buy a chocolate cake and decorate it yourself. Do. Your child will not care. And if any Yummy Mummies ask (in that patronising way they do) then lie and say you made it yourself.